I hope you love the products I've recommended below, just a heads up that as an Amazon Associate, I earn from qualifying purchases. This means I may earn commissions on products bought via links on this page.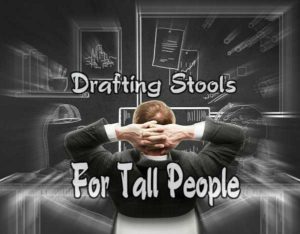 While drafting chairs have been found in architects offices all over the world, since the invention of the standing desk, they have become increasing popular in recent times. However drafting chairs for tall people still remain a mystery to some.
Many people are of the belief that any drafting stool will be suitable, even if you're over 6 foot tall. But this is simply not the case, us taller folks still need to have the added height for resting our backsides on.
Standard height drafting chairs can range in maximum heights from 28 inches to 30 inches. This is the perfect height for people under 6 foot as the seat sits just under their backside whilst standing.
But when you're much taller, the distance between seat and backside is greater, making it more of an annoyance to comfortably sit and or rest against the seat while semi standing up. So for anyone over 6 foot tall, you really need an extra tall drafting stool with a maximum height to exceed 30 inches.
Drafting Stool Options For The Taller Person
Drafting chairs come in a few varieties to best cater to your individual needs. Some come with high backrests while others have no back rest at all.
Then there's the debate of arms or no arms options. Some people like the addition of arms on their chair while using it along side a standing desk to give them a better sense of stability. While others simply despise the though of arms on a chair.
Innovative Drafting Stools
In recent years, new forms of drafting stools have been popping up around the place as well. These are due to the popularity in standing desks as they work very well together.
These new ideas include the likes of a balance ball topped stool and more recently the leaning or perched stools. With these types of drafting stools, you simply lean back into the seat and the leaning stool will support you. No need to actually get into the chair.
So to cater to a greater audience, I have included all types of drafting chairs suitable for the taller person. Each stool or chair will have varying adjustable heights, so be sure to check the seat heights to see if the chair is relevant to your height.
The Tallest Drafting Stool
For the really tall people, the tallest drafting chair I have come across is this Apollo by Eurotech Seating. It has a massive 36 inch top of seat height at its maximum elevation. This is a good 2 inches taller than the other chairs listed on this page.
The Apollo really ticks all the boxes when it comes to being adjustable for the taller person. Not only does it have an extra high seat, but the back has a ratchet height adjustment feature to allow the taller person to sit comfortably.
But it is worth noting that the backrest is in a fixed position, so it doesn't recline. Which means its better suited to the people whom stand and sit a lot during their day. For someone wanting to sit in their chair for 8 hours a day, the fixed position may be too uncomfortable.
The Apollo features arms which can even be adjusted to be wider, allowing the larger size people to fit in between.
Overall I quite like the Apollo, but it is a little more expensive than some of the drafting chairs listed here. Folks with longer legs may also find that the foot rest doesn't come up quite high enough, but this will be a case of not knowing until you physically sit in the chair., which is always the risk when buying online
Extra Tall Drafting Stool Chairs
For mine, the best extra tall drafting stool is the Smug Chair by SmugDesk. With a brand name like that, you have to feel confident in your new investment, something to be smug about.
In terms of seat height, this is one of the tallest drafting chairs I've come across. It has an incredible height range to cater to many people, including the tall. At its maximum, the seat can raise to 33.9 inches tall, while on the lowest setting it comes in at 25.2 inches.
Adjustable Features
The height of the seat alone makes this a great choice for the taller person, but the Smug chair doesn't stop there. The 18 inch diameter footrest is also height adjustable via the use of a screw tight knob. This allows you to put your feet up at the correct height to your height.
With adjustable seat height and footrest height, Smug Chair would be doing themselves a disservice if the arms weren't adjustable. The good news is that they are height adjustable. Perfect for the tall person to get their elbows positioned correctly.
High Backrest
Moving away from the adjustable features side of things, next we have the very high back on this drafting chair. Its much taller than your standard drafting chair to give the taller person the support they need.
The backrest is also contorted for lumbar support and is a mesh like material. The mesh is a great material to have on a back rest as it allows for air to circulate and your your back down. Nothing worse than a sweaty back.
The waterfall edge seat swivels all the way around and is quite well padded. The seat is also a fine mesh to allow for body heat to escape from the double layered seat cushion, which by the way is quite supportive. Doesn't flatten out like a pancake under the 300 pound maximum weight capacity.
All in all, the Smug Chair ticks all the tall persons boxes for me, making it the best drafting stool for tall people. I like the adjustable features of the Smug Chair and the extra tall seat height option. Makes it a no brainer for me.
Height Adjustable Drafting Stools – No Backrest
For the tall people that don't want a backrest or arm on their drafting stool, Office Star have this extra tall stool that can extend its seat height up to 33 inches. Which is a good 3 to 4 inches taller than standard.
Because there's no back to this stool, you really need a decent seat to take the grunt of your body weight. This chair has a relatively thick padded cushion for this reason. The saddle style seat can adjust its angle slightly as well as the height.
Adjusting the angle of the seat is a great feature if you need a chair to rest into rather than sit on for 8 hours a day. But do remember to adjust the angle when you do go to sit on the seat or you may feel like your sliding off the front of the chair.
The height of the footrest is also adjustable, so that box is checked. However I've heard some people have had issues when assembling the footrest.
But overall, Office Star have provided a product to fill the once empty space. Extra height drafting stools with no backrest. I've not come across another stool like this that can extend to 33 inches tall. So good on Office Star for providing a product like this for the taller office workers.
High Back Drafting Chair
Office Star also boast this tall drafting chair which is a variation to the above stool and combines some of the features of the Smug Chair. With the major exclusion being the arm. There are no arms on this drafting chair.
So if you like the freedom of having no arms, but need the extra high seat height, this 33.75 inch adjustable seat height chair may be the ideal choice.
The high back rest offers a nice amount of lumbar support and is made from a mesh material to allow air to circulate around your body easier. For the price of this chair, I find the mesh back to be a really valuable addition and the fact its adjustable is a cool bonus.
The seat itself is fairly well padded, its by no means premium, but you aren't paying top dollar either. I would estimate you get a good 2 years out of the foam before it may start to flatten out a bit.
While the hydraulics that control the seat height is considerably good, as in you shouldn't drop in height every 10 seconds, the footrest has proven to be a bit of a disappointment for this drafting chair.
The footrest is height adjustable, so there's no issues there. You can keep your feet from dangling. But the problem is getting the rest to remain in place for the duration of your time on the chair. Its found to have been prone to sliding back down the shaft.
Which is no good for some people that depend on a certain height footrest. There is a simple way to fix this, should you like the rest of the chair but the footrest turns you off. That is by adding a small PVC pipe around the shaft once you have the footrest at your desired height. The pipe will sit under the footrest and stop it from sliding back down.
If it wasn't for the flaw in the footrest design, this drafting chair would be a pretty awesome buy at this price. When you consider the rest of the chair, its not a bad buy for the tall person. But just keep in mind that you may need to play around with the footrest to get it right.
The Tall Persons Drafting Chair With Arms
If the though of having no arms sends you running for the hills, stop now because BestOffice has this 31.2″ adjustable seat height drafting chair which includes flip up arms.
The seat itself is well padded with a fabric cover like your typical tall desk chair. Its a little bit wider than some with a 19 inch width. However, this does not mean its the ideal drafting chair if you're big and tall because the weight capacity is just 250 pounds. If you're big and tall, see the chair below.
To me this chair represents a chair that is better suited to people that lean over their desks to work or for sketching etc. It's not really a chair for you to sit back in and relax for hours on end.
Its a standing drafting chair in my opinion. This is because the design of the backrest, while contoured forces you to sit up straight. Almost pushing you forward a bit. Great for the spine alignment, but not so great when you want to sit back and relax.
While we are on the topic of the backrest, it features a lumbar support with mesh holes in it. The while backrest is mesh, but the lumbar region gives you that lower back support you need, without sacrificing air circulation to your lower back.
All in all, this is not a bad drafting chair. But it won't suit every tall persons needs for a couple of reasons. The height doesn't extend as high as the other chairs on this list and the fact the chair encourages a straight up back means some people may be turned off by this chair.
But I do like how the arms are flip up, so you can quickly move them out of the way when not needed. The wider seat and height extendable foot ring are also positives for me.
Heavy Duty Drafting Chairs For Big And Tall People
When you're big and tall, the search to find the ideal drafting chair becomes even harder. Not only do you need to find a chair with a suitable seat height to match your height, but you need to find a chair that's heavy duty rated and can hold your body weight.
What I've found to be the best drafting chair for big and tall people is the Safco Vue Big & Tall drafting chair. Its big, robust and built like a tank.
Holds 350 Pounds
The taller a drafting chair goes, the less safer it can be for heavy people, which is why you don't see many drafting chairs for heavy people. But Safco have reinforced the mechanisms in this chair to be able to withstand a maximum of 350 pounds.
This is backed up by the quite heavy duty 5 star base, it resembles the high grade quality of the Hon brand which has been proven to be a big mans chair, but for a fraction of the price. So its nice to see Safco have produced this chair for the bigger people without sacrificing quality in their materials.
Height Extendable
The seat height can extend up to 32.5 inches, which is pretty good for a chair designed to hold 350 pounds. The footrest can also be height extended, from the floor it can be raised from 9 inches to 15.5 inches tall. A good amount of extension for people of varying heights.
While the backrest is not a high back, you can adjust it to suit the taller people. This is done by removing the stop screw which adjusts the height of the backrest. This screw is found at the base of the backrest and by removing it you can extend the height of the backrest a further inch.
This doesn't mean the backrest is now wobbly as it still has the screw knob on the side of the chair holding the backrest in place. All its doing is taking out the piece that restricts you from making the backrest taller.
Overall I really like the Safco Vue and because I'm a larger person anyways, the extra wide 20.5″ seat means there's more room for movement. The seat is contoured and very well padded, so I think the majority of big and tall people out there will really appreciate the Safco Vue for its intention to satisfy the taller and heavier folks.
*Arms are an optional extra for the Safco Vue.
Padded Drafting Chair With Height Adjustable Footrest
The last of the traditional style drafting chairs suitable for tall people is this padded option by Lorell. With a maximum seat height of 34 inches, most tall people will feel satisfied with the Lorell.
What makes the Lorell different from the others on this list is the hard shell padded backrest. Not everybody likes mesh as there backrest, so its great that Lorell have this more supportive and cushioned backrest to fill the void.
Being adjustable also means you can perfect the level of comfort to suit your height and needs. But, do remember that a backrest like this can get quite warm in the summer months, which is the main disadvantage to it not being mesh material.
Adjustable Footrest & Support
Like all good drafting chairs, this Lorell also has a height adjustable foot ring. When you set the height on the ring correctly matched with the backrests adjustments, you can really get that lower back support.
Being able to cradle you back into a cushioned backrest while positioning your feet at the correct height works a treat if you're prone to getting a sore back when working for long periods. Far more comfortable than your regular counter height stools that some people use as a replacement drafting chair.
I have heard of a case where the footrest on the Lorell has had the same dropping issue as the Office Star drafting chair. Whether this is an isolated case or not is beyond me. But should this occur, remember a small PVC pipe can eradicate this issue leaving you with a pretty darn comfortable and supportive drafting chair suitable for taller workers.
Perching Stool For Tall People Needing To Lean
The latest office craze is the invention of the perching stool, or leaning stool as they are also called. When you don't need casters to wheel you around the office, a product like this can be a great addition o your office.
While technically not a drafting stool as there is no foot ring, you can certainly use these types of stools for your extra high desk or standing desk. The main advantage to these types of chairs is that they are always there when you need a rest form standing.
Just lean back onto the seat and your job is done. But with tall people, the seat is often too low. Just like a drafting chair, anyone over 6 foot needs a perching stool that is taller than 30 inches.
Leaning Stool For Tall People
The Wobble Stool as its known has an adjustable seat height that goes up to 33 inches in height. A much better position for the taller folks and best of all, the seat even swivels so you can quickly turn around without having to knock things over like a bulky chair may do.
Because of the design of the Wobble Stool, you can perch quickly and easily behind your standing desk with ease. But unlike a drafting chair, the Wobble Stool doesn't take up much floor space.
Which is why they work so well with a standing desk. You can move around the desk and or office much freely as there is no bulky chair to trip over. Another advantage to the Wobble Stool is that it can be lowered and used as a regular office chair.
With the 3 inch padding and the ability to be positioned how ever you like, the Wobble Stool is a great innovative alternative to the drafting chair for tall people.
Drafting Chair VS The Wobble Stool
Balance Ball Drafting Chair 33 Inches Tall
Another craze in the world of office products has been the
balance ball chairs
. These are designed to offer relief for people with back problems as well as providing a way for people to improve their health and posture while in their office chair.
Taking a step further, Gaiam have produced the Drafting chair variation of the popular office product. So now, people working behind a drafting desk or a standing desk can benefit from the balance ball type seating.
As the chair comes with a foot rest, you can really sit comfortably to work for hours straight. When it comes to standing and resting on the balance ball drafting chair, you simply hit the locking levers on the wheels and you can rest safely and be supported by the half dome balance ball.
But Will It Burst?
While the idea of a balance ball type drafting chair sounds appealing to people with bad backs and or need a more ergonomic way of sitting/standing, isn't there a risk of the ball bursting?.
Quality balance balls are fitted with an anti burst feature, just like this Gaiam chair. However, this does not mean you won't need to refill the air inside the ball periodically. Plus there's always the risk of getting a small puncture in the ball which will mean you need to inflate the ball more often.
But you can easily fix any punctures using a tire sealant cream like the TruckerCo which you insert inside the seat. Then just move the seat around so that the cream coats the interior of the half dome ball, filling any holes or punctures.
Its Not For Everyone
So there you have it, a unique and innovative alternative to the drafting chair. While it certainly won't be to everyone's taste, the benefits you get from a balance ball as your seat will appeal to a select crowd.
The fact Gaiam have a 33 inch tall model for taller people is great for such a new and innovative product. For once the taller people have not been forgotten.
The Features A Tall Person Needs To Consider
For some people, it will be all about the seat height. But there's more to a drafting chair than just the seat height. So if none of the above drafting chairs take your fancy, these tips below will help you on your quest to finding the ideal stool for you.
Seat Height
The seat height of the drafting chair is very important when you're a tall person. As touched on earlier, for most people a height adjustable seat up to 30 inches is fine for people under 6 foot. But us taller folks are better off looking for a seat that can be adjusted to 34 inches in height.
Its also important to remember that when manufacturers state their seat heights, you need to allow for a little give when you sit on it. For example, a 35 inch tall seat may compress down to 33 inches once a 250 pound person sits on it. So don't be afraid to buy a drafting chair that's a little taller than you want.
Must Be Adjustable
Staying on the topic of the seat, it must be height adjustable. Don't be fooled into thinking all drafting chairs are height adjustable, because they're not. Some are fixed heights and if it doesn't meet your height and your desks height, you're in for a battle of a lifetime.
Adjustable Footrest
Another important feature many tall people forget to look into is whether or not the foot rest is height adjustable. There's not much point finding the perfect height stool only to discover the footrest is in a fixed position, which doesn't match up with your longer legs perfectly.
Adjustable Or Swinging Arms
If you go for a drafting chair with arms, try to find one that has height adjustable arms. This way you can adjust the height of the armrests to meet your height and perfectly rest your arms at the correct height.
If the height is not adjustable, you at least want a chair without fixed arms, this can get really annoying very quickly. If the arms are uncomfortable for the task you are doing, you want a chair with arms that can be flipped up or can be swung to the side and out of the way.
Backrest Height
Its no different to finding an office chair for a tall person, if the backrest is short, you're going to get uncomfortable in a short amount of time. If you plan to actually sit in the drafting chair for long periods at a time, a high backrest will support you better.
But if you are basically using the draft chair as a place to relax the legs for 5 minutes here and there while working behind a standing desk, or changing between jobs at the raised desk frequently, a backrest may not even be needed.
Finding a drafting chair for tall people is a little more complex than for regular height people. But when you're armed with the knowledge of what to look for, you can narrow down the list much quicker.