I hope you love the products I've recommended below, just a heads up that as an Amazon Associate, I earn from qualifying purchases. This means I may earn commissions on products bought via links on this page.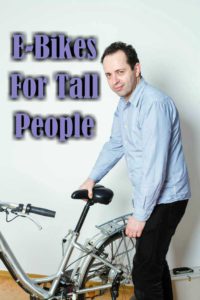 Electric bicycles or E-bikes have been around for a while now yet the market seems to have still left out us taller riders. Which makes it extremely hard to find the best electric bikes for tall people. Which is sad really as the freedom a bike gives a tall person is unmatched as there's no car roof to contend with.
However there are some limited options for the tall rider wanting to take advantage of the electronic bike boom. If you're willing to spend the same amount as a small used car on a new E-bike you can get some pretty fancy bikes. But not everybody has 4-5k laying around.
So below you can find some more affordable options in regards to tall electric bikes for people over 6 foot. Do note most e-bikes don't cater to people over 6 foot, so ensure you read the description thoroughly before hitting the buy button on just any electronic bike. The bikes listed on this page all have a user recommended height in the description of over 6 feet tall.
Quick Tall E-Bike Comparison
| | Height | Features | Price |
| --- | --- | --- | --- |
| | 6'6" | 300 Lb Capacity, 26"x4" Fat Tires, 40-50 Miles with Pedal Assist, 23mph, 750W, 2 Modes | Check Price Amazon |
| | 205cm/95cm Inseam | Up To 55 Miles With Pedal Assist, 500W, 260 Lbs Capacity, Carbon Steel Fork, 3 Modes | Check Price Amazon |
| | 6'7" | Big & Tall 330lbs, 48V 500W, 60+ Miles With Assist Mode, 20mph, 3 Modes, 7 Speed | Check Price Amazon |
| | 6'6" | 36V 250W, 35 Miles With Assist, 2 Modes, 6 Speed, Carbon Steel Frame & Fork | Check Price Amazon |
For People Closer To 7 Foot Tall
For the really tall bike riders, stock electric bikes won't suit your height. But you never know, manufacturers might catch onto the need for extra tall e-bikes one day. But until that day, you do have alternative options.
First you will need a regular tall persons bike that is either custom fit to your measurements or an existing bike that you feel comfortable riding. Getting a bike custom built can also be quite expensive, so if you have a tall cruiser bike for example you could modify the seat and handlebar height to make it a better fit.
Once you have a regular bike that fits you can add a electric bike conversion kit to it. This will now allow you to take advantage of what an e-bike offers. But you will need to do a little research on the topic first. For example, do you want the conversion kit to be put on the front or rear wheel as they are not interchangeable.
Most of the time people want more power and therefor the kit should be more than 500 watts, something like the 1000W LCD motor kit by AW. If this is the case the kit should be installed on the rear wheel. These kits are not light either, so unless you want your bike front heavy, install it on the rear wheel. Most people tend to put these kits on the rear wheel for these reasons.
Tall Electric Bike For 6'6″ riders
A relatively new E-bike for 2018 but not a new name in the industry, the
MOTAN M-560 by AddMotor
has a height maximum of 6'6″ tall. AddMotor have been around since 2006 and show no signs of slowing down, with ambitions to produce their own inventory and delivery systems to cater to the American audience from their show room in Penn Valley CA to the world.
Because of the extra tall user height, most tall people will be able to enjoy cruising around on the Motan. With its beefy fat 4 inch x 26 inch tires, even the tough terrain can be tackled. While going up hills is not a problem for the Motan. For the steepest of hills you will have to put in some pedal power on low gear, which is a great workout.
Lock the front suspension for city commutes and unleash on the trails by unlocking the front suspension. It's really a bike that offers you so much freedom. Best part is you can assemble it yourself. Even if you're not mechanically minded, the instruction manual provides so much detailed information it's hard to screw up. As well as detailed descriptions on how to use and control the electronic bike to its best capabilities. The only gripe I have is the throttle remains engaged while going through the power assist, which is a little irritating.
But the huge 5 inch LCD display works like a treat which offers USB connectivity to charge your mobile device. The 48V*10.4AH Samsung battery lasts for quite a bit longer than expected. Which is good for longer rides far from home. Takes bout 3-4 hours to fully recharge once flat.
Some Of The Specs
Recommended user height between 5'6″ to 6'6″.
300 Pound weight capacity
23 Mph maximum speed
30cm seat post with quick release
7 Speed Shimano freewheel.
Lock out front suspension fork.
Rear hub brushless motor.
Averages 20 to 25 miles without pedal power using only throttle.
Addmotor MOTAN Electric Bicycle 6'8"

Electric Bicycles For Tall Riders Up To 6'8″
Nakto, you may not have seen or heard much about Nakto the brand. But this is for very good reason. They ship directly out from manufacturers (
Also on amazon
)so that their e-bikes are cheaper. While it does make it hard to scope them out in person, the savings you get are well worth it.
They have a number of electric bicycles for tall people, this one pictured here is the Nakto 2018 Super Cruiser. It has a user height recommendation between 5'6 and 6'8″ tall. The weight capacity is around the 300 pounds mark, so big and tall riders can fully take advantage of a motored bicycle.
What powers the Super Cruiser is the waterproof and removable 48v12a lithium battery and the 500 watts brushless motor. With a top speed of 35 Mph and a long 35-50 hour battery life, it's easy to see why Nakto came up with 'Super Cruiser'. Do note that they manufacturer is based in China and therefor the top speed limit will vary accordingly.
Assembling the e-bike is considerably easy and if you get stuck, there are videos online (Or below) you can watch to get you over the line. Saves you a bunch on paying someone else to assemble it. Starting the bike up is as simple as holding down the 'M' button (located below the up/down lever) with the ignition switched on.
The Details
Durable carbon steel frame and forks.
Smart LED display which displays power level as well as speed etc.
Twist, throttle and pedal power options.
26″x 4″ fat tires.
Comes with smart battery charging.
suitable for tall riders up to 6'8″.
6 Speed Shimano gears.
Samsung battery – 48v12a lithium with protections against overcharge, over heating, over currant, over voltage and short circuits.
Brushless motor 500W.
Headlight included.
NAKTO 26" 500W Electric Bicycle 6'8" Tall

How To Assemble The Nakto Cruiser Electric Bike
Best Electric Bicycle For Big & Tall Riders 6'7″
After putting on over 100 pounds due to too much inactivity over many years, I found it very hard to get back into riding my bike. Which is how I actually found out about these electric assisted bicycles. But being a bigger man I quickly realized that not all e-bikes can handle heavier people.
There's a very good reason e-bikes come with weight capacities labelled on them, which leads to a very good reason you should pay particular attention if you are a big and tall person. The bike simply won't handle the excess weight for very long.
Considering most bikes have around a 250 pound capacity, it doesn't leave too many choice for the big and tall. This is why the Cyrusher Fat Tire Bike is such a standout. Lets take a look at why.
Built For The Tall Heavy Person
The Cyrusher bike is built to withstand up to 330 pounds of weight and has the dimensions to suit someone around 6'7″. Not too many other bikes on the market can boast such user support. The height is made possible due to both the seat and the bars being able to be heightened to suit your actual height. The handlebars can even be angled forward for the taller people who need more reach.
The 4 inch fat tires on the 26 inch rims making tackling mountains, hills and snow a much easier task for the heavier person. However I would certainly upgrade the seat to a bigger oversized option. The one that comes standard with the Cyrusher is too small and not padded enough for a larger person.
Few Of The important Specs
Powerful 500 watt 48 Volt Lithium Battery
7 Speed Shimano
Dual Disc Brakes
20mph Top Speed With 40-50 (Throttle) Miles Per Charge or 60-90 miles with pedal assist
3 Modes: Regular, Assisted & Full Electric
6'7″ Tall Riders, 330 Lbs Capacity
Cyrusher 4" Fat Tire 26" Rim E-Bike 6'7"

Best Electric Cruiser Bike For Tall Women & Men
For the more laid back riders, you can't go past a cruiser. Whether your a Woman or a Man, the Camel Cruiser by Nakto is a dream come true. Suitable for people up to the height of 6'6″, you can be cruising around town in no time. While the bike pictured here is for women, there is also a men's version available too.
Because its the same brand as the above 'Super Cruiser', the bikes are considerably cheaper as they cut out the middle men. Which also means these 'Camels' are made from high carbon steel for greater strength. However the battery on the Camel is slightly less powerful as its a 36volt 10amp. However still has the overload protection and such.
The Camel also has power assist so you can pedal and use the motor to get you through the hard times if you choose. Without using pedal assist, which can be easily shut off by flicking the red button, you can expect to travel using the throttle only for about 20 miles. Which is somewhat shorter than the Super Cruiser. But in saying that, this bike is more of a cruiser and not intended for long marathons.
Overall the Camel by Nakto is a budget friendly cruiser bike. Don't expect the greatest e-bike to ever exist with a price tag like this. Sure it doesn't have the best known brands building it, but for what it is, it's quite a handy around town or along the beach kind of bike. When you're over 6 foot tall, the options are limited so we got to deal with the hand we got fed.
Here's The Lowdown
6'6″ users male or female.
Comes with a handy carry basket for the front of the bike.
Includes a kickstand.
Goes to about 25Mph
250-300 Lbs capacity.
26″ Tires
V brake and rear extension brake.
Includes trumpet, horn and headlight with 360° lighting.
Smart power display
Shimano 6 speed gears.
Nakto Electric Cruiser Bike - Camel 6'6"

Tall E-Bikes Conclusion
So there we have it, a few of the more affordable electric bikes for tall people. These bikes won't cost you the world and offer taller people the opportunity to experience the benefits an e-bike offers. While there are better electronic bikes for a tall person available, not everyone has the funds to fork out several grand.
Another popular brand is the Rad Rover bike. It's suitable for people around 6'2″ but has been known to been ridden comfortably by taller people. At the end of the day, you will have to look into what measurements you need for a more size appropriate ride. Perhaps it's worth while visiting your local bike store and finding out what options are available if none of these are adequate to your needs. Buy a oversized road bike and throw on a conversion kit if need be.
If you do manage to find the diamond in the rough, please do share below in the comments section below. Other tall riders would greatly appreciate your input.