I hope you love the products I've recommended below, just a heads up that as an Amazon Associate, I earn from qualifying purchases. This means I may earn commissions on products bought via links on this page.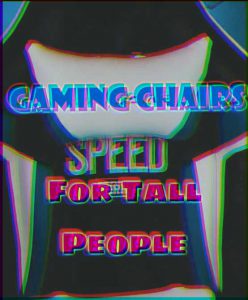 Gaming chairs have exploded in popularity in the last 10 years, especially since the
launch of Twitch
back in 2011. With millions of people tuning in every month and seeing pro gamers with fancy pants gaming chairs, it's no wonder they are the hot new piece of gaming furniture.
In this particular discussion we will be taking a look at the best gaming chairs for tall people. Us tall people often get shafted when it comes to chairs and various other day to day products designed for people under 6 foot.
However there is good news for tall gamers.  While you can find height adjustable gaming chairs for people over 6 foot, the main advantage to a gaming chair over your run of the mill office chair benefits the tall person also.
While you can get awesome office chairs for taller people, one area most standard chairs lack is support in the shoulder and neck areas. Which as a tall person is so uncomfortable your better off sitting against a brick wall. But these extra tall office chairs are quite ergonomic and adjustable, making them also great chairs for gaming in.
But with gaming chairs, they are designed to be more supportive for the body. In particular, the back rest is often more taller and wider than your ordinary office chair. So a high back rest is crucial when it comes to gaming for long hours. If you're going to spend 200+ hours playing Destiny 2 with your head tilted back with no neck support, well you're going to feel some pain. Which is why a gaming chair is simply better compared to an office chair with no neck support.
DXRacer Gaming Chairs For Tall Persons


There's no doubt in my mind that you have seen or at least heard of DXRacer gaming chairs before. This brand of chair has become the mainstream gaming chair these days. Like most things that go mainstream, prices skyrocket. Which is sadly the case for DXRacer. So if you want to have the most popular and recognized gaming chair in the business, be prepared to spend large on these bad boys.
The line of DXRacer gaming chairs is somewhat overwhelming. It feels like they have a line of chairs out for every kind of person. Which is good I guess, if you know what you're looking for that is.
As a tall person, the two lines of gaming chairs I would recommend are the 'Tank' series and the 'Sentinel' series. Both have pretty strong and robust names right, so they must be good. As DXRacers can be seen all over Twitch, chances are you have come across them before. Imaqtpie, Ninja and Kittyplay. These are just some of the big name gamers streaming on Twitch.
Recommended User Heights
The Tank Series By DCXRacer
What's impressive about the Tank Series gaming chair is the the overall height of this chair. One of it not the tallest office chair I have seen. It's an impressive 55 inches in total height. Hence the 6'7″ maximum height recommendation.
The Tank series also has a huge 450 lbs weight capacity. Which is certainly up there. I guess that's why its named the Tank, perfect for the big and tall gamers.
But the drawback to it being a big and tall gaming chair is that you may be 6'7″ tall, but a thin 200 lbs in weight. So this chair is going to be huge on you. Some gamers like the feel of the contoured rib padding that runs down the edge of the chair. It makes you feel more enclosed and in the moment. So you would have to be a larger person to take full advantage of this feature.
Extra Tall Gaming Recliner Chair
Cyrola are a brand you probably haven't heard much from. But that is about to change once you get your hands on this
51.5″ tall gaming chair
. This is one of those chairs you can customize and then some. In comparison to the DXRacer, it's a far more affordable option. But that could change once Cyrola becomes a more mainstream brand name. But for the moment it's a very good price for a chair that  has a lot to offer.
Because the Cyrola is a rather tall chair, the seat height extension follows suit. Being able to extend to pretty much 22.5 inches from top of seat to the ground. Which is quite a sufficient amount of room to get the feet firmly placed on the ground. Many office chairs wont extend past 20 inches, so this extra 2.5 inches in height can really make the difference for longer legs.
But Wait, You Said It's A Recliner
I did, because it does just that. It has the ability to recline with an extendable footrest. So when the game you're playing isn't so serious and doesn't require you to be overly involved, you can chill back with your feet up. From 90° to 180° you can set this gaming chair to how you desire.
But It Gets Even Better
Most gaming chairs will come with a headrest pillow, this is nothing new. But have you had the privilege of gaming while receiving a massage on the lower back?. That's what the Cyrola massage chair can offer via a usb charge. The lumbar (back support) pillow can be powered to massage your back while sitting behind the desk.
How often have you had to stand up due to lower back pain from sitting down too long?. It's almost a daily occurrence for me. This is what makes the Cyrola gaming chair a stand out for me. While it has pretty decent craftsmanship on the build and design, its the massage lumbar pillow that wins me over. Combines with being able to extend the footrest out and embrace pure comfort is priceless.
Extra High Back Gaming Chair
What Makes This Gaming Chair Good For Tall People
The dimensions for the GTRacing chair make a suitable candidate for people over 6 foot. It has a decent overall height of 52 inches at maximum raise. The backrest is also quite high measuring just over 30 inches. The seat also sits high which as someone that is over 6 foot simply must have.
The arm rests are also height extendable which is another feature a tall person needs to be aware off. Having armrests that sit too low can and will affect your gaming.
Other Cool Features
Like most gaming chairs, the GTRacing chair comes with removable pillows to support the lumbar and the neck. These are pretty much mandatory if you ask me. They provided a level of support that once you experience it foe the first time, you can't live without.
The chair also reclines to an almost flat position. 170° to be exact. Having a 300 pound weight capacity and being able to recline this far back is a great for times of the unexpected nap. Turning the chair into a recliner is super easy as well. On the ride side is a lever you pull back on to unlock the chair so it can be reclined.
The GTRacing chair also rocks back and forward with the option to lock the chair into position to prevent rocking. I'm not much of a rocking fan, so this lock feature is something I always look for in a chair.
Overall the GTRacing is a great budget mid range gaming chair. It has the look and appeal of a professional gaming chair, but without the over the top price tag. If you really wanted a DXRacer but funds don't allow it, give the GTRacing chair a shot. It has all the important features and is built for tall people due to the extra high backrest and overall 52″ height.
Best Office Chair For Gaming
When it comes to tall gamers, the ErgoHuman is also a great choice. This chair is super adjustable from the seat height all the way up to the headrest. Which can not only extend in height, but also pivot forwards or backwards to really define your level of support and comfort. This kind of custom support is rarely seen on any chair, gaming or office.
In terms of height, the seat can raise up to 22 inches from ground level. Offering a good 52 inch total height with the extendable headrest. So tall gamers are going to love the ErgoHuman based on the measurements alone.
The Ergonomics Don't Stop There
There's a reason for the name ErgoHuman and it's pretty clear in the design. This is the most adjustable chair of any kind that I have come across. Even the backrest is adjustable. To custom fit the backrest you can change its height from one of the 4 settings. Never again will your lower back or shoulders feel unsupported.
Even the seat can be adjusted so that it slides forward. This creates extra depth for tall people with long legs to provide better support. The arm rests which are well padded can be raised as well.
What I really like about this chair is that it consists mainly of mesh material. Your traditional gaming chairs are usually made up with PU leather. Which can get hot and sticky after 30 minutes of gaming if you're a bigger person.
With mesh you get a much more breathable material. So air can flow in and out of these fine holes to help circulate the hot air away from your back and cool air in to reduce the amount of sweat building up. Mesh chairs have long been a favorite of mine for this reason and the fact they are super comfortable without needing foam padding. Mesh provides a more soft springy kind of comfort.
ErgoHuman, ErgoGamer?
If you got some coins to use up, the ErgoHuman is the best office chair to be used for gaming. But it will cost you quite a few coins. More expensive than a DXRacer, but far more adjustable and comfortable if you ask me.
While the ErgoHuman may not have all the bright pretty colors like other gaming chairs, it does come in color variations of the mesh. So you can make this chair uniquely yours by choosing your favorite color.
But the question remains, are you willing to spend a fair chunk of coins on a chair?. Would you throw down the cash if you knew the chair would outlast 10 other cheaper models, or if the chair was so supportive you no longer experience lower back pain after playing Call Of Duty for 8 hours straight?.
These are the questions you need to weigh up before you decide that the ErgoHuman is simply too expensive. While investing in your body with products like the ErgoHuman is a smart move, laying down next weeks rent is not the best plan either. So only spend what you can afford to spend.
Gaming Chair Vs Office Chair
After going through these gaming chair reviews, you may be left wondering if you should buy one or just stick to a ordinary office chair. So lets take a quick look at why a gaming chair or the ErgoHuman is your only option.
A tall person has longer and bigger muscles. These muscles need support or eventually they will start causing discomfort and pain in your body. A regular chair doesn't offer enough support to keep these muscles in the correct position and the back aligned correctly. So essentially the body is caving in on itself and causing all sorts of cramping and pain.
The best thing about a gaming chair is that they are typically more adjustable than a standard office chair. While you can get some pretty awesome ergonomic office chairs, cheaper run of the mill office chairs do lack the appeal gaming chairs offer. While style is not everything, it certainly plays a role in the gaming industry.
Especially if you are streaming online and want to build a reputation. You can be perceived as a legitimate gamer if you have a cool new gaming chair. Essentially half the battle of growing a following is done for you if someone considers you 'legit'.
But don't get me wrong, you can certainly build a reputation and a brand by using a high end office chair. Bjergsen has over 1 million followers on Twitch and uses one of the best office chairs going around. The Aeron by Herman Miller. But again, you need deep pockets to afford a chair like this.
The Bottom Line For Choosing A Gaming Chair As A Tall Person
By having a gaming chair which is not only height adjustable to suit a tall person, but to also be able to adjust it into the exact position you need to support the whole body will prove priceless. This is where gaming chairs have the edge over many office chairs.
It's also a misconception that a gaming chair can't be used as a office chair for regular work. Why the hell not!. It's the perfect chair for offices and gaming rooms due to how adjustable and supportive they can be.
Will you know immediately if you have bought the right chair for you?. In terms of being tall, yes you should have an idea as to whether its adjustable enough for your height. Using the above measurements for each chair, you should get a better idea as to what size you need.
You may find that after using your new chair for several hours you don't feel anything, this is a good sign that you're onto a winner. It's often the nothingness that makes your chair the best for your body shape and height. Not how comfortable it may feel (soft and plush). If it is not supportive, it will eventually cause you discomfort. So you want to feel nothing after sitting in your chair for a long time. That's when you know you bought a good gaming chair.