I hope you love the products I've recommended below, just a heads up that as an Amazon Associate, I earn from qualifying purchases. This means I may earn commissions on products bought via links on this page.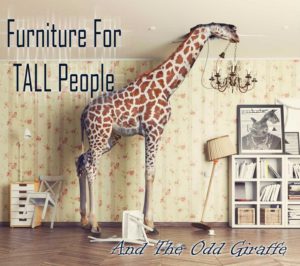 After reviewing much furniture for tall people and being a tall person myself, I know how hard it can be to find adequate size furniture for around the home. In many cases its impossible. If you're a really tall person, as in closer to 7 foot or more, chances are you will need to look into custom built furniture.
To the outside world, us taller people are often thought of as lucky because we can reach the top shelf in the cupboard and we can all apparently play basketball. Sure there are perks to being tall, but when it comes to furniture around the home we are certainly hindered.
Almost everything sits too low with depths that leave our knees up near our chins. Or insufficient back support so that we get sore neck and shoulder muscles from hunching forward all the time.
While there are furniture options for taller people as you will see below, the selection to choose from is quite slim. So if you do happen to find a better product than what is listed below, please do leave your recommendations in the comments section so other tall people can also benefit from your discoveries.
Types Of Furniture For Tall Persons
Below you can find a whole range of furniture broken up into sub categories. To find more options for each type of furniture, just click on the appropriate links to be taken to further choices.
I have covered many of these furniture options previously so all you need to do is decide on what type of furniture it is that you're after. Starting with indoor furniture and finishing on furniture that can be used outdoors.
Indoor Furniture For Taller People
Recliner
Chairs
A reclining chair is the perfect accessory to any media or lounge room. Being able to lay back while your favorite movie or TV show is on the big screen is priceless. Plus they make for a very comfortable nap station mid afternoon.
But as any tall person knows, finding a recliner for tall people can be quite the mission. Out of all the types of chairs, finding the right recliner is the most important. This is because when you lay out flat you don't want your head and your feet dangling off the ends. Defeats the purpose of trying to relax and be comfortable in a reclining chair.
The Best Recliner For A Tall Person?
For me, I find the best tall persons recliner to be the 'Stallion' by Lane Home Furnishings. Besides being suitable for people up to 6'8″, it also quite a hefty recliner. Hefty in a good way too.
It's large and very well padded. The shear size of it makes it perfect for the big and tall people. While tall thin people may also love this recliner, I find its a better match for bigger people. This is also backed up by a 500 pound weight capacity.
For tall people, this piece of furniture is a must have. Because it has such a high back to the recliner, when its fuller reclined it has an overall laying length of 79 inches. Now that is 1 inch short of being as long as a King size mattress. Now that is what a tall person needs!.
Also available in a vast selection of colors.
Lift Chairs
Following on from recliners are lift chairs for taller folks. These types of furniture are basically a recliner that also has a lift feature. This lift features raised the chair forwards so you can pretty much sit from the standing position.
The lift feature is predominately used by the elderly and people with injuries or conditions that limit their mobility. But anyone can use one as they make getting in and out of a recliner all that much easier.
Problem for a tall person is that there are not a huge variety available. Most lift chairs accommodate people under 6 foot tall. But the options listed on the link above are suitable for people up t0 6'8″.
Sofas & Couches
Evey household has one or even multiple sofas throughout their home. While I don't feel they are the most critical piece of furniture when it comes to suitability for a tall person, many people do. This may also be due to the fact I'm always found in my recliner and not the couch.
But for people that prefer the sofa, there are some requirements that need to be met. Listed here you can find sofas and couches suitable for taller folks.
When it comes to furniture like these, a taller person needs a higher back rest and a deeper seat ideally. This is because of our longer legs and upper torso. While a backrest is not hugely important, a suitable depth to the sofa is  must.
To work out the depth you simply need to measure behind your knees to your tail bone. This will give you a good indication of what depth to look for when buying a suitable sofa.
My Reclining Sofa Recommendation
Now the type of sofa you buy will vary, which is why I have listed a few more options in the above link. But me being a fan of reclining, there's no way I could go past this reclining sofa by Ashley Furniture.
Besides being a two seater that can recline, I really love the space this sofa gives you. It's simply put, 'Huge'. The extra wide seats give you that little bit extra freedom to sprawl yourself out and not feel like your sitting on top of the other person like many other reclining sofas.
The overall length or width of this reclining sofa is a massive 96 inches. So unless you're over 8 foot tall, chances are you can comfortably lay down on this sofa. The padding is great and makes taking a nap far too tempting.
But even when you just want to sit vertically, this sofa is to die for. It has an awesome lumbar support region. It hits the right spot and makes it more comfortable for sitting up straight.
High Back Arm Chair
When it comes to arm chairs, a high back is simply a must for tall people. Without the shoulder and head support, an arm chair is incredibly hard to get comfortable in.
But in saying that, club or armchairs typically have lower backrests, making it very difficult for a tall person. These tall armchairs here offer height extended back rests suitable for indoor furniture.
I certainly wouldn't compromise upper torso support for looks or price when it comes to an arm chair.
So with that said, the arm chair I find really good for someone over 6 foot tall is this Elizabeth Light Beige arm chair. Fortunately you don't need to compromise looks for a high back here because the tufted look of this arm chair is amazing. The light beige color also works well in most modern lounge rooms.
With a total height of 40.5 inches, most tall people will find this furniture offers great upper torso support. Plus part of the visual appeal to this arm chair is how tall the back is, just looks incredible.
Taking this arm chair to the next level, it also doubles up as a basic recliner. Which I feel would make an excellent nursery chair for tall Mothers when feeding their newborns.
But because it reclines, it's an instant winner to me. However, it doesn't use a handle to recline so keep this in mind. To recline you need to push your body into the back of the rather deep 21 inch seat. So not ideal if you have an injuries or physically impaired.
Massage Chairs
A massage chair is certainly a luxury and unfortunately for us taller people, the options available are quite limited. While limited, certainly not impossible. Considering Jerome Williams a former 6'9″ NBA player uses one of these massage chairs listed here for tall people.
When buying a massage chair to add to your furniture collection, greater attention must be paid to the specifications. Not so much in the technical details of the massage nodes and such. While they are important and often dictate how expensive the chair is, they aren't the only thing to consider when you're taller than 6 foot.
Many massage chairs these days have enclosed foot massaging devices. So no imagine your long legs wedged into these closed machines with a chair suitable for someone less than 6 foot tall. It would be mighty uncomfortable and not very rewarding at all.
Same goes for massage chairs that offer neck and shoulder rubs. If your shoulders are far higher than the back rest, you simply are not going to benefit from the massage. So paying attention to the measurements of these chairs is highly important. To help make the decision easier I have outlined a few of the massage chairs suitable for a tall person here.
Extra Tall Kitchen Furniture
When it comes to the kitchen, two of the biggest problems a tall person faces is the height of the dining table and finding suitable counter height bar stools.
Dining Tables
The standard dining room table height is usually 30 inches tall. Now any tall person knows what this results in. Our knees bashing the top of the table and legs twisted around to make it possible to sit this low.
Many tall people simply put up with this inconvenience when they don't have to. The solution is relatively easy if you're willing to invest a few extra bucks. This is achieved by a counter high dining room table. An extra six inches of leg room makes the world of difference.
But unfortunately for the shorter people in your family, this means in having to climb up taller chairs to be able to sit at the table. But hey, at least you can feel comfortable for once. No more hitting your knees underneath and no more hunching over the table just to reach your plate.
See the suitable dining tables for tall people here.
Bar Stools
The other kitchen dilemma a tall person faces is bar stools or counter stools. Because a tall person needs a higher breakfast bench or bar, a bar stool needs to be able to extend higher to make up the difference.
Its not uncommon to come across a bar stool with height adjustable features. But many don't exceed 24 inches in height. Which is an issue for a tall person whom would need closer to 30 inches of extended height to sit comfortably.
The other concern tall people face is the foot rest. If you can't have you feet rested on the foot rest because it sits too high or too low, then whats the point of a bar stool right. So to guide you in the right direction, you can visit this listing for height extended bar stools.
Bedroom Furniture For Taller Persons
It's a nightmare shopping for furniture that can be slept comfortably on by a tall person, there's no other way to put it. When it comes to beds and mattresses, more often than not you will have to put up with what you got or find a custom builder to produce a longer bed frame.
This next section is dedicated to furniture that you can either rest on or sleep on. Many times it comes down to a few extra inches that will make the difference between a good nights sleep and a terrible one. Which is why I have listed resources to various furniture already displayed on this site to help you make a better buying decision.
What Beds Do Tall People Sleep In

Probably the most difficult piece of furniture to acquire for a tall person is a suitable size bed. Most beds are a maximum of 80 inches long, which make getting to sleep quite difficult when you're taller than 6'3″.
I have listed a number of bed options for a tall person but for the most part, very tall people are going to need to look into a custom made bed. A bed that can handle a 96″ long mattress just doesn't exist straight out of the shop. Beds of this size require special attention from a person willing to make something out of the ordinary.
In terms of buying one today, the best option a tall person has is a California King mattress and bed. This is because they are 4 inches longer than your regular king size.
My #1 Choice You Can Buy Today
In terms of getting the longest bed straight out of the stores, my personal favorite is this California King platform bed by Greatime.
It's an unusual design but one that I think can really work in a tall persons favor. You see it is designed to hold a California King mattress inside the vinyl surrounds. The Cal King mattress is already 84 inches long, but you gain a few extra inches at your feet due to the vinyl surround.
In total the beds length is 98.9″, so you can gain a good 6 inches or more simply by putting your feet up on the surround if you need to. Its got to be more comfortable than sleeping with your feet dangling off the end of the bed, or crunched up into a ball.
The bed also has a pretty decent height of about 30 inches tall. So by the time you add a good solid 12 inch thick mattress you're left with quite a tall bed. Making it easier to get in and out of in the morning.
While the bed does add copious amounts of style to any bed room and provides the tall man extra legroom, it also is a nightmare to put together. Not impossible, but certainly bring a friend to help. Allow a few hours to unpack it all, set up and put together. The parts are quite heavy which is why a second person is highly recommended. I have tried putting together heavy beds by myself and it never works out well.
But overall, its not a bad option for a person taller than 6 foot looking for that extra foot of bed space. It's a huge bonus that it looks amazing as well.
Extra Long Mattresses
It goes without saying that a mattress is crucial to your health and well being. A good nights sleep can mean the world to your next days performance. For a tall person, this is often the hardest thing to accept. Sleeping on mattresses that are simply too short.
However there are some options available which do boost the length of your mattress an extra 4 inches. These options can be found here.
84″ Long Mattress
The longest mattress you can buy stock standard is a California King. This is an extra 4 inches longer than a King allowing taller people to have their feet remain on the bed.
The California King I quite like is the Breksta mattress. Its not over the top in price yet offers some pretty decent features. Which is very hard tom come by these days.
First of all, it's a memory foam gel infused mattress. What this means is it's got the awesome benefit of memory foam which is just super comfortable, but combined with the cooling powers of gel. Without some form of cooling agent, memory foam retains your body heat too much. Making it become hot and uncomfortable. But this gel helps to distribute your body heat away from your body resulting in a cooler mattress to sleep on.
The other feature I like about this 10 inch thick mattress is the 'don't disturb partner'. Ok so I made this name up but the Breksta has a motion feature where it minimizes the amount of unwanted movement motion to your partner via specialized motion foams.
While there are other California King options available, I find the Breksta a good choice in terms of affordability and comfort. But with any mattress, it's hard to name one that suits everyone.
Make Your Mattress Longer
Depending on your current bed frame situation, you may be able to add mattress extenders to either end. What this does is gives you an extra 6 to 12 inches of sleeping surface.
If your bed has a gap where you are forever digging your pillow out of, these mattress extenders help utilize this wasted space and turn it into a longer mattress. Ideal for tall people.
While this is not the ideal solution to a tall persons endless concerns, it is a relatively cheap and simple solution. To learn more about mattress protectors and see the full range visit this page here.
Futons That Accommodate Taller Folks
One of my taller friends is a mad futon fan simply because there are options available which don't restrict your head or feet. These can be known as arm-less futons. The problem is tho, most standard futons are between 70 and 76 inches long.
Which as you know, is not the same as a queen mattress. So unless you're prepared to have your feet dangle over the end while you lay down, you're going to be sadly disappointed.
However, don't lose all hope just yet. Previously I have discussed extra long futons suitable for taller people where you can find futons that are about 80 inches in length. This give you an extra 5 to 6 inches of feet space so at least you're not overhanging the mattress from your knees down.
Suitable Futon Option
While it does glamor up the boring futon, it's also quite convenient for tall guests. Because it has no arms/ends, you get a full 80.5 inches of uninterrupted sleeping space. When fully unfolded into a bed, it measures 60 inches wide. Perfect for the big person or a couple of tall people.
The bed frame itself is quite sturdy, which is what you expect from quality hardwood. But unlike other futon combinations that use cheap and nasty mattresses, the Arden futon set by Nirvana Futons is quite deluxe.
Which is quite the relief when you're looking for furniture for tall people only to find out the quality just isn't there. The mattress itself is made in the USA and has a mixture of poly fibers and 4 layers of high density foam. This combination creates a medium plush firmness.
Finishing the piece is a soft to touch microfiber material. This microfiber material comes in a variety of colors. So you can choose the color to suit your decor. The hardwood affect mixed with a styling color makes it hard to not suit just about any lounge room. The only thing missing is a couple of pillows and some tall guests.
The Daybed Options
Is it a bed or is it a couch?. It's a daybed. That's the beauty of a daybed, they look like a piece of furniture suitable for your lounge room but can also be quite handy as a guest bed. Or perhaps its movie night and you don't want to sit up in the couch, simply move the pillows out of the way and you got yourself a large comfortable space to lay back and watch TV.
A day bed can be great for taller people due to the high backs they have. So sitting upright is not often an issue. But when it comes to sprawling out or sleeping in them, a tall person needs to be aware of the dimensions in order to be able to fit comfortably.
While you can get queen size daybeds, they are often to wide for keeping in the lounge room, unless you have ample space. So the next best bet for a tall person is to buy an extra long daybed that measures similar to a twin XL.
This way you get the extra length the XL offers without chewing up too much of your floor space. With daybeds you do need to be aware of the two ends or arms. Most of the time both ends have some form of arms on them so they look like furniture rather than a bed sitting in your living room.
Guest Beds For Tall People
If you have tall friends or relatives, another piece of furniture that's critical to making sure they are comfortable on sleepovers is an adequate sized bed.
Unless you have guests staying over multiple times a week, most people opt for a rollaway or folding bed to save space. These are ideal as they can be packed up and stored away out of sight until needed again.
With these types of beds, a tall person needs to opt for a twin xl or they will simply be too short. The longest rollaway bed I have managed to find is 79 inches in length. Which is almost the same length as a queen size mattress.
79″ Long Rollaway Bed
The extra width is certainly a positive feature if you have bigger guests staying over. Nothing worse than the niggling fear of rolling off a narrow bed as a larger person. So size wise, its quite a decent guest bed for the big and tall.
No More Loosing Pillows!
One of the most annoying thing about sleeping on a bed like this if you are tall is when your limited on space, your pillows always end up on the floor while your feet hang off the end of the bed. Super annoying and uncomfortable to say the least.
But with this rollaway bed you get a headboard included. This makes the world of difference, especially for taller guests. The headboard even has its own fabric cover. So you can keep it nice and clean for the next guest to stay over.
In terms of mattress quality, you get a decent 5.5″ boxspring mattress. Which isn't too bad for a temporary bed like this. Sure I'd love it to be a 10″ thick gel infused memory foam mattress, but hey beggars can't be choosers in this case.
Rocking Chairs For People Over 6 Foot
There's nothing quite like a rocking chair to put you to sleep whether it be out on the front porch, relaxing on the back patio or inside while nursing bubs.
But as a taller person rocking chairs can be downright uncomfortable. Trying to coordinate your long legs with a low to the ground seat is almost impossible. Not to mention uncomfortable.
But these rocking chairs give us taller folks that little bit extra. A couple inches extra height as well as a deeper seat and height backrests. It's amazing what a few extra inches can do for a rocker.
Office Furniture For Tall People
When it comes to working in an office whether it be at home or at work, a tall person can be severely disadvantaged when it comes to office furniture. Especially when you work for a company that won't allow you to buy your own chairs or desks etc.
However if you have the freedom to chose your own office furniture you're in luck. Below you can size appropriate furniture for the tall office worker. No more do you have to sit behind a short desk with your legs cramped up.
Suitable Tall Computer Chairs
One of the more important pieces of office furniture is the office chair and for a tall person, the correct chair and posture is paramount to staying pain free and comfortable for 8 hours a day.
I have previously listed the best office chairs for tall people here where you can find my top recommendations. While you can simply chose from anyone of those chairs and know you're getting a good chair, I have also included a guide to finding the right size chair for your height. This way you can determine the exact measurements of the office chair you need to meet your exact height.
#1 Tall Ergonomic Office Chair
For those that take their ergonomics serious and want a chair that not only supports you, but fits your longer torso as well you will need to check out my
Ergohuman review
.
The name kind of gives it away, but nonetheless this chair offers up some awesome ergonomic features. Whats very cool about this chair is that it has a height adjustable headrest. Which plays a very important role for tall people. Having this head rest that can adjust is crucial to supporting your head and neck correctly.
While the ErgoHuman chair has some pretty fancy features to help you stay comfortable all day long, for the tall person it's all about the height. An office chair that sits too low is not only uncomfortable but can cause you serious health issues down the track.
The ErgoHuman offers you an average of 4 inches extra height over standard office chairs. With a maximum seat height of 22 inches you can comfortably sit with your knees bent and legs firmly planted in a vertical position.
The ErgoHuman offers much much more for just about any user, but for tall people it's my number one recommendation. The adjustable features alone make the ErgoHuman a chair not to miss out on.
Computer Desks For People Over 6 Foot
If you already have a office chair capable of taking you to the heights you need, the next thing that's just as important is the computer desk. No point having a chair that can elevate to 22 inches if your table only sits 24 inches tall. There's simply not enough room for your legs.
As a general rule, a person that is over 6 foot tall will be looking at a desk that has a clearance of at least 26 inches. So the top of the desk should measure no less than 27 inches from top to floor. Naturally, the taller you are the taller the desk needs to be.
Buying a desk can be quite complicated even if you're not short. With so many designs, shapes and functionality, choosing one can be quite the challenge. Especially if your office is set up in a manner that you need a unique shaped desk.
To help you on your way, I have listed a bunch of tall person suitable desks here. These office desks are all suitable for people over 6 foot and range in heights to cater to even taller people.
Standing Desks Are Height Appropriate
Moving away from the conventional office desk, all the rage these days are standing desks. While they are beneficial to your health, as a tall person the height of the desk is even more important. If the desk is too short and you have to hunch over just to be able to type, damage to the body can occur.
There are two types of standing desks appropriate for a tall person. I have listed 6 of the best standing desks here which cover both of the types available.
So you can get the full standing desk package which is suited to people who currently don't own a desk. This saves you the hassle of messing around with a converter. But if you already own a desk which you can sit down in comfortably with your legs not hitting the top of the table and don't want the full package you can opt for a desk converter.
A desk converter does just that. It converts a regular desk into a standing desk as well. These devices are quite handy and portable. So good for the person that uses multiple offices during the week.
Office Chair Alternative: Balance Ball
Another new type of product that is quite popular in the office these days due to the health benefits are balance ball chairs. These ball chairs are intended to keep you active while you're stuck behind the desk for 8 hours a day.
They feel like your sitting on a regular balance ball you would find at the gym, but these chairs have a backrest so that you can sit on the ball while working behind the desk. Keeping you active all day long while maintaining good posture.
The Best Option For A Tall Person?
But like most things in this world, they are not created to suit taller people. Anyone under 6 foot can buy just about any balance ball chair and feel comfortable. But when you're over 6 foot tall you will find the ball sits too low to the ground.
Fortunately there is one great balance ball chair suitable for tall people. This is the Isokenetics Tall Boy. This chair sits a few inches taller than most other ball chairs with a total height of 25.5″ inches. But do note you do sink into the ball a bit as you sit down.
This ball chair is also ideal for the office as it is on caster wheels. So you can roll from the printer back to your desk without having to leave the chair. The Tall Boy is a specially designed chair just for people that need the extra height.
Tall Gamers Need Chairs Too


Gamers take their gaming seriously and when it comes to their throne anything less than impressive is not acceptable. While many people do use the typical office chair to play games in, the more committed gamers take it to the next level.
These are specifically designed gaming chairs for tall people. This one piece of furniture can mean the difference between a kill death ratio of 1.89 and .89. A chair is that important and for many gamers nothing but the best will do.
So what options does a tall gamer have?. There are a few options a tall person can indulge in when if comes to gaming chairs. The best in my opinion is The Tank as seen below.
The Tank – Says It All
The Tank is a big strong and stable gaming chair by one of the best brands in the business DXRacer. What makes The Tank suitable for tall people?. The fact its designed for people up to 6'7 with a weight capacity of 425 pounds.
This chair is a monster and certainly intimidates anyone that is not big or tall. While being tall enough to suit most people over 6 foot, whats great about The Tank is the amount of neck and shoulder support you get. People that use regular office chairs often miss out on this key advantage a gaming chair offers. The Tank offers a taller backrest just to bring home this key feature: neck and shoulder support.
Outdoor Furniture For Tall People
With indoor furniture pretty much covered, its time to take a look at the outdoor furniture for tall people. There's nothing better than kicking back in the outdoors on a nice and comfortable chair of some description. That is of course the chair like most is not designed for a taller person.
The same rules apply for outdoor furniture as they do for indoor furniture. They must be height appropriate. So with that said, lets have a look at the options available for the outdoors type of people.
For the complete list of outdoor furniture, don't forget to visit this guide to tall peoples outdoors furniture. Here you can find additional furniture including wicker sets, dining tables and sets, rocking chairs and more.
Deep Seat & Tall Patio Chairs
When it comes to outdoor furniture the first thing you think of are patio chairs. Without them you have nowhere to sit, so it makes sense right. The biggest problem with patio chairs is that they are almost always low to the ground to suit patio tables, or they have no back or neck support.
Which for a tall person is just unfair. It leaves us with very limited options, especially when visiting a friends house for a relaxing afternoon session.
Fortunately I have done my homework and found a handful of acceptable patio chairs for the tall person which may meet your criteria. But like all furniture for us taller folks, nothing is ever perfect.
So you will have to decide in advance what type of patio chair suits your needs. For example some are great for leg clearance as they sit over 20 inches tall. But they may lack a decent backrest or the depth to cater to the longer legs.
On the other end of the scale you have wicker chairs that are typically low sitting and have not much of a backrest at all. So for a tall person the key feature to look for here is extra depth to the wicker chair. Which is what makes this deep seating wicker chair here special. It has a deep seat of almost 24 inches. Plenty of leg room for he taller person.
Extra Long Zero Gravity Chairs
My all time favorite outdoors piece of furniture is my zero gravity chair. These chairs rock because they can be used anywhere basically. They are so darn relaxing and easy to sleep in. I initially bought mine for a camping trip, but once I discovered how comfortable it was I've been using it daily as a deck chair.
The biggest benefit to a zero gravity chair is that it reclines back into the zero gravity position. This position is basically meant to resemble how astronauts are positioned before they are booted off Earth. This position is ideal because it basically applies minimal pressure on your body and therefor super comfortable. There are a few zero gravity chairs for tall people available, but I have listed my favorite below.
Furniture You Can Relax In – Timber Ridge
The Timber Ridge Zero Gravity Chair is one of the best I've found for taller bodies. This is because it has a full 72 inches of length when reclined. While it's not as long as a 80 inch queen or king, it doesn't need to be.
With a zero gravity chair you are not laying flat. You are positioned so that your knees are basically in line with your heart when you are reclined back. So your full body length isn't going to be a straight line like it would be if you were laying on a 80 inch bed.
So the 72 inch length of the Timber Ridge is one of the longest zero gravity chairs I've come across. But it also utilizes a decent backrest which is almost 29 inches tall. So enough room for you to sit in the chair without it being reclined and not have half your body overhang the head rest. All in all, the Timber Ridge is a good contender for a tall person looking to benefit from an outdoors zero gravity recliner chair.
Camp Chairs For Tall People
When it comes to camping, most of us tall people are sure to buy a tent for tall people and often forget about a size appropriate camping chair. So while you can comfortably walk around inside your tent without hitting your head on the ceiling, relaxing outdoors in your chair is less appealing.
My number one go to camping chair is one of the zero gravity chairs mentioned above. But sometimes its not practical to take a chair like this camping. They are considerably bigger and when you have limited space in your car, a traditional camp chair will save you on space.
So you can check out the selection of tall camp chairs here or see my favorite choice below. However if you're after a huge camping chair which needs to accommodate the big and tall, you need to check out that list.
The Best Outdoor Chair
The chair I recommend is the Kijaro dual locking camp chair. It sits an impressive 20 inches from ground level giving tall people the freedom to sit comfortably. But what I like about this chair is that it can be used for more than just camping. It's a stylish looking chair that you could even leave on your deck.
In terms of size, the Kijaro has a great depth to it. It comes in with a deep seat that measures 28 inches, which gives our legs more support and the opportunity to actually sit correctly in a chair. The backrest is about 20 inches, which is acceptable but probably won't offer you the best head support depending on your height.
Besides the measurements and the quality build of the Kijaro chair, I find the mesh material used on the backrest is a great feature. The mesh backing provides a unique way for air to flow to your back keeping you cooler on those hot sticky summer days. To some it may not be a huge feature, but for me its one of my favorites. That and the side storage pouch and 2 drink holders. Comes in some pretty cool colors too.
Beach Chairs
Another crucial piece of outdoor furniture for outdoors enthusiasts are beach chairs. Who doesn't love going to the beach to relax and unwind while taking in the calming sounds of the ocean crashing at your feet?.
It's a great feeling but for people with longer bodies, having our feet hang in the sand due to a short beach chair can be somewhat deterring.
Beach chairs can come in a couple of varieties, a reclining lounge style or a more traditional style of chair. For the low sitting beach chairs, it's crucial that you get a chair that is long enough to support your height. Whereas the more traditional type of chair, its more important to have leg room and back support.
I have previously listed size appropriate beach chairs here that will cater to people with longer torsos. But remember to bring the sunscreen!.
Outdoor Hammocks
Not everybody loves relaxing and even camping in a hammock, but the tall people that do know the importance of having a hammock that's up to the task. Trying to jump into a hammock that's not designed for someone over 6 foot is a serious mistake. It can end in tears, not just for you but the people watching in hysterics.
Best Hammock For Someone Over 6Ft
As you can discover in this list of extra long hammocks, the Ridge Double XL is my number one pick for taller people. But not just tall people, the bigger folks as well. Being a double it measures about 8 foot wide and the length is an impressive 11 feet.
So someone that's 7 feet tall can easily slide into the Ridge XL hammock without making a fool of themselves. In fact the ridge is about 20 inches longer than one of its main competitors, so tall people have certainly been accommodated here.
Furniture A Plenty
With over 20 furniture ideas for tall people, your sure to find something that is up your alley. While the selection is not always huge for us height advantaged people, its good to know we have some suitable options. Options that we don't have to modify just to make them 'fit'.
Whether your after indoor or outdoor furniture, the above guide has got it all. I hope it has covered what you were searching for. But on the chance it hasn't, do feel free to drop a comment below. Let me know what your height is and what type of furniture you're after and I'll do my best research to find a suitable candidate.