I hope you love the products I've recommended below, just a heads up that as an Amazon Associate, I earn from qualifying purchases. This means I may earn commissions on products bought via links on this page.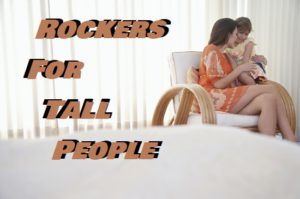 Whether it's indoor or outdoor
rockers for tall people
that you are after, chances are you will find a nice selection of rocking chairs listed below. These chairs have all been put through the sizing test and passed my tall person size recommendations.
The thing with rocking chairs is that they can easily be turned from a calming and soothing experience into the ride from hell. That is if you're taller than 6 foot and find yourself in rocker with a seat height of under 15 inches.
It's kind of like a regular size person trying to fit into a children's rocker, it's just not going to work. If you do manage to get in the chair, it sure isn't going to be calming and soothing. Especially if you've just had a newborn and later discover that yours or your partners long legs make the rocking sensation more of a ride on a bucking bull.
Try feeding or getting any baby to sleep in this position, it's just not going to happen. In order to comfortably rock in a rocking chair as a tall person, you need to ensure the chair is the right size for you. So how do you do that?.
What Size Rocker Does A Taller Person Need?
Unfortunately like most of the tall persons furniture, there's no one size fits all solution here. To find out the right size for you, you're going to have to do some basic measurements. Don't worry its not hard and only involves a tape measure.
Seat Height
For me the most important measurement to consider when buying a extra tall rocking chair is how high the seat sits from the floor. Because you use your feet to rock yourself in the chair, you can't have your knees up near your face, again its just not going to happen.
So the height of the seat will vary from person to person, but a good rule of thumb that I go by is anything under 17″ is best left to the folks that are shorter than 6 foot. Most rockers will be between 15″ and 17″ in seat height, so your going to have to dig deeper to find a rocking chair that sits higher. But fear not, below you can find rockers which have a minimum seat height of 18 inches.
Seat Depth
Secondly I look at the seats depth to ensure my longer legs will be comfortable. If the seats depth is too short then I'm going to feel very uncomfortable with my long legs protruding out the front of the chair while trying to rock myself to sleep. Sad I know, but it happens.
Rocking chairs don't seem to have very deep seats, especially outdoor rockers. Probably due to the design and the whole rocking motion. However, there are certainly chairs which have deeper seats than others. From my experience I have found that anything above 19 inches deep is good for taller folks. But again, this will vary depending on your height.
Backrest/Overall Seat Height
The last measurement to consider is the height of the backrest and or overall height of the chair. For some people and some purposes, the height doesn't really matter. But when rocking a baby to sleep, I've found it much more comfortable to be able to rest my head against the back of the seat. As with patio chairs, I like my backrests to be atleast 20 inches tall.
Best Rocking Chairs For Tall People Outdoors
This natural rocker by Cambridge Casual meets all the above measurement requirements. It has a tall seat which sits at
19 inches with a depth of 20 inches
and a total height of  44.5″, leaving you with a
backrest of about 24″.
Out of the outdoor rockers on this list, the Cambridge Casual has the tallest seat, which I prefer. Getting any taller and I think it may become a custom job or turn out to be quite an expensive rocking chair. Which I don't like so much.
But I quite like this rocker as it's natural and hand crafted. Which does mean you will need to do some assembly and apply a oil or stain to protect the chair from the elements and turning grey. But that's part of the reason I like this chair, I can choose whatever color stain I like and turn it into a fun weekend job.
The timber itself is solid Teak. So if you like the natural look of the timber, you can simply use a natural oil or a clear based varnish to maintain the teak look. Teak is a good timber as it does go with just about any surrounding furnishings. But I do also like darker stained furniture and this chair would certainly pull that off well.
While it's a pretty simple outdoor rocker, it does have a feature I quite like. That is the slight curve in the backrest. So whether or not you put a cushion on this chair, you will have some form of lumbar support from the curve in the backrest.
Rockers For Big And Tall People
Who says big and tall people have something unique looking instead of something that's just big and boring. Introducing the DJL Rustic Porch Rocker. With a
600 pound capacity
and a
18.11 inch seat height
, the big and tall people can get their rock on with this awesome chair.
The DJL is unique in a few ways, well being able to handle big and tall people is pretty unique on its own. But this rocking chair has great visual appeal thanks to its rustic log look.
Made from treated wood and finished in a weather protecting PU stain and varnish makes this rocker one you can set up and just get going. No need to crack out the paint brush before assembly either.
However, as it's an outdoors rocking chair I highly recommend annual maintenance on the chair. To do this is all you need to do is apply another coat or two of clear varnish. Either by spray or brush. This will ensure the layers underneath do not deteriorate and keep this cool looking chair lasting for longer.
Overall the DJL is a very well built and sturdy rocker. It's made to hold up to 600 pounds and this is evident by the amount of log reinforcements on all four sides of the chair. If you are both big and tall, this is a chair you must consider.
Extra Tall Rocking Chair
In comparison to the above DJL Rocker, this Outsunny rocker looks quite fragile. While not as bulky as the DJL, its still got a hefty weight capacity of 350 pounds. This comes down to the double layer of reinforcements between the legs. Providing stability and support.
People taller than 6 foot will be able to find comfort in the high seat and the tall backrest. The seat is just over 18 inches coming in at 18.7″ while the backrest is roughly 26 inches in height.
Its the backrest that separates this rocker from many others. Being about 26 inches in height allows us taller folks to rest our backs safely and with confidence when rocking. The seat height is just the right height for me, but it may prove a tad short for people taller than 6'3″ or 6'5″ perhaps.
The seat depth is not too shabby either. Measuring 21.3″ allows people with longer legs to feel better supported and allowing them to embrace the rocking motion. The feet of the rocker will require about 34 inches of space without rocking. So do ensure you have the space on your patio for this chair.
The Tall Persons Outdoor Rocking Chair
Similar to the above Outsunny chair, this rocker by the Shine Company produces another viable option for taller people. While both chairs have a similar design its worth noting that this chair has a lower weight capacity of 250 pounds.
In terms of the tall persons requirements, the seat sits up 18.5″ from the ground. Leaving you with enough clearance to dig those feet in and get rocking.
This rocker also has a deeper seat measuring 21.25″ with a width of 20.5″ between the arms. This is a wooden chair finished in a oak varnish. Apparently its a special brew of varnish which offers extra protection against rain and UV rays.
The chair also comes in various colors from green to white. So no matter your outdoor decor, this chair will blend in nicely.
Padded Indoor Rockers For Taller Folks
When moving indoors you're increasing the comfort level. Padded indoor rockers are ideal for taller people as they often have a higher seat which gives you the leg room to really be able to rock in comfort. While not as spacious as when sleeping in a
recliner as a tall person
, the rocker serves a different purpose.
This padded version by Giantex has an impressive seat height of 20.5″ tall. It also has a very tall backrest measuring 27 inches. This is certainly what a person over 6 foot requires. The armrests are also at a nice height being about 28 inches from floor height.
What I like about this mid century look of the indoors rocker is that while it can be used as a nursery rocker, it wont look out of place in the lounge or media room. Its a very eye appealing chair that's just asking to be sat on.
Overall the Giantex is a sturdy and well built indoors rocker. Its not too soft yet not too hard, more on the supportive side than plush side. While I would prefer it to be slightly deeper in the seat as it only measures 19 inches, it still makes for a great choice because of the high 27 inch backrest.
Best Glider Chairs For Tall People
After consulting with a number of other tall parents, the most talked about glider chair for tall parents was this number by Dutailer. In some cases, this chair was too big for someone over 6 foot. Now that is saying something about the height and dimensions of this glider chair.
It truly is a beast and it wants to smother you in all its padded glory. This chair is a bit different to your regular rocker as its designed for nursing babies. So because of the intention the seat is actually a trapezoid shape. This allows the parent to be able to spread their legs or get comfortable on the seat while nursing bubs.
The seat height is roughly 18 inches from ground level and the backrest is super tall. The backrest even reclines back, not all the way back, but enough so you can really lay back and get comfortable.
The glider also has up to 7 stopping points so you can control just how much gliding motion your baby needs. The other cool feature about the Dutailer is that either side of the backrest have detachable pillows to assist in nursing your baby. When not needed you simply attach them back into position and you have a super comfortable and very tall nursery glider chair.
Overall it really feels as tho Dutailer designed this nursery glider with tall parents in mind. The size and the shear convenience of it all makes getting comfortable much easier.