I hope you love the products I've recommended below, just a heads up that as an Amazon Associate, I earn from qualifying purchases. This means I may earn commissions on products bought via links on this page.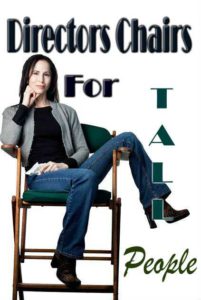 Tall directors chairs are an essential for any tall person. This type of chair can be used for a number of occasions which includes camping, hairdressing, bar chairs and much more. The versatility of a directors chair is what makes them highly sort after.
But as for just about anything for the tall people, the dimensions don't always line up. A standard directors chair can have a seat height of 20 inches up to 25 inches high. Which is fine if you're under 6 foot tall.
But for the tall person, this height doesn't really justify the purpose of a directors chair. Simply put, a tall person needs a seat height of no less than 26 inches.
Problem is, tall people make up such a small percentage of the population that manufacturers don't feel the need to create a product to suit this market. Which is kind of insulting, but something we have gotten use to.
However, not all hope is lost. Over time, more and more companies are coming to the tall persons rescue. By providing useful and height adjustable products that suit our height. Today, its the directors chair market. Below you can find a handful of suitable directors chairs for tall people. With maximum seat heights of up to 32 inches, much of the tall population will find these options suitable.
Tallest Directors Chair
While directors chairs can be quite the versatile chair, they are often known to be fairly poor to actually sit on. Many people find them to be quiet uncomfortable as a regular use chair. They're also known to to be an issue for larger people and having them fold in on themselves. This isn't the case with this 'Hollywood' chair thanks to the comfortable padded fabric that wraps around the backrest to provide quite the supportive backrest.
The comfort is also matched by the high density seat cushion. While not being too hard that's its uncomfortable, its firm and supportive enough that you don't feel like you're sitting on the wooden seat beneath.
32 Inch Tall Seat
The seat height of this chair is impressive with it being 32 inches high. This does give you a good amount of legroom for taller people. Having extra legroom when your tall is a necessity since it can cause you discomfort if your legs are cramped up.
Sturdiness is one of this directors chairs most impressive purchasing factors for me. You want a chair to be sturdy and be able to hold some good weight Thanks to the hardwood elm it's made out of, it gives it a weight capacity of 350lbs. So it gives it some extra strength for us big and tall people.
Being sturdy and high enough for tall people is all well and good, but it needs to be comfortable as well. Thanks to the foam padded seat and the clever decision to pad the back rest as well, makes this chair give a high level of comfort. Possibly one of the most comfortable on the market in my opinion.
Portability is a big factor for directors chairs and is a must for them. This chair collapses easy for storage which makes it easy for transportation. With it only weighing about 27lbs also makes it light enough to carry it as well making the portability even easier.
Best Camping Directors Chair For Big & Tall Person
If you're a fan of camping chairs but like the design and height of a directors chair, then this chair is the perfect blend of the two. It has the higher legs and shorter back of a directors chair, combined with the sturdiness and comfort of a camping chair.
31 Inch Seat Height
While this chair has a few extra features that are great and I will go over, first I want to go over the height since that is one of the more crucial parts. For a sturdy chair like this, I find it quite impressive to have a seat height that is 31 inches tall. This gives it a great amount of legroom freeing up those knees from your chin.
This chair has a few extra features that I really like and wish more chairs would do. The first and probably my favorite feature is that it has a pop out side table which is extremely useful. Never underestimate how useful a directors chair with a side table really is. The number of times I've used this chair simply for the side table to rest my coffee on makes its great value for money.
The second is a side pocket to store smaller things then a carry case for the chair. These maybe small things but they add value to the chair.
The carry case is really useful for transporting this chair when it's folded. When it's folded it's compact coming in at 23 inches wide x 44 inches high x 7 inches deep. When you combine this with it only weighing 16lbs makes this an extremely lightweight chair that's easy to move.
It's made out of an anodized aluminum frame which is why it's so lightweight, yet still durable. The maximum weight capacity is a solid 375lbs which adds some great versatility to this chair. The amount of reinforcement poles on this chair are really what makes this one of the best. Its super stable and provides a worry free seating experience.
Comfort of this chair is really good thanks to the polyester fabric it's made out of. Since it's a camping style chair there is no foam cushioning, so you're sitting on a taut yet comfortable fabric.
Extra Tall Directors Chair – Make Up Chair
When you want a chair that's practical yet stylish usually you're left a little disappointed in one or the other, but that's not the case with this impressive Mefeir chair. It suits a wide variety of needs and is one of the most stylish and comfortable directors chairs in my opinion.
However, the design of the Mefeir chair is suited to make up artists and even home hairdressers. It comes with 2 side pouches to store your make up equipment or hair equipment. Plus the addition of a foot stool for clients to rest their feet on while getting a makeover.
31″ Tall Directors Make Up Chair
This chair offers some impressive height that gives you plenty of legroom and allows you to oversee what you're doing easily. This is thanks to it having a seat height of 31 inches high. This is on the higher end of the height spectrum with only a few taller.
Directors chairs that have extra features are my personal favorites. Which is why I like this chair that has its own foot rest and several storage pockets. Extra features are always a plus and the storage pockets do make it good for make up artists.
The combination of hardwood and polyester makes this a comfortable chair in my opinion. The fabric seat and back rest are soft enough to be comfortable, but still feel they give you the support you need for long periods of time.
If there was one downside to this chair, it would be the weight limit on it in my opinion. Being taller there is a good chance you weigh more, there's just more of you and there's not a lot you can do about it. So only having a 250lbs is something that will be difficult for some people.
While the weight capacity can be an issue for some people. If you're under that capacity then this is a great chair to consider. It's stylish, comfortable, and offers a nice amount of extra features.
Bar Height Outdoor Directors Chair
I don't know about you, but I've been to a few friends places with a bar for a family get together and their seats are always to low for the bar! Having the right height chair for a bar is just so much more comfortable and with this chair this might never be a problem again.
Tall 30″ Seat Height
The height of the seat for this chair is 30 inches. This is the perfect height for the average bar. Having a chair that's too high is bad for your back and posture. If the chair is to low then it's not going to be great on your neck and extremely uncomfortable.
Since this is a camping chair in the style of a directors chair it does have some of the useful camping features. It folds up really easy and it has a drink holder which are both great features. They then made the smart decision to add a foot rest as well adding to the overall comfort of this chair.
What the frame of a chair is made of can tell you a lot about a chair. With this chair having a heavy duty steel frame, you know they were aiming for a durable chair that's stable when you're sitting in it. The weight capacity is a decent 300lbs which could be a littler higher in my opinion, but it's not a deal breaker.
Being a camping chair means it needs to be easily portable which they've achieved. It's easy to pack up and doesn't weigh a lot in my opinion. It only weights 15lbs making this one light director styled camping chair.
Professional Tall Persons Directors Chair
There is a lot to like about this professional level directors chair. It could be the number of features it has or how well made and comfortable it is. It has a lot of positives going for it that make it an easy chair to recommend to people.
This chair has a good combination of a high seat and a decent weight capacity making it good for taller people. The seat height is 29 inches which is only a little bit shorter than some others, but still a good height. The maximum weight capacity is a solid 300lbs which will suit a good number of people.
Side Table With Cup & Phone Holder
One of my favorite features of this directing chair is that it has a side table with a cup and phone holder. This is a nice quality of life improvement with the phone holder being extra useful. Since it's not in your pants pocket, there's no risk of damaging or cracking the screen.
An under appreciated thing that this chair has, is that it has a removable patch on the front and back. This means you can take them off and get something embroidered on it to give it that extra bit of customization, or a more professional look with your companies name.
The look of this chair is fairly stylish with this mainly thanks to it's aluminum black frame. It gives it that professional look and feel that some people are looking for.
I really like how there's a mesh storage shelf in the under compartment. This is a very useful spot to store your goods whether it be paper work or the beach towel. Not many chairs have this feature which make this chair in a league of its own.
Being such a lightweight chair only weighing 12lbs make this chair easy to carry around. This is made even easier thanks to that it comes with a carry case. Making it perfect for those who are on the move a lot and want to protect there chair from damage.
Tall Directors Chair With Side Table
This directors chair does seem to be designed for those who're looking for a makeup chair. It's not as tall as some of the other chairs on the market but it's a good height for a makeup chair. The seat height is a decent 26 inches which is still higher then a lot of other chairs.
The reason that this chair is so good for makeup artists is that it was designed to an ideal height for the artist themselves. It allows them to have a good standing height that's comfortable for them. But this chair is more then just a good makeup artists chair in my opinion.
It also has a side table that's got a cup holder that can also be used as a phone holder if you don't have a drink in it. This is a nice addition to any director style chair and should be included on them more often.
Having a footrest on your chair is a big plus in my eyes and the only way it can be improved, is if you can fold it up when you don't need it. Which is one of the reasons I like this chair the foldable footrest is not only comfortable but versatile for people who don't like them.
The weight capacity of this chair does seem to be about average for these tall director chairs, with it being 300lbs like a few others. So it's going to be good for a lot of people just not the heavier folks out there, who might be better off with one of the heavier duty ones.
While it does only weigh 16lbs which does make it easy to transport. It doesn't have a carry case which is a little frustrating. This is only a small thing and a personal preference but it would of been a good addition, to an otherwise great chair.
Benefits Of a Directors Chair
These types aren't the most common chairs you are use to seeing while out camping, but for indoor use they play a vital role to many organizations. Organizations that host functions will often revert to the directors chair as the chair of choice for standing guests to take a quick 10 minute break. Great for standing events like art shows and the likes.
But moving outdoors, they are also good for outdoor events where having a taller line of sight is vital. A directors chair will increase your line of sight so you can see over the top of people in front of you. Or perhaps you;re at an outdoor music festival and need a break from dancing but don't want to miss the show.
The extra seating height a directors chair offers can prove highly beneficial. With regular folding chairs, the only view you will get is the back of someone standing or sitting in front of you. So having the ability to sit 32 inches off the ground is helpful in times like this.
Other Benefits Include:
Portable: As most directors chairs are foldable, they can be quite portable. Lightweight and compact so that you can carry them to just about any event you see fit.
Sturdy: If you go with one of the chairs mentioned above, chances are you're going to get a more sturdy chair compared to a folding chair or even camping chair. These chairs have extra support braces to ensure their safety at higher heights.
Multiple Styles: As you can see from the above tall directors chairs, they are available in a number of styles to suit various types of events. Whether it be for a sporting event, camping or your indoors make up business. The directors chair can play a role in just about any task you need.
Fit For A King: Sitting higher off the ground can simply make you feel superior, like you are king or queen of the event. Perhaps you're hosting a gathering, sitting taller gives you power and respect.