I hope you love the products I've recommended below, just a heads up that as an Amazon Associate, I earn from qualifying purchases. This means I may earn commissions on products bought via links on this page.

Casual mountain biking is one of my favorite ways to not only get in exercise, but also escape form the day to day grind we call life. However, when you have outgrown the average height, finding affordable mountain biked for tall people can be a seriously tough task.
Sure there are more and more bikes being made for the taller person, but how many can actually afford to spend $2000 to $6000+ on a mountain bike?. Sure if it's for competition, a serious hobby or if you're a rich tall guy like Shaquille O'neal, the average bike rider couldn't afford an expensive bike like the Dirty Sixer. Which is becoming increasingly popular among many tall celebrities due to the massive 36″ wheels.
However, if you are very tall like Shaq (7'1″), buying an expensive bike like this may be your only option. Custom builds are always going to be more costly than a pre-designed bike. So if you are a taller Man or Women, choosing a mountain bike without spending a fortune, you must consider a few key aspects.
Quick Comparison
| | Features | Size Specs | Price |
| --- | --- | --- | --- |
| | 29" Wheels, 24 speed, Tektro disc brakes, 8 Speed Shimano drive train, Basic Assembly | 22" Frame - 6'1" to 6'4" User Height | Check Price Amazon |
| | 26" Wheels, Hydroformed aluminium tubing, Shimano derailleur, 24 Speed | 21" Frame - 6'1" - 6'5" User Height | Check Price Amazon |
| | XL to suit 6'4" height, Tektro hydraulic disc brakes, 27.5 x 2.2 tires, Shimano EZ-Fire shifters | Up To 6'4" User Height | Check Price Amazon |
| Road Bikes For Tall People | - | Up to 6'5" User Height | View Road Bikes For Tall People |
| Tall Cruiser Bikes | - | Up To 6'4" User Height | View Cruiser Bikes For Tall People |
| Electric Bikes For Tall Person | - | Users Up To 6'8" | See E-Bikes For Tall People |
How To Choose A Bike As A Tall Person
While you are probably never going to find the perfect fitting mountain bike without getting it custom built, you can always adapt and adjust to the bike you choose. A seat pole can always be extended for greater height, if the handle bars are higher than you hoped for, try changing the stem spacers. However, with a taller seat height, you are most likely going to need a higher front end as well.
A great alternative to a mountain bike are tall cruiser bikes. These bicycles have you sit more straight up and the handlebars come up and out so you don't have to hunch over. Of course there are XL racing bikes, but they too have their height limitations. So when looking to buy a XL mountain bike you should consider these features.
Size of frame. Most manufacturers will label a frame by some sort of size category. Whether it be labelled as large, small or by inches. Pay attention to the details. If you are unsure, you can enter in your height here for a recommended frame size.
Inseam measurements (the distance from your groin to your ankle). This is important as some tall people will have shorter or longer legs than other tall riders. So when possible, check for an inseam measurement on the bike. Very similar to choosing an exercise bike as a taller person.
Stack and reach measurements. If possible, book a consultation at your local bike store to get your fitted measurements. This data will aid in choosing the right size bike for you. Some but certainly not all bike descriptions will mention a stack and reach measurement. After you consultation, you will know your measurements and can line up with bikes of similar reach and stack numbers. If the bike you are interested in doesn't mention these numbers you can get a rough idea using this tool to help.
Rim size/tire size. As mentioned above the Dirty Sixer has a wheel size of 36 inches. Which is quite incredible considering the next biggest for tall riders is 29 inches. Some people avoid going with smaller 26″ wheels as this is not only uncomfortable, but us taller folks just look a tad silly and uncoordinated on them. But this will be determined by your torso length and not so much your height.
Top tube length. This is the bar that runs on top of the bike between the seat and handle bars. It's important for your reach because if you can't comfortably reach the handle bars, or the bar is to short you may be sitting in very awkward positions. It's important to know just because two bike may have the exact same top tube length, the reach may vary. An angled top tube will have a shorter reach compared to a horizontal bar.
Tall Person 29er Mountain Bike Reviews
The following bikes have been hand selected based on their dimensions and from user feedback and reviews. As mentioned above, one size does not fit all. So if one 6 foot person says that if suits him/her perfectly, this does not mean it may fit you exactly. So do take this into consideration when buying a mountain bike. As well as the specific requirements you desire form a bike. With that said, these bikes have been used by taller people and they may be the right fit for you.
Diamondback OverDrive 29″
check it out on amazon.com
.
This bike comes in various sizes. But for us taller folks, the only size of interest is the XL. Diamondback recommends the XL version for people from 6'1″ to 6'4″ in height. While not applicable for NBA superstar height, it certainly won't break the bank like a bike in that proportion could do.
A Little About The Specs
8 Speed Shimano drive train with a total of 24 speeds
Tektro disc brakes
Comes as 'Diamondback Ready Ride' which means only basic assembly like putting on seat, front wheel etc.
Derailleurs: Rear – Shimano Tourney 3, front – Acera 8
29″ Wheels. Tire size 29 x 2.0
Aluminum alloy 22 inch frame
Features 'Lock out'
Weighs roughly 28-30 lbs
Short Video Review For The Diamondback 29er Overdrive
Overall, Its A Big Mountain Bike
The bottom line is that if you want a quality mountain bike suitable for taller people without spending thousands, then I can't help but recommend the OverDrive 29 by Diamondback. It's a smooth ride, the lower end gears are powerful and it just looks like a tank.
The measurements for height recommendations given by Diamondback stack up which is relieving for a larger sized person. The fact it's ready to ride almost out of the box is a huge relief and one that will be welcomed by many. However, I still recommend either taking it down to your bike store for a once over, or check everything yourself to make sure all the bolts are tight etc. For a considerably lightweight yet large mountain bike, it certainly does pack some punch.
The one negative point: Take a look at the image and check out that seat. It's miserable. So unless you like sitting on a hard plastic annoying seat, do yourself a favor and spend  a few extra bucks to buy the premium seat also offered by Diamondback. It will be in your best interest!.
Diamondback Overdrive 29 Hardtail Mountain Bike

The 2020 Gravity FSX Dual Suspension Mountain Bike
So it reflects the height of the mountain bike. But do take into consideration that this bike uses 26″ wheels. So it will sit 3 inches lower than the above 29″ models. I listed this bike as I know some taller people still prefer having the 26″ wheels over the 29″ wheels.
A Few Of The Specs
Hydroformed aluminium tubing
Triple crankset (Suntour)
Shimano derailleur
21″ Frame
Adjustable suspension
Available in multiple colors
85mm rear suspension travel
A Decent 26″ Mountain Bike
The Gravity FSX is a decent entry point mountain bike. The price won't sting too much yet holds up quite well. However, its not built for extreme mountain biking. So if this is your desired use, upgrading the stem and fork is a must. But for beginners, it will do the trick.
Probably the biggest complaint about this mountain bike is the tires. They are simply not up to par. But as it's a cheaper bike which is suitable for taller users, replacing the tires is not really a deal breaker for me. Another negative some people may find is that there is no kickstand. While you can put one on, as a mountain bike you really don't want one. The kickstand can easily get caught on the terrain and be pulled out which could cause an accident. So I would not be fussed about there being no kickstand.
But for the price, I think you would be hard up finding a better price in your local bike store for a mountain bike of this quality. Bar the inferior tires, the rest of the bike is actually pretty good. The shock absorbers are quite adequate for heavier people while the derailleurs and shifters are quite smooth to operate. If you don't mind changing the tires on this when you want to take it off road, it's hard to fault the Gravity FSX at this price.
Gravity FSX 1.0 Dual Full Suspension Mountain Bike with Disc Brakes

Best Mid Range 21″ Extra Large Frame Mountain Bike
people up to 6'4″
. Raleigh bikes have been around for over 100 years. So it's quite easy to see they are an authority on the subject. You can literally lose your mind when tying to buy a mountain bike around the $400-$700 mark. There's a heap of options available and it can be quite overwhelming trying to find the best.
Which is why I recommend the Raleigh Tokul 1. It's a very good lightweight, yet tough bike for rocky climbs, trails drops and jumps. Yet a smooth and easy to handle bike when you need it to be.
A Little About The Raleigh Tokul 1
Extra large 21″ frame suitable for people 6'1″ to 6'4″ as seen on Raleigh website.
A step up from the similar priced mountain bikes you find in big box stores. Probably the best hardtail mountain bike in this price category.
The Tektro hydraulic disc brakes work extremely well. In this price range, most other bikes have a lesser quality cable disc brakes. So it's a nice upgrade without paying top end prices.
Geometry of the bike is well suited to going down steep declining terrain.
Lightweight aluminum frame

Wide Kenda Honey badger

tires for greater control and stability.
Suitable mountain bike for tall Men or tall Women.
6 Month In Video Review Of Tokul 1 Mountain Bike
In A Nutshell
If you are use to buying cheaper bikes from Kmart, Walmart etc, then you will certainly notice the difference between them and this Raleigh Tokul 1. This bike is a high quality build with a very tough frame. It doesn't have that flimsy feel you sometimes get with many store bought bikes. Which does pass on a little extra weight if you have to carry this bike around for whatever reason.
But when riding, it's good to know you feel secure and safe. So a sacrifice I'm willing to take. Without mentioning the extra wide tires this beast of a bike boasts. This extra level of grip and stability is perfect for beginner to moderate mountain bike riders. These are some of the widest 27.5″ tires you can get.
The only real negative would be the seat. It's not as bad as the Diamondback OverDrive 29 mountain bike. But if you prefer a more luxurious softer seat, you may find this one will wear thin soon enough. However, for the price tag and the shear quality the Raleigh Tokul1 offers, I've quickly gotten over the average seat comfort.
Do note the images display the medium size frame. So the Geometry for the XL frame (21″) will be much larger and proportionate.
Raleigh Bikes Tokul 1 Mountain Bike

Let The Riding Begin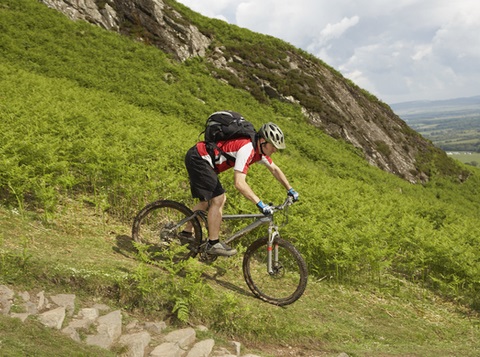 Just because you are tall, doesn't mean you can comfortably ride a mountain bike. They may be harder to find when trying to size them u to your height. But as you can see above, there are options for people taller than 6 foot.
Whether you are wanting to ride a mountain bike for leisure or exercise, the bottom line is that you will need to find one that's suitable to your height. So with this short guide, I hope you have found a few pointers to help you get on you way. There are many bikes for tall people available, you just need to research.
Mountain bikes are a great form of exercise, so don't put off buying one if height is your biggest concern. Much like buying exercise equipment for taller users, there are options. Staying fit and getting exercise is just as important as a tall person as it is for a shorter person. Now that you know it is possible to find height appropriate equipment, lets get to it.