I hope you love the products I've recommended below, just a heads up that as an Amazon Associate, I earn from qualifying purchases. This means I may earn commissions on products bought via links on this page.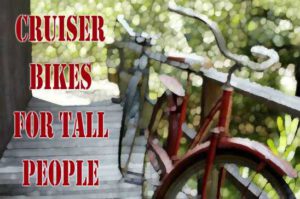 When you're trying to find the best cruiser bikes for tall men or women it can be quite the challenge. There are many interpretations of a cruiser bike and there are even more differences between them that make it a nightmare for a tall rider to find the best cruiser bicycle for their height.
Unless you plan on getting a bike custom built or you plan to extend the handlebar stem among other things, buying a cruiser bicycle for tall people is not easy. But where there's a will, there's a way as you will soon find out.
Most bikes operate with rim sizes of 24″or 26″. Some tall people can get away with comfortably riding on 26″ rims, but for people over 6'4″ tall it can be too uncomfortable and restrictive. The larger the rims the better suited for a taller person in most cases.
There are a few brands that sell cruiser bikes with 29″ rims like the 'Fatal Love' 29″er which is available on amazon. The Fatal Love beach cruiser also has a size 20 frame which is recommended for people over 6 foot tall. But like with tall mountain bikes, finding these larger size rims is not as common stock standard.
But rim size and frame size aside, there's more to a cruiser that determines the compatibility with a tall person. Such as the distance from the ground to the center crank. If the crank is too high it can make it difficult to get full leg extensions while peddling.
If the handlebars are too low or too close together it can make for an uncomfortable ride. The idea of cruiser bikes are to be able to sit up without causing back pain, but as a tall person that needs to hunch over to reach the handles, this is defeating the purpose. So the height of the handle bars is also another factor to consider. If you have longer arms, a wider handlebar grip may prove beneficial. But some tall people have shorter arms than others, so it's certainly not easy to gauge.
Most people prefer the laid back approach of the cruiser over a road bike. So the handlebars need to be size appropriate to really pull this off. But if you're still not quite sold on sitting up straight and cycling around town and prefer the classic approach, you should check out the options for road bikes for tall riders as an alternative.
Best Beach Cruiser Bikes For Tall Men 6'4″
The first of 3 tall cruiser bicycles for people with a recommended maximum height of 6'4″ is by Firmstrong. The Bruiser Man Cruiser has 26″ wheels and comes in an assortment of colors to choose from. The simplicity of the 1 speed cruiser makes this bike a great choice for tall beach riders.
However there s the option to buy the same bike with additional speeds when available. To check what speeds and colors available you can see the Firmstrong Bruiser on amazon here.
If you go for the simplistic approach and chose the 1 speed cruiser you can expect to reach a maximum speed of 15 MPH. 3 speed level you can bump it up to 20 MPH and if you're going all out on the 7 speed model you can reach up to 30 MPH. But for recreational beach riding, the one speed Firmstrong Bruiser is perfect.
Whats great about this bicycle for tall people is the extended frame. The frame is 4 inches longer than standard. This extra 4 inches creates a bigger gap between the handlebars and seat. With this larger area you get more freedom to really pump your legs without the fear of your knees coming up to your chin or hitting the handlebars.
The cross bar sits perfectly for a 6 foot person. So anyone taller will have the extra wiggle room in the crotch area. Any shorter and you may find the bike to tall for you. This combined with the 26 inch rims make it the ideal choice cruiser for a tall rider.
The addition of an adjustable handlebar height and tilt with the seat height adjustments means a tall person can get the sizing just right. If you're under 6'5″ and under 350 lbs in weight, I would recommend having a serious look at the Bruiser Mens by Firmstrong.
EVRYjourney Cruiser Bike For 6'4″ Tall People
For a very laid back approach to cruising, tall riders can embrace the freedom that the EVRYjourney men's hybrid cruiser by SixThreeZero offers. Also built on 26″ rims with a large 19 inch frame, the EVRYjourney bicycle is recommended for tall rider up to 6'4″ with a maximum weight capacity of 300 pounds.
The 1.95″ wide cushioned tires provide a nice soft and gentle ride while the forward peddling pedals allow you to maintain the straight back style of cruising we all love. The height adjustable handlebars allow you to custom fit your grips so that your back doesn't have to lean forward and feel the pain.
The EVRYjourney is available to buy in various speeds from 1 speed up to 21 speed for the more adventurous people wanting to take on hills without the need for a mountain bike. Which is highly appreciated for us riders over the age of 30 with back problems. But for the chilled out approach, the single speed or 3 speed version are ideal.
The center bar is curved downwards so tall people can easily lift their legs over to get into position on this 26″ rim cruiser. While quite a solid and firm build, I find the EVRYjourney considerably lightweight. Which is great for beach riding and general around town cycling.
With this bike you get front and rear fenders plus the addition of a rear carry rack which the Firmstrong lacked. This carry rack is great for visits to the beach or general store. Making this cruiser one of the best for taller riders seeking a bike with true cruiser appeal.
Best Affordable Cruiser Bicycle
When buying your first cruiser bike you don't necessarily want to buy the best in the business. Especially as a tall person due to heights and measurements. Which is why I find the Raleigh's Venture Comfort a great starting point. It's not overly complicated to use and simple enough to get the job done.
Anyone under 6 foot tall will struggle to get over this bike. It's a large bike which is why it gets the tick of approval for riders up to 6'4″. The tires are an impressive 27.5″ x 1.95″, so smooth riding over gravel and sand are a dream for the Raleigh.
Complimenting the large fat tires is the 21″ frame. Rated the XL cruiser bike, it's a great option for taller people. In terms of speed, there's only the one option. That is a 7 speed bicycle, which I don't mind for what it is. The Shimano Revo makes changing through the gears so easy I like having the extra speed options on a cruiser like this.
The handlebars are again adjustable so that you can set them to your height and are rotatable. Overall I find the Raleigh Venture Comfort bike a versatile option compared to single speed cruisers. Great for cruising around town and getting in some exercise. Having the 7 speeds allows you greater play without compromising the nature of a cruiser bike.
Cruiser Bike For 6'2″ Tall Men
Another fine choice by SixThreeZero, this 'Around The Block' cruiser bicycle is recommended for riders up to 6'2″. It's a different design to the above EVRYjourney bike and has wider wheels for tackling harsher terrains. The tires are over 2 inches wide coming in at 2.125 inches thick.
Regardless of your riding style, the Around The Block bike offers freedom in movement thanks to the tilting handlebars. They can be tilted down or raised for a more vertical ride. Which is great for long journeys as you can sit vertically with your back straight up. The handlebars can also be raised in height to cater to your style of riding.
The 'Around The Block' comes in 4 speed options. One speed for your casual around the block riding, 3 & 7 speeds for tackling more steeper inclines and 21 speed for your more extreme riding through the big cities, hills and long distance journeys.
A 19 inch frame with low hanging pedals mean a tall person can get their full stride in without cramping up or worse yet, your feet hitting the ground while traveling.
My only gripe would be the lack of color options. Which is fine if you're into your darker colors, but sometimes its refreshing to ride around on a bright colored bike. But the dual spring saddle makes up for this if you ask me. Plus you can always paint your bike if desired.
Best Cruiser Bike For Tall Women
As Women are typically shorter then men, the options available are far greater. There are quite a few
Women's 26″ cruiser bikes on amazon
to choose from. But I find the Firmstrong 26″ Urban Lady Beach Cruiser one of the best for tall Women.
With a recommended maximum rider height of 6 foot, many tall ladies should be able to cruise around in comfort on the Firmstrong. The 15″ frame comes with various speed options. From one speed for relaxing bike rides to the powerful 21 speed cruiser for more extreme bike riding.
The seat is also quite large which is great considering this cruiser has a 300 pound weight capacity. So plus size Women can enjoy this bike without the fear of it not supporting them. It's also a comfort seat which basically means it's a dual spring loaded seat which is padded to offer you great seat suspension and comfort on your backside. Which is quite important for long rides.
The Firmstrong Urban Lady also has quite wide tires for navigating rough terrains. The tires are 2.125″ wide for handling bumps and uneven surfaces with greater ease. The steel frame also means you won't notice every bump and crevice you roll over. All in all, the Urban Lady is an amazing bike for tall people. I've even seen women over 6 foot riding this bike with the seat and handlebars adjusted. So certainly worth having a look if you're a tall lady.
Ways To Modify A Beach Cruiser To Fit Taller Riders


Before you read on, have you considered a
taller electronic cruiser bike
?. There are options for a person up to 6'8″ but come with the luxury of a rechargeable battery powered motor.
There are ways around buying a tall cruiser bike if none of the above bicycles appeal to you. This involves buying a regular size bike and modifying it slightly so that you feel like you're on a cruiser but without your knees hitting your chin and being able to sit up straight.
To do this you need to find a seat that can be adjusted 2 to 3 inches higher than the regular seat height. One that can also be set back 2 to 3 inches as well like a lay back seat. This will give you the extra leg room as the seat sits further back.
To ensure you can sit up straight you will need to get a stem which is also 3 inches longer. Position the handlebars so that they come straight back and not on an angle otherwise your seating position will be out of whack. It's best to consult your local bicycle dealer when modifying an existing cruiser into a tall cruiser to suit your height.