I hope you love the products I've recommended below, just a heads up that as an Amazon Associate, I earn from qualifying purchases. This means I may earn commissions on products bought via links on this page.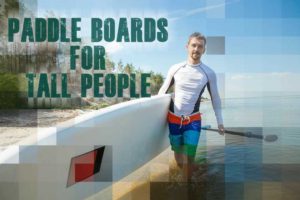 Because our center of gravity is higher, it makes buying paddle boards for tall people slightly more difficult. In order to find your balance better, as a tall person you need your legs to be spread apart more compared to a shorter person.
What this means in terms of a stand up paddle board (SUP) is that you will need a wider standing platform with an extended grip pad. Problem is, many of the boards are quite narrow, especially specific touring and surf paddle boards. Many of the earlier paddle boards came out with a width of just 26 inches, which is too narrow for a person over 6 foot.
So a SUP for a tall person ideally should be over 30″ wide. The taller you are, the wider the board needs to be. But having a extra wide paddle board can also limit what you can actually use the board for. For example a 34″ wide paddle board would not be good for surfing and cutting through waves. A narrow pointy board is best for this sport.
Beginners Stand Up Paddle Board For A Tall Person
So for a first time paddler, you should always go for a wider board in my opinion. It makes life easier and you can maintain your balance better. Some people recommend just going with a narrow board even if you're tall, but I disagree. Because if you find it too difficult to find your balance, you may never go out paddling again. Which would be a massive shame.
The reason some folks say just go with a more narrow board is because if you're committed enough, you will learn to hold your balance eventually and then be open to more narrow board activities like surfing and touring. Which makes sense, but not everybody has the skill set or determination to see it through and would have ended up wasting a lot of money.
In terms of length of the board, your height is kind of irrelevant for the most part unless surfing. The length of the board is what will dictate which activity the board is better for. However, the weight capacity or volume of the board is important if you are big and tall. Bing too light for the board is not a problem, but being too heavy certainly is.
Extra Wide Paddle Board Options
Further down you can find a few of the best inflatable paddle boards for tall people. Don't be alarmed by the fact they are inflatable as this is quite the norm these days. They make transport so much easier and extremely portable which being as hard and firm as a traditional paddle board.
However, if you prefer the real deal you can find a few 34″ to 36″ wide fiberglass boards on amazon as seen below. Most of the time, the hard boards are more expensive, so keep this in mind.
Budget Friendly 33″ Wide Paddle Board
As I touched on earlier, if you're a first timer looking to try out the sport, you don't really want to be spending over $1000 on a board. What happens if you don't quite enjoy it or simply can't manage the board.
Which is why this FunWater inflatable paddle board is a good entry level board for tall people. It has a decent width of 33 inches which gives the taller person extra leg stance room when trying to find his/her feet. The thickness is 6 inches which is pretty standard and will be suitable for most users. However, heavier people may want to look for a 8 inch thick board. But in saying that this board has a weight capacity of 330 pounds.
Its a good size starting board for general paddling. The 10'6″ total length is perfect for general water activities and fitness routines like yoga. However, it's a bit long for surfing waves with for most people. But again, this is a entry level board suitable for general paddle board use. So don't expect to be taking on massive surf with this thing.
The paddle that is included is height adjustable so you can find the height that suits you perfectly. Best of all, even tho it's aluminum, it floats should you ever drop it by accident.
Overall the FunWater 33 inch wide 10'6″ inflatable paddle board is a great buy, especially for tall beginners. Its double walled meaning it can handle a fair bit of wear and tear while boasting an attractive price. (Get latest price on amazon here) The kit includes all you need to get going including detachable sturdy fins and a pump that can get you on the water in just 5 minutes or so. Portability is no issue as it weights just under 18 pounds and even comes with a waterproof carry bag.
Best Paddle Board For Big And Tall People
Taller people can often be heavier people also, this doesn't necessarily mean they are overweight or obese like BMI calculators may suggest. But nonetheless, if you're big and tall you're going to need a paddle board suitable for both your height and your weight.
The iRocker Cruiser is a very popular paddle board in general, but for big and tall people it measures up quite well. It has all the same size dimensions as the above FunWater board:
33 Inches wide
10'6″ long
6 Inches thick
400 Lbs weight capacity
The Heavy Persons Paddle Board
So the hefty 400 pound weight capacity allows most board riders the freedom to ride without fear. Heavy people also need a wide standing platform to find their balance. Just like extra height, extra body weight can throw of the center of gravity.
So the wider deck and high weight capacity are well suited to the big and tall. The newest model of the iRocker Cruiser also comes with an even longer extendable paddle. Great news for us taller people that experience lower back pain. The end of the paddle is made from a tough and durable rubber to prevent any chipping and fraying of the paddle which I think is a nice touch.
The paddle board itself is also quite tough and durable. It consists of 4 layers of materials to give it the hardness of a real hard board. The layers are made from a tougher military grade PVC to prevent rips and tears as much as possible.
Inflating the iRocker is a dream compared to many other pumps on the market. This iRocker comes with a triple action dual chamber pump. Which basically means it pumps up the board in no time with minimal effort. That's my kind of pump.
In my opinion, the iRocker is certainly one of the best paddle boards for tall people and heavy people alike. It's extremely reliable and stable on the water. The extra width makes balancing a breeze and the included accessories are just unbelievable for this price.
The Tall Persons Stand Up Paddle Board
Labelled as "The Board For Everyone", the Atoll 11 foot paddle board is has the closest resemblance to a real hard board in my opinion. The unique design and materials used make the Atoll a very strong competitor for people wanting something with the benefits of inflatable, but toughness and tracking of a hard board.
While most people can benefit from this 32″ wide board, it's not ideal for every situation. It's too big and thick to be used as a surf paddle board. But for tracking and general use, the Atoll is a delight. Tracks on a straight line with ease due to the 3 fin design and 8 inch stock fin reinforced to double its strength. Keeping you on track and not swaying side to side.
The fins on the Atoll are also interchangeable which will be music to many people ears. This means you can now use any US fins regardless of the brand, including the 10″ race fin by isup and attach it to the Atoll without the need for tools.
In terms of capacity, Atoll has tested this board for users up to 340 pounds. So quite a sturdy and strong board regardless of your size. The Atoll comes with 2 bungee cords but also has a total of 14 D rings for attaching any further items like a cooler, kayak seat etc.
Overall the Atoll is a quality board, it comes with a new version of the Bravo dual action pump which can inflate this monster and have it up and floating in about 5 minutes. It is a little bit more expensive than the iRocker but I feel the Atoll has the edge with their real hard board appeal. But if money is tight, the iRocker performs just as well and is 1 inch wider.
Yoga Paddle Board For Taller People
The last SUP by PEAK is designed more so for people that to perform yoga or fitness workouts on their board. The grip pad has been extended and made from
soft EVA
which specializes in crack resistance, low temperature toughness, resistant to UV and waterproof. So it's softer for your feet and body while performing yoga or Pilates moves.
The shape of this 32″ wide yoga board is less narrow than normal. This is to give you maximum space to stand and or perform exercises. While the design is different, the quality of materials used is the usual PEAK high standard.
Military grade PVC with drop stitching which simply makes this inflatable paddle board seem like a real hard board. But with the softer yoga mat on top of course.
Like all good quality paddle boards, the PEAK yoga board comes with all the gear required to get you on the water in a matter of minutes. So you won't even need to bring along your extra long yoga mat due to the awesome standing zone on the Peak. It also includes a good big backpack to carry from car to water without having to break a sweat. If fitness is the goal you want to achieve, the PEAK board is certainly one of the best due to its wide design and soft EVA mat.
What Size Paddle Board Do You Really Need
For most people, the above paddle boards will be a good fit for tall people. But some people may require extra assistance. Visiting your local sports outlet would be the first step to getting a professional opinion. This video below also has a brief explanation on how to choose the right size paddle board for your height.