I hope you love the products I've recommended below, just a heads up that as an Amazon Associate, I earn from qualifying purchases. This means I may earn commissions on products bought via links on this page.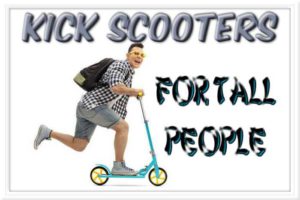 Trying to find kick scooters for tall people may feel like searching for a needle in a haystack. That's because the recent interest by adults to use scooters hasn't fully developed enough for manufacturers to consider us taller persons.
But that doesn't help the tall teenagers either, as many teenagers can reach adult height while in their early teens. Fortunately, there are some options out there that include height adjustable handlebars for the taller ride.
To help make the search a little easier, I have gone and done the research for you. Listed below you can find 6 tall scooter options that allow people over 6 foot tall to take advantage of this environmentally and economically better option for commuting to and from work.
If you're not quite ready to commit to a full exercise workout on your commute just yet, you can also consider the taller electric scooters. These e-scooters also have height adjustable handlebars and a longer deck for the tall person.
Compare Handlebar Heights
Tallest Kick Scooter For Teens
This PACJOY scooter is one of the tallest scooters for the tall person to enjoy. It's not only a comfortable ride, it's also very stylish. The nice black finish really adds a touch of style to this scooter. While this isn't the most important thing, it does make it stand out when you first see it.
What makes this one of the best scooters for tall teenagers, is how high the handle bars go. This is one of, if not the most important factor in my opinion. This has one of the tallest handle bar heights that I've seen, with it being 42.5 inches high. This easily allows people who are beyond 6'2″ tall to ride without hunching over too much.
Does It Have A Long Deck
The wide durable deck is about 33cm long which will fit some longer feet. Even if you have a size 15 show you could fit it on the deck length ways. However, its not an overly long deck, which is why it may not be the best choice for adults with huge feet. It's also 5.1 inches wide, which again allows people with larger feet fit more easily.
For such a large scooter it doesn't weigh to much. It only weighs 11.6 lbs, which is thanks to the lightweight durable aluminum alloy. This does make it very useful for people who use a scooter to commute to work, by train or a bus as well. Nothing worse than carrying a bulky and heavy item in and around the public,so its great to see the PacJoy isn't too heavy.
The wheels and suspension on this scooter is what sets this scooter apart from much of the pack. As a result, it's quite a comfortable ride. The wheels are PU (polyurethane) wheels which roll really wheel. Combined with the good suspension, makes this ride smooth over bumpier roads.
In terms of what size adults can use this kick scooter, its great for tall people, but unfortunately the heavier people miss out on this scooter. This is because it has a pretty standard wight capacity of 220 pounds. Which is fine for many people, but as taller people tend to be a little heavier, it may be too low of a user weight.
Besides a lower weight capacity, the only other thing I would recommend doing is tightening up the quick release, since some people had some issue with there bars not being fully vertical.
PACJOY Adult Scooter Up To 42.5" Adjustable Handlebars

Best Kick Scooter For Tall Person
You can't have a best scooter list of any kind, and not have a Razor on the list. There is a good reason that they have been a market leader, since scooters were first introduced. With this Razor A6 kick scooter continuing the trend, of high quality Razor scooters.
While technically the above scooter has a slightly taller handlebar height, the quality and reputation of Razor simply outshines it.
With us tall people struggling to find the most basic of products designed for us, having a scooter that has been modified to suit taller people is a nice touch. What makes this scooter stand out is the adjustable handlebar height of 42 inches. This makes it great for much taller people, when someone who is 6 feet 8 inches tall uses this Razor, you know its a suitable candidate.
The deck size is decent and you're able to fit two larger size 16 feet on it at the same time. That is if you have them on it in a slight sideways position. The deck itself is 34cm long, so it's a little longer than the above Pacjoy.
One thing to remember with this scooter is that it isn't designed for tricks. It's more designed to glide over surfaces, which it excels at. It's a real smooth ride over smoother surfaces, but it doesn't like damaged pavement as much. It's still doable but, it's rougher then normal.
If you're looking for something that is a bit more trick based. You may have a hard time being tall sadly. The large wheel style scooters aren't really designed for that. The wheels are ultra large 10 inch wheels, that roll really well. However these large wheels do make good for going over large bumps.
There is one frustrating thing with this scooter, and that's riding on it in wet weather. The back wheel has the tendency to kick water up on the back of your legs. Some people have fixed this by putting a fender on it. The only other way around this does seem to be, don't use it in the rain.
Again, this scooter has a considerably low weight capacity of 220 pounds. So the big and tall riders will have to pass on this scooter as well.
Razor A6 Kick Scooter 42" Height

Adjustable Height Handlebar Scooters
This is one of the most beginner friendly scooters for tall people in my opinion. It's never to late to try and start using a scooter, but its not always the easiest feat for a taller person. However, one of the reasons I really like this scooter by Goplus is that it has a handy feature to make this good for beginners.
One of the hardest things for most first timers and scooters is the rear brake. It can be unsettling for some people, so this scooter has made a clever design choice.  This is it also has a handbrake, like you see on a bike. It still has the rear brake as well, but the added brake on the actual handlebars makes stopping much easier for the first timer.
Tall Person Friendly
The Goplus scooter also has a maximum height of 42 inches. So it does accommodate to taller people really easily. Combined with the 220lbs weight capacity allows for some flexibility with who uses this scooter.
It's a little on the heavier side for a scooter, not a big issue for most people. But it does weigh 14lbs which is something you should take into consideration. With just how much will you have to carry this on your trips, so this might not be an issue for you.
Shock absorbers on your scooter are important, and they can make or break a scooter. They're designed to make your scooter be a smooth ride over uneven, bumpy ground. Which is exactly what they do here, and they do it well.
The welding on this scooter is also first rate, and extremely sturdy. This does make it more durable then you would think. Which this is a nice touch in my opinion, since you can get pretty rough with scooters at times. Combine these with the rubber wheels to make this one of the more durable scooters out there.
Goplus Foldable Scooter

Premium Tall Kick Scooter
Hudora have a really good reputation in the scooter community with them being both durable, and reliable. Which is exactly what I think about this 230 kick scooter. Durable and reliable while being suitable for taller adults. This is in big part to that they're a German brand, and have to pass a German safety certification. Which has some of the highest standards in the world.
The weight capacity of this scooter is higher then some of the others on this list. It has a weight capacity of 264.5 lbs, which is a good amount. This will allow you to actually take some heavier things with you in a back pack. This may not sound like much, but it does make a difference in the long run, especially if you're a heavier rider.
Tall Handlebar Height
The handlebars are adjustable to a maximum height of 41.9 inches, which is only a small amount shorter then the others on this list. This doesn't really affect it greatly being such a small margin. Still very suitable to be used by tall people. It's not going to stop someone who is 6'6″ from using it, so the extra .1″ doesn't matter too much.
In terms of foot space, the Hudora has a bigger deck than most. With a deck length of 14 inches and a width of 5.5 inches, most people should be able to comfortably fit their feet on.
While it's not the most expensive scooter on the market, it can be a little pricey for some. The thing that does make this scooter worth the extra money is the sheer quality of the build, and design of this scooter. The durable high density aluminum is extremely strong and can handle rougher riders.
It comes with a shoulder strap for when you fold it down. This is useful for when you need to carry things in your hands, and the scooter. It's a nice touch that increases it's quality of life in my opinion.
The wheels are of a decent size, that fall into the large category. With the front wheel being roughly 9 inches, and the rear wheel being just under 8.1 inches. So they're large enough for most situations and can handle bumpy roads really well.
HUDORA 230 Adult Scooters

Height Extended Scooter With Extra Long Deck
Tall people can relax with this scooter thanks to the decent maximum height of the handlebars. Which is a little lower yet again, at
41.7 inches high
. This height works really well when you pair it with the wider and longer deck. The
deck is a staggering 20.3″long
which allows a good amount of room for larger feet.
They made the clever decision to make this scooter a really lightweight model. With it only weighing about 8.6lbs, which makes it nice and light to carry when folded. Being lightweight makes it greats for parents as well if you're planning to buy a scooter for your child.
It doesn't take up much space as well, so it doesn't take much space to store it. This is useful if you use it to go to cafe, then fold it down and put it under the table. This is something you can only really do with a scooter, which makes them really unique.
The wheels on this model are both the same size. Which is different from most other, big wheel scooters. They both measure 8 inches, so they're decent size, and can support up to 220lbs.
Color Options
Hikole has come in strong by giving you multiple color options, instead of just one choice. They have given you three options with a white, blue, and a black option. Having this extra bit of variety is something that I personally like. Giving people a few more options is something I appreciate.
This is another scooter that's great for beginners as well. Since they also went and included a handbrake, which makes it safer. It also makes it easier to stop when going down a hill, which can be a problem for some scooters.
The disc brake on the rear wheel is surprisingly strong, and stops better then some other more expensive models on the market.
Hikole Adult Scooter

Kick Scooter For Big And Tall

Comfortable riding is one of the most important things for a scooter. Which in my opinion, the Micro Kickboard scooter is. I've found it to be one of the smoothest riding scooters on the market. Not only is it comfortable, it's also extremely stylish with the incredible bronze finish. That adds a touch of class to this scooter.
A big part of the smooth ride of this scooter are the shocks. They're a high quality system which makes a big difference compared to others. So much so that you barely feel the cracks in the pavement while riding it, this makes such a big difference when going long distances. The front shock can be a bit stiff tho.
Big & Tall Riders
The handles on this scooter are adjustable to 41.7 inches high as seen here. This allows people who are about 6'3″ tall to able to ride it. You could get away with being a few more inches taller and it may not be an issue. Tho if you want to play it on the safe side, one of the 42 inch ones above will do the job better.
Micro Kickboard made sure the deck on this board is a good size, for taller people. The length of the deck is 13.3 inches long, so for larger feet users. You will need to have both feet sideways to fit them both on there. The width is a better size at 5.5 inches, and makes it easier to fit both feet on it.
In terms of weight capacity, it can hold up to 250 pounds, which again is not a huge amount. But it does give the big and tall riders a scooter with more weight distribution.
It's the second heaviest scooter on this list that weighs 13.4lbs. So this might be a problem for some people, and something to consider. Tho personally I don't find it to heavy for such a great scooter. It's quality more then makes up for the slight bit more weight.
When folded down it doesn't take up much room. The measurements when folded down are 33″ x 16″ x 10″ when the handle bars are horizontal. This changes to 33″ x 8″ x 17.5″ when the handles are vertical.
Micro Suspension Bronze Scooter