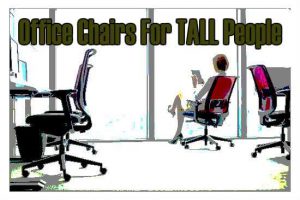 They say working behind the desk for 8 hours a day is the new smoking. It can be seriously bad for your body, especially if you area  taller person in an inadequate office chair. Fortunately you don't need to accept inferior chairs and can now buy the best office chairs for tall people online.
Below you can find a selection of computer chairs for a tall person. These chairs pass the requirements needed for a longer torso person. An ergonomic office starts with a well fitted office chair to your exact height.
But how do you know what chair will be suitable for your height?. If you already know your height requirements from an office chair then you can skip this section and jump straight into the extra tall office chairs now.
What Size Computer Chair Do You Need
When determining what size computer chair you need, you must first consider how tall your desk is. This guide on extra tall office desks will help you determine what size desk you need. If you already have a relatively tall desk, then you can skip that guide.
The next important measurement is how high the chair extends. Depending on your leg length and height you could need a chair with a height extension of 18 inches or more. If you are 6 foot or less, a height of 18 inches will be on par. Down below you will find office chairs that have seat heights of up to 24 inches.
The depth of the seat is also an important measurement. If you have a shallow depth, then your legs are not going to be properly supported which can lead to further injuries/conditions forming. Again, depending on your leg length, a chair with more than 17 inches is required if you are over 6 foot and want an ergonomic sitting environment.
The arm rests height are only important if you don't use the desk as support and if you area a big and tall person as they can get in the way without being able to be adjusted.
Lastly the backrest and or head rest. While many of us lean forward in our chairs, this is not the most healthy position for your spine. So you should be looking at a chair that not only supports you back, and shoulders, but also your neck and back of the head. In terms of height of the backrest, you are looking at anywhere over 28 inches tall. Gaming chairs typically have taller backrests which offer good neck and shoulder support, but can lack adjustment options.
The alternative solution to a computer chair is the trending office balance ball chairs. While I don't 100% recommend them for 8 hour days, they do make a good substitute for sections of the work day when you want to get some exercise in behind the desk.
The Best Tall Persons Office Chair
When the chairs description states that it is recommended for people over 6'2″ tall, you know your onto a winner. If you have ever searched for office chairs in the past, you would know that one of the most popular and top rated ergonomic office chairs for big and tall people is the Aeron C Size by Herman Miller.
This chair is a beast of a chair and can hold tall people up to the weight of 300 lbs. It's highly adjustable and can even come with a head rest to suit people 7 foot tall. The headrest is sold separately on amazon.
The only downside to the Aeron chair is that it is not cheap. It's a high quality chair designed to be used everyday in the office. So if you don't need/want a high end office chair, look further down the page for more affordable options.
Why The Aeron C Size Is Good For Tall People
So the Aeron comes with a 12 year warranty, even when you buy it from amazon. Which is quite an appealing factor. So it gives you the confidence to spend a little more and get top of the range. But what about dimensions, is the Aeron suitable for your height?.
To make life super easy, Herman Miller has a size chart which will help you determine if the 'C' size is right for you. You can see the size chart here.
But for some pure stats, here is what the Aeron C Offers:
Seat height adjustable from 16″ to 20.5″
Seat Depth is 18.5″
Width is 28.25″
Total chair height is 43″.
The Bottom Line
Herman Miller have been making unique and different office chairs since the 1980's. Over time they keep improving and improving their chairs to make sure they fit people of all sizes. Including tall people for once. This is a company that cares about their consumer. They want the best possible support for each and every person that buys one. Which is why they offer such a generous warranty.
This particular Aeron chair has been hugely popular for all kinds of people over the years. Which is why I have no hesitation recommending it as one of the best options for a taller person.
There's so much too this chair and it is very involved in offering personal custom support. This model comes with adjustable lumbar support, unique mesh patented pellicle textile which offers breath-ability and flexibility in the seat, graphite base, adjustable tilting options and arm rests that adjust like no other.
Herman Miller Aeron C Size Office Chair
High Back Office Chair With Headrest
The ErgoHuman high back office chair with headrest is a hugely popular choice for tall people that want a custom fitting chair. It's become increasingly popular over the last 10 plus years, and for very good reason. In the last 5 years, the ErgoHuman has undergone modifications to make it even better. While not changing the core principles that made this chair one of the most sort after pieces of office furniture.
The important elements for a tall person area  plenty on the ErgoHuman. Starting with the headrest.
The Headrest Is Phenomenal
There's nothing worse then a headrest that's too short as a tall person, if makes it non applicable and often more uncomfortable. With the ErgoHuman the headrest is height adjustable so you can actually comfortably rest the back of your neck and head on.
The headrest also pivots by twisting it forwards or backwards. This allows you to custom fit the shape of your neck to the headrest. Offering you unmatched support and comfort.
But whats also incredible about this computer chair is that the back rest is also height adjustable. The entire backrest can be positioned in 4 heights. This allows you to once again custom fit the dynamic lumbar support exactly where you need it. There's no guessing with the ErgoHuman, you can make it suit your needs. That's probably what I love best about this chair.
It's Got Tall People Written All Over It!
Another truly awesome feature is the depth adjustable armrests and seat. When you have longer legs, you need to have support under your legs. Most chairs are inadequate for longer legs.
With the ErgoHuman, you can actually slide the seat forwards separately from the backrest. What this does is creates a greater depth so you have more support where it is needed.
This is done by sliding the lever on the right forward, then while seating on the chair you just slide your backside forward and the seat can lock into position.
Flicking the switch backwards allows the backrest to be reclined. From there you push you back backwards until you find a position your comfortable with. Then flick the switch forward to lock it into position. This chair also has a built in safety mechanism so that the backrest doesn't fling back up and hit you either. It stays in the locked position until it has pressure applied (your body) and then the backrest can be moved back to normal position.
The chair also has a tension knob. What this does is allows you to recline with less or greater resistance. Great for people that don't want the backrest reclining every time you move.
The Stats You Need To Know:
Seat height can be adjusted from 18.5″ to 22.2″. Great for taller folks with longer legs
Seat depth is 18.5″ but can be adjusted to become deeper using the handle on the right side.
Backrest height is an impressive 28 inches.
Overall the ErgoHuman is one of the best office chairs on the market. It's been proven for many years now and after a few modifications to make the chair even more sleek, it's still a powerhouse in the market. A quality build with ergonomics in mind without having to pay 4 figures for it. Highly recommended.
Ergohuman High Back Swivel Chair with Headrest
Big And Tall Office Chairs With Lumbar Support
If you're big and tall, there's additional attributes to look for when buying an office chair. This affordable range 'Hercules' by Flash Furniture is a good starting point.
In particular this Hercules 500 pound capacity LeatherSoft chair. While I don't particularly love the idea of bonded leather, the LeatherSoft is a high end version of the cheaper bonded leathers available. Not everyone can afford a genuine leather chair, so at this price I can't really complain.
But whats different about this chair is that it is not 100% LeatherSoft material. Around the edges is a padded mesh trim. This means the chair can breathe better while also keeping you slightly cooler as air can flow between the layers of material.
I've also found over the years that bonded leather doesn't last as long as genuine leather. Hence the more affordable price tag. But I've also found that it starts deteriorating around the edges of the backrest and arms the most. Whats good about this chair is that the mesh material covers these areas. So there's a good chance the leather won't adhere to as much wear and tear.
Built in Lumbar Support & Height Adjustable Headrest
For many big and tall people, low to mid back pain is a daily occurrence. So some form of lumbar support is essential. With this Hercules the lumbar padding is built into the chair to provide the ergonomic position required to alleviate pain and tension.
For the taller people in particular, this is one of the rare big and tall office chairs with a height adjustable headrest. So you can weigh up to 500 pounds and be over 6'3″ and still find support and comfort from this chair in my opinion.
The chair when raised measures a very tall 51 inches. When you extend the headrest you get even more height and a good supportive headrest for the back of the neck. Having the support on the upper half of your back also helps to relieve discomfort on the lower back. So it's a well rounded chair for back support.
The Specs
Seat height adjusts from 21.5″ to 24″ which is up there with the tallest office chairs I have come across.
Decent 20.5″ seat depth with a width of 22 inches.
Backrest including head rest is a total of 30.5″ tall.
Impressive 500 pound weight capacity.
Very affordable compared to some other big & tall computer chairs. See exact price on amazon.
Hercules Big & Tall 500 Lbs Capacity Office Chair
Unique Mesh High Back Office Chair For Tall Persons
If you don't like the idea, or the look of the extendable headrest chairs above, this unique chair by Kadirya may be a good choice. Measuring almost 50 inches tall, the LCH-2001U boasts a very tall backrest of 31.9″. Whats unique about this chair is that it is considerably lightweight and has a PU leather and mesh body.
The large mesh portion of the chair is in the backrest to allow air to circulate to the main area of the body where sweat builds up. This is a great idea while the padded leather areas offer the comfort for long hours behind the desk.
Because of the design of the chair, the backrest does feel 'less stable' as in you can push back on it like you were bending it. This is not a design flaw, as it has only a 250 lb capacity rating, but is intended to provided air flow while keeping the chair lightweight.
So you can rock back in the chair, tilt it and lock it so it stays in the same position. The chair is designed with low back lumbar support. With the detachable padded headrest the chair resembles the natural flow of the human spine. So quite a supportive office chair, just not intended for heavy duty use in my opinion.
The Height Adjustments
The Kadirya high back mesh office chair has some decent height adjustment options. Firstly, with the headrest it has a total height of 49.1″ and a minimum height of 46.1″. As a tall person I would always leave this padded rest on as it contours nicely to the back of the neck providing optimal support for the back.
The seat can be raised from 17.7″ in height to 21.7″ high. Which is extra tall compared to standard heights for office chairs. The T shape armrests can also be raised just over 3 inches to match your extra height.
Overall I quite like this chair. It's stylish yet ergonomic. The shape of the backrest with the lumbar support and headrest are really musts for any tall person. Best part is, it's not an expensive chair. So buying a couple for around the office is not out of the question.
KADIRYA Extra High Back Mesh Office Chair
Extra Tall Office Chair Recliner With Footrest
So this chair is not going to be for everyone, but I couldn't not mention it. It's a napping office chair for tall people and if you are in the position to take a nap behind the desk, this is for you. I am in no way encouraging you to take naps while you are at work when your boss is paying you. Are we clear on that?. But heck, a quick 10 minutes here and there never hurt anyone right?.
Again this chair comes to us from Kadirya and it is the chair with the best tall person height requirements. There were a couple reclining office chairs in the race, but the Kadirya came through with the goods. There was another good size mesh napping chair, but I personally prefer to have the benefits of padding under my body if I'm going to have a cheeky 10 minute nap behind the desk. Mesh is great for when working, but padding wins for sleep everyday of the week.
The Dimensions Of The Kadirya Napping Office Chair
Do note that when taking a nap on a office chair, don't expect the chair to be the same dimensions as a king size bed. Do also note that your feet may dangle of the end of the footrest if you are 7 foot tall!.
Adjustable seat height between 19.3″ and 22.2″.
Maximum chair height 47.8″.
Seat depth of 20.5″ when in the sitting position.
150° angle for taking a quick nap.
Backrest measures 28.9″ when sitting.
Width of the seat at the front is 21.3″.
Do You Need A Reclining Office Chair
The napping chair, or office chair that reclines so you can sleep on is not a necessity. But because the chair looks just like your average high back office chair, why not have the option to recline back and pull out the footrests?.
It's a decent office chair withe some quality finishes and features. Having the ability to nap on demand is certainly useful. But should you never feel the urge to take a power nap, the chair works fine as a standalone office chair.
The heights and size dimensions are suitable for someone over 6 foot and the padding is spot on. With lumbar support and the ability to tilt and recline, this chair stands and delivers.
KADIRYA Reclining Leather Office Chair
What Size Office Chair Do You Need?
Buying a office chair if you are tall is not the easiest task. With the above chairs and guidelines, there is sufficient information to get you started. However its important to know your own measurements if you are buying online.
Going down to your local store may assist you in understanding what height seat you need, the size of the back rest and so on. The below video will demonstrate a few of the key aspects to consider when buying a office chair thats right for you.