I hope you love the products I've recommended below, just a heads up that as an Amazon Associate, I earn from qualifying purchases. This means I may earn commissions on products bought via links on this page.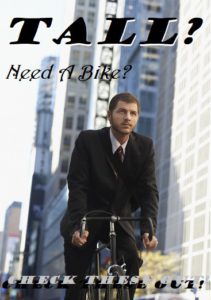 Previously we have discussed the various types of bikes for tall people, but in this instance we are going to take a deeper look into the best road bikes for tall riders. However its best to know right off the bat that it's exceptionally hard to find these oversized bikes that come straight off the rack, or out of the box.
Especially when you are creeping towards the 7 foot tall mark. Most manufacturers simply don't cater to the exceptionally tall people. So I'll stop you right there if you're over 6'5″ tall because none of the bicycles below have user height recommendations above 6'5″.
Generally speaking if you're over 6'4″ you will want wheels larger than 700cc. The best bikes for very tall riders in my opinion are Clydesdale. They go up to 4XL and their market is predominately big and tall bikes. The frames are titanium which is much lighter than steel an gives them the wiggle room to create larger diameter frames. Resulting in a much stronger bike for not only tall people, but heavy people too. However, these bikes are not cheap, don't say I didn't warn you.
So below we are going to look at some of the more affordable options for people between 6 foot and 6'5″. These road bikes are off the shelf/out of the box without needing to be modified. However you can also modify them at a later time to greater serve your individual height requirements. But do be careful about up-sizing a smaller frame by adding a extra long bike seat into the mix, it can either crack the frame or bend the seat post due to too much leverage. So keep this in mind when looking at the road bikes below.
Road Bikes For Tall People Up To 6'5″
The best road bikes for tall people straight off the racks belong to Tommaso Bikes from what I've found. They have the biggest range of bikes which are XL and are recommended for riders between 6'2 and 6'5″. Not only that, but Tommaso are just a great company to deal with.
Tommaso don't overcharge which makes them quite affordable and have a good customer service reputation. Heck they like their bikes so much they use their brand of bike. Another cool thing about Tommaso is that they offer lifetime warranty. Which is just pure incentive to give them a run.
Below you can see a couple of the Tommaso bikes that are available in this size range. All of the Tommaso bikes are ready to ride.
The Imola Road Bike By Tommaso
Comparing the Imola bike to bikes 2 to 3 times more expensive, it's very hard if not impossible to see any difference. It's a bike packed full of features that make you question the affordability. But fear not, the moderate price tag is a result of factory to customer and by cutting out the middle men, the savings go into our pockets.
When it comes to suitability for a tall rider, this bike has height recommendations of between 6'2″ to 6'5″. The top tube measurement from the seat post to the handlebar stem is 590mm. While the seat tube from the seat post to the crank is 570mm. The crank arm-set is 175mm, which is not too bad for most tall people. While you can get 200mm crank arms, you may find it more of a hassle than its worth. The total length of the wheelbase is just shy of 125cm.
In terms of branded parts, Tommaso try not to Frankenstein the bike up, especially the crank. The crank is a complete Shimano crank which isn't composed of various other brand parts. 100% Shimano along with the shifters, front/rear derailleurs etc. Tommaso also use their own line of products on the pedals, handlebar and seat stems.
Overall the Imola bike by Tommosa is well worth the money you pay for it. As mentioned earlier you could expect to pay a lot more for a bike of this quality. The only thing I would recommend changing is the seat as I find it's a tad uncomfortable on longer rides over 30 miles. But all in all, it's a great road bike for tall people wanting to enter the biking arena or returning riders that left the game many years ago.
Quick Run Down
Available in many sizes, but the XL is best suited to large riders.
Features the updated Shimano Claris R2000
3 x 8 speed – 24 speed total
Weighs 23.8 pounds.
Aluminum road frame by Tommaso 6061 SLA
Shimano brakes.
Available in 3 colors.
The Tommaso Forcella Endurance Road Bike
Another good choice for tall riders up 6'5″ is the Forcella Endurance by Tommaso. With pretty much the same size details as the above Imola, the Forcella may be a force to be reckoned with. The top tube measures 590mm while the standover height is 820 mm.
The standover height is a important measurement to consider as it will tell you whether you can ride this bike comfortably and be able to stop safely. This is when you basically stand over the bike with your crotch just in front of the seat. There should be a one inch clearance preferably. So you can test this at home by standing up straight with your legs spread apart a few inches to resemble a bike in between.
The Forcella endurance bike is also a 24 speed bike (3 x 8) which gives you plenty of gears to work with a multitude of conditions and skill level. So whether your on the flat straight or about to tackle hill after hill, the Forcella is up for the task.
The main differences between the Imola and this Forcella bike come down to a couple features. The Forcella is slightly lighter weighting just 22.9lbs compared to 23.8 of the Imola. The fork on the Forcella is also different being a HCT Carbon Fiber whereas the Imola is a Tommaso SST Steel fork. There's also 10mm difference in rim size with the Forcella having 30mm rims while the Imola has 20mm rims.
Overall I find the Forcella a slightly better bike, especially for newcomers. The complete Shimano Claris groupset, aero wheels combined with the slick looks finsihed with the carbon fork make it one of the best value road bikes there is. Short or tall.
Racing Bike For People 6'4″+
This 64cm frame road bike by Motobecane has a recommended rider height of 6'4″+. While I'm not sure how tall the (+) sign goes, you know it's a big bike from the 64cm frame. It's on the cheaper end of the scale, but don't let that deter you. Unless you really are looking for a bike over $2000. If not, this bike costs a fraction of that and is quite impressive for what it is.
The Motobecane Mirage S 14 speed Shimano is listed as 2018, but I'm pretty sure it's a few years old now. However, this doesn't take away from the fact its a good entry point for taller road riders. It's a great looking bike with a white frame that stands out from the pack.
The Mirage S bike is comprised of a aluminum frame with carbon forks. While it's not a full carbon frame, for the price of this bike its a considerably smooth ride which is comparable to some of the more heavier steel frames out there.
Who Is The Motobecane Mirage S For
The thing is, Motobecane has a mixed reputation among riders all over. If you're a pro then the Motobecane is probably not the best fit for you. But if you're new to the game and want to test out cycling before heavily investing, then the Mirage S is a great choice.
Nobody wants to spend several thousands on a bike only to discover that cycling is not for them. Which is why this bike is a good choice. It wont set you back thousands, yet you can get a taste of the cycling life. Once you have put quite a few miles on the Mirage S, you may then think about getting a custom build just for you. Because of the 64 cm height, the Mirage makes it a great starting point for taller riders.
In the video below you can watch as the Motobecane Mirage is compared to a bike 4 times its value, 'The Giant'. In the video he says that the bike cost his brother $550 on bikes direct, however you can check price on amazon here to compare.
Decent Yet Affordable Racing Bicycle For People 6'2″ to 6'4″
If the above Mirage S is still a fraction out of your budget and you still want a decent entry level road bike suitable for tall people, take a look at the Windsor Wellington. This bike also has a 62cm frame but Windsor states it's appropriate for people 6'2″ to 6'4″.
While its certainly no Trek or Cannondale bike, for what it's worth and the larger frame makes it a bike to be considered. In fact many trainers will use the Windsor Wellington as their training bike. What this tells me is that you don't necessarily have to spend the big bucks to get a decent bike. Just know your limits.
There's a video posted below which is a 30 minute long review of the Windsor Wellington bike from a trainer that uses this bike. Do note that in the start it says this bike is no longer available. However you can check the availability on amazon.com. As it may no longer be sold on alternative sites.
Few Specs Before Watching The Video Review
6061 Aluminum Kinesis frame 47cm to 62 cm options. Oval-ized tubes for aerodynamic speed.
595mm top tube measurement and 595 seat tube.
24 spoke wheels.
33.5″ stand over height.
Head tube angle 74° which is only found on racing bikes. Which tells you its designed for going fast!
Kalloy handlebar and seat stem.
700cc DuraForte fork – Threaded cromoly 1 1/8
"Near Perfection" as quoted from review below.
Best Everyday Bikes For Tall People
If you're just looking for a bike to get you around town without the headaches of changing gears, the 61cm 6KU one speed fixed gearr road bike is a good choice. But if you live in an area with steep hills, not so much due to the one speed design. But on flat paved surfaces, the 6KU is quite fast and very light to whip in and around town.
Being a flat handlebar design, it's another alternative for the tall cruiser bikes available. So you can sit upright and relieve some of the pain in your lower back caused from hunching over all the time. According to the 6KU website, the 61cm frame is ideal for people between 6'3″ and 6'6″ tall.
The tires on this urban track bike are 700 x 25c which can be replaced with most tires up to 28c should you want to change them. The type of pedals you get stock are a BMX platform style easy to use and get a comfortable grip in. All up it's a rather light everyday bike too, weighing just 21 pounds.
Overall the 6KU urban track is good bang for your buck. There's far more pros then there is cons which is always a good thing. The shear quality of the frame alone makes this bike worth investing in. Sure the brake pads may be a bit cheap, but they are almost not worth mentioning as they are so cheap to replace anyways.
But in all reality, this is not your racing bike, but more your day to day bike. Its the type of bike you can rely on once you iron out the bumps. Some parts may not be to your liking, like the bull-nose handlebars which may need to be wider for some people. But overall its a solid and reliable bike for tall people.
Alternative Bikes For Taller Men & Women
Not everybody that is tall prefers or even wants a racing bike. Bikes are great for no matter the occasion. Whether you want to tackle the tracks or cruise around town on a cruiser beach bike taking in the views. Some use them for exercise and some get exercise as a result of cruising around doing nothing. It's a win win.
Mountain bikes are another popular option for tall riders. But the same issues arise as they do with road bikes. Off the shelf bikes for tall people are very hard to find. But in saying that, you can find several options available by visiting my guide to mountain bikes for tall riders.
The latest trend of course are e-bikes. These are your ordinary bikes that utilize a battery powered motor. These bikes are very useful for people of all ages. Young people use them for getting around town as they may not yet have a car, while the elderly folks that want to keep fit like to use them as a back up source for when their pedal power runs low. Or the knees start to hurt. Fortunately there area a few options for electric bikes for tall people that go up to 6'8″. So take a look, you never know what may become of it.