I hope you love the products I've recommended below, just a heads up that as an Amazon Associate, I earn from qualifying purchases. This means I may earn commissions on products bought via links on this page.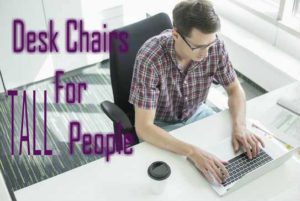 Ergonomics in the office is very important, especially as we move towards a technically driven world. Thus offering more office jobs than ever before and the need for the best desk chairs for tall people. As more and more taller persons enter office jobs, the growing demand for a suitable height desk chair is only going to increase.
While I have complied a list of office chairs for tall people here, there's one standout that deserves the attention. That is the ErgoHuman high back line of desk chairs. While there's still many decent chairs available on that list, the ErgoHuman is just one of my personal favorites. Here's why:
Tall Persons Desk Chair – The ErgoHuman
I first heard about
the ErgoHuman
roughly 5 years ago, although they have been around since 2002. But what fascinated me was the fact the people behind the ErgoHuman were in-fact
Ergonomists
. Which basically translates to human factor specialist. These people are educated in the art of ensuring products are safe and stress free as much as possible for the common person.
What this tells me is that these chairs were designed and made by people that care about us consumers. They are trained in delivering us the safest and most ergonomic desk chairs available.
So feeling confident in their business background and professional experience, I looked further into their range of ErgoHuman desk chairs. In particular the high back models.
Why The ErgoHuman Desk Chair Is Best For Tall People
While the Herman Miller Aeron C size chair is arguably the best there is, it's also quite expensive. The ErgoHuman is more affordable and in my opinion has a few more specs that are better suited to the taller person. But if you are willing to hand over the big money, the Aeron C certainly wont let the people up to 6'6″ down.
The ErgoHuman high back desk chair comes in either mesh or leather. I personally prefer the mesh material over leather as I find it breathes far better. While with air conditioning on, the leather material is fine. But not everyone and every office has air conditioning. So keep this in mind, remember leather material sticks to your skin during the hot months.
Tall Person Specs
When it comes to buying a desk chair for a tall person, it all comes down to the specifications of the chair. Regardless of how comfortable the chair is, if it doesn't suit your height than its no more than an oversized paperweight. Or a pretty darn comfortable chair for one of your shorter co-workers.
With that in mind, lets take a closer look at what the ErgoHuman high back desk chairs offer to the taller people.
Overall Height
The ErgoHuman has an impressive overall height of 51 inches. When compared to other high back office chairs, this is up to 8 inches taller. What this means is you get far superior back and shoulder support.
Adjustable Headrest
Many office chairs don't have a head rest, so they leave you with a strained and sore neck at the end of the day. Fortunately this desk chair has a headrest which is also adjustable so you can line it up perfectly with your height.
Height Adjustable
Office chairs have varying height adjustable seats, this is nothing new. But for a tall person you need one that sits higher off the ground to allow for the longer legs. Otherwise your legs will be bent too far and it will feel uncomfortable and potentially cause you issues down the track.
The height adjustments for the ErgoHuman range from 18.5″ to 22.2″. At the maximum, the seat sits 22.2″ high off the ground. Many chairs are around the 18″ height on maximum. So the extra 4 inches certainly helps for those longer legs.
Seat Depth
Seat depth and seat height correlate together to provide an ergonomic seating position. With longer legs comes the need for a deeper seat. The ErgoHuman has a total seat depth of 20.5″, which isn't too bad at all. It is 2 inches deeper than that of the more expensive Aeron chair.
Back Rest
One of the most fascinating elements to this desk chair is its adjustable back rest. While it provides some serious lumbar support, the thing that's more impressive is the back rest can actually be shifted in height. So if you need the back rest to sit higher up on your shoulders you can adjust the height of the back rest.
This in turn makes the lumbar support position itself in the lower back where you need it. So the ErgoHuman is quite adjustable, even for the tall person.
Overall Opinion
If you haven't found a desk chair suitable for your height before and one that is adjustable enough so that you can comfortably sit for 8 hours straight, the ErgoHuman is certainly worth looking at.
Because of the specifications and the ability to adjust the seat height, the backrest and the head rest, most tall people will find the ErgoHuman one of the best desk chairs for tall people on the market.
I have barely scratched the surface with what this ErgoHuman can achieve, so it's certainly something you should look further into if you want a comfortable yet height appropriate office chair. While it is more expensive than what you may be use to paying for a chair, the customization and the shear quality of the chair make it a worthwhile investment.
After all, you may spend a third of your day in a desk chair like you would spend a third of your day in bed. So why go all out on a comfortable bed then disregard the second most important piece of equipment in your life; The office chair.
But if you have gotten this far and are still undecided about the ErgoHuman, be sure to check out the other tall person office chairs here.
Ergohuman High Back Swivel Chair with Headrest

Tall Office Chairs Need Tall Desks
If you haven't already, you may need to consider a desk for tall people. Its important the desk top is at the correct height so that you are working in an ergonomic environment.
If you buy the perfect tall desk chair only to realize that your hunched over just to reach the top of your desk, you're asking for trouble. The taller your desk chair extends, the taller your desk will need to be.
In general a desk that has a clearance underneath of just 24 inches is going to be too low for a tall person over 6 foot. When you check out the link above you can find out exactly what size desk you should be looking for in regards to your own height.
Desks Chairs & Standing Desks
While finding the best desk chair as a tall person can be challenging, the latest trend in stand up desks is also an option the tall person should look into. Sitting in a office chair all day long, no matter how comfortable is not ideal for the body.
So these extra tall standing desks make for a great balance in the office. But again, due to being quite tall, you will need a standing desk or a desk converter that extends higher than normal. So be sure to check the measurements on the above link to make sure they are appropriate for your height.
Like buying any furniture for tall people, its essential that the measurements stack up to your individual height. While most of the time there's more furniture for regular height people, there are some options available for the taller generation.