I hope you love the products I've recommended below, just a heads up that as an Amazon Associate, I earn from qualifying purchases. This means I may earn commissions on products bought via links on this page.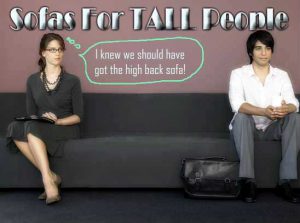 There's nothing worse then getting home from a hard days work to sit down on the sofa and feel uncomfortable. As a taller person, average sizes sofas just don't fit. The backrest is too short, the depth isn't there and often the seat is too low. Finding the best sofas for tall people is certainly no easy task.
Most sofa chairs have a height of between 30 inches and 35 inches. Which for a tall person over 6 foot is too short. The shoulders and the head aren't supported which make watching the TV, playing games or reading a book all that much harder.
Quick Comparison
What To Look For When Buying A Tall Persons Sofa Chair
A sofa and a couch are two different chairs, but for the sake of argument both types will be listed below. The difference are minimal and are not really relevant to a tall persons comfort.
As mentioned earlier, the height of the sofa plays a critical role in providing sufficient support for your longer torso. Any sofa below 35 inches in height is too low to the ground. The couch wont offer any head support and possibly be too short for your neck and shoulders also.
Ideally you want a sofa to be around the 40 inches in height mark. This is not easy to find, but it is possible as you will see below.
The other two key areas are seat depth and height from ground. If the seat sits too low to the ground your legs are going to feel cramped and not sit in an ergonomic position. The depth of the seat is also important. Deep sofas for tall people will allow you to fully extend your back and backside to the far regions of the seat. Without your knees overhanging the couch by 12 inches. So a deeper seat that sits a minimum of 17 inches high from the floor is what we are after.
Below you can find a variety of sofas for tall people suitable to different heights. Including a mix of reclining sofas, futons, sleepers and your traditional sofas. Starting with the tallest sofa working your way down to the sofas which are still tall, just not as tall as the chairs above it. For a greater selection off futons in particular you can see our list of long futons here.
Reclining Sofas For Tall People
Reclining sofas for tall people are easier to find as they are generally bigger chairs. However if you are after just a singular chair you can find tall recliner chairs here.
When it comes to extra tall reclining sofas, I have found Ashley Furniture the brand of choice. They have a 2 seat and a 3 seat reclining sofa that stands 42 inches tall. Which is a good generous height for taller persons.
3 Seater Reclining Sofa 42″ Tall
This 3 seat 'Alzena' reclining sofa by Ashley Furniture is a beautiful gunsmoke brown color made from a polyester-polyurethane material which has a suede feel to it. Which is a thick and durable material which gives this sofa a unique appeal to it. Finished off with jumbo double stitching to make it look like a rustic country sofa.
The 3 seat recliner has a total length of 91 inches with the two end seats having the recline feature. The recline is operated by a simple pull tab operation which is considerably easier to use compared to the old fashioned wooden handle.
In terms of comfort the Alzena by Ashley Furniture is considerably well padded. The inside foam is highly resilient and is finished in a poly fiber. The firmness is more firm than plush in the beginning stages. After the foam gets a bit of expansion to it the Alzena turns into quite the plush sofa.
In my opinion this is one of the best reclining sofas on the amazon store. There is also the option to order this chair in another gun smoke shade and also the option to have a powered reclining sofa. Which obviously will set you back a bit more. But for me the pull tabs work great and there's no need to use a power chair.
Ashley Furniture Alzena 3 Seat Reclining Sofa

Best Extra Tall Reclining Sofa
While this sofa is a 2 seater, its actually wider than the above 3 seater Alzena. The Hogan here is an impressive 96 inches long and stands a mighty 42 inches tall. Referred to as "A Beast and suitable for people 8 foot tall", the Hogan is one super sized sofa.
This to is a pull tab reclining sofa, so no power source needed to relax here. The padding on the hogan is also quite plush and thick. A glorious chair to look at and even feel.
This is because the material is made form a microfiber which has been textures. So it's super soft and snugly just to touch. Certainly my favorite kind of material when it comes to products that come in contact with your skin.
Because of the size of this sofa it makes for a great sleeping solution as well. As it can be in the recumbent and semi recumbent position, people that have trouble sleeping flat are going to love this position along with the length. When not reclined the depth of the seat is huge. Which is perfect for tall people, but not so much for short people as their legs wont reach the floor.
Overall the Hogan is a great reclining sofa for tall people. It is a big chair and its measurements are up to the task. Just be mindful of its size and make sure you allow a foot or so behind the sofa as it is not a wall hugger. It's firm where it needs to be yet plush in all the right spots. Finished in a beautiful brown microfiber material that is just to soft to ever pass up on.
Ashley Furniture 'Hogan' Huge Reclining Sofa

Couches For Tall People
However this is not your traditional sofa and therefor may not be up your alley. But for folks living in a studio, this makes a great space saving solution to the oversized sofas out there.
In terms of comfort, it's not as plush as a sofa but not so firm that you couldn't use it everyday either. It's go padded foam which is about medium density.
While a very stable chair, this bench sofa is still considerably light. So moving it around the house until you find the perfect location is much easier compared to a full blown sofa. It's an elegant piece of furniture so it can fit in just about anywhere; dining room, office, reception, lounge etc.
The fabric on the chair comes in either a light grey or a beige color. What makes this chair so stunning is the silver metal trim work that appears like flat broad nail heads. The frame is made from birch and the legs are a wood finished in a black lacquer for durability and wear and tear Resistance.
With the oversized back rest, this is a great sofa/chair for tall people looking for something different. Something that stands out from the crown while still maintaining comfort.
Baxton Studio Owstynn Gray Linen Modern Banquette Bench

Deep Sofas For Tall People
Once again Ashley Furniture has got you covered with these deep sofas for tall people known as 'Darcy'. With an overall height of 40 inches you know you have got you back, shoulders and neck well supported. The unique pillow style armrests and back rest ensure you get maximum neck cushioning if your head does rest on the top of the back rest.
The seat has a deep 22 inches which is sufficient to support longer legs and thighs. The seat sits 19 inches from the ground which is a nice height for taller people. Nothing worse then feeling like your back at school and trying to cross your legs just to get down that low.
The Darcy sofa comes fully assembled and fits through door frames 32″ and wider. If you do find yourself in the situation where you need an extra inch, the wooden support legs can be unscrewed to give you more leverage between tight doorways.
Once you have it in position, sit back and admire the beauty of Darcy. This sofa is very unique and has a very visually appealing design to it. The outer sides have a nice curve to them and the backrest is designed to resemble plush pillows which gives great lumbar support. Overall its a well padded and appealing deep sofa for taller persons. Also available in some vibrant and fresh colors.
Ashley Furniture Darcy Sofa

Also Available As Chaise Sofa
Check The Darcy Chaise Sofa Price On Amazon.com.
Brown High Leather Sofa With Nail Head Trim
With a total height of 39 inches, this sofa has sufficient height to suit a tall person. The only thing I am not a huge fan of is bonded leather. This is not 100% genuine leather, it has leather as part of the materials used but not 100%. So therefor a cheaper sofa.
Over the years I have learned to deal with bonded leather. By placing a cover or blanket down when you sit will help to extend the life of the bonded leather. Especially as this is a dark brown color, when the leather starts giving you will notice it more.
I also don't like that the seats are permanently attached to the sofa. So you can't flip them over or replace them down the track. However the back rest cushions do come off which makes cleaning the sofa a lot easier.
The sofa comes pretty much assembled when delivered, so no headaches of putting this big sofa together. This chair also features the nail head trim to give it a more luxury appeal. In terms of comfort its more on the firm and supportive side compared to a soft plush sofa. This is ideal for some and a deal breaker for others.
Overall its a pretty firm and strong sofa. Seems to be well constructed and well supportive. The bonded leather thing I can get over and the visual appeal is quite stunning if you like the color brown. For the price it's a very good sofa.
Coaster Colton Traditional Brown Leather Sofa

Queen Size Sleeper Sofa 39″ High
backrest support height of 39 inches
.
One of the longest sofas on this list coming in at 94.5″ so it offers a great place for a tall person to take a nap in the afternoon.
Should you have guests over, the sofa can then turn into a guest bed as it's a sleeper sofa. A generous sized sleeper also. Resembling a queen size bed, your guests will truly appreciate the size. Once they get into bed they will then be even more appreciative of the fact its a memory foam mattress that comes with the Emelen sofa sleeper. Spoiled is a word that comes to mind.
The padding on this sofa is a high resistance padding which offers good support. The 3 large back cushions offer the comfort. There are also 5 smaller decorative polyester, nylon pillows included in the price. Takes the guess work out of buying matching cushions when the sofa comes with already perfect accessories.
The Emelen sofa sleeper is also finished in a nail head trim. But on this one the heads are larger and more rounder. Making them more distinct and bold. Because this is a sofa/bed, it does cost a bit more naturally.
Emelen Contemporary Sofa Sleeper

Fold Down Couch For Tall People

While you're here have a look at these
futons for tall people
. They are similar to a sofa sleeper but not as involved. More of a simplistic couch which can fold down to become a supportive bed for guests or nights when you simply want to crash out in the lounge room.
Better Homes & Gardens do one of the better looking futons for taller persons I have come across. With a futon you also need to consider the length of the sleeping area. With this futon it has a sleeping length of 75 inches or 6'3″. So most tall people will be comfortable in this futon.
For working out whether or not it will fit in your space, the length is 82 inches long by 39 inches wide. So again quite a deep seat and a decent length futon.
In terms of height, the futon is 39 inches tall when in the chair position and while out flat ready to be slept on it is a good 21 inches tall.
All in all its a great futon, if not one of the best futons for taller folks on the market. It's quite comfortable without being too firm or too soft where you feel the metal support bars underneath. The two ends are made from solid wood with a dark brown/black coating. On the end is a cool insert where you can store magazines and documents if you please.
While it's not the most appealing couch in the world, for a futon is serves its purpose very well. The design on the two wooden ends do give this futon some flare over the more typical boring futons available. At the end of the day, a futon is a more cost effective version of a sofa sleeper. If classy and eye appeal is what you are after you should definitely consider the above Emelem sofa sleeper. For the price, comfort, support and tall person attributes this futon gets a solid 9/10.
Solid Wood Arm Metal Futon With 8" Soft Twill-CoveredCoil Mattress

Tall Persons Sleeping Couch
When you want your couch to be able to perform more than to be used as a regular couch, a daybed makes for a good option. However finding
daybeds for tall people
is a mission in itself. A daybed is a good idea when you are short on space, but want the option to be able to sleep in the lounge room or have guests over without having a spare room for them.
To cater to the tall people, a daybed needs to be Twin XL or queen size. Obviously the queen size takes up a lot more space, so a Twin XL is the most obvious choice.
For a couch like this to be suitable for a tall person, it must be about 80 inches in length. This stunning antique white daybed does just that. It is built to handle twin xl mattresses. So tall people can now have a sleeping space in the lounge room without it looking like an obvious bed.
Once you add a few off white or darker color cushions on this daybed, it really does look stunning. Not only does it look appealing, its very convenient for unexpected sleepovers. Its also available in a bronze color to suit different styling needs.
Antique DayBed Sleeper

Sectional Sofas For Tall People
Sectional sofas are a superb way to maximize your living space due to the fact many sectional sofas come in a number of pieces. So you can align your sofa how you want it to best suit or fit into your living room.
Having the extra pieces to add to your sofa allows a tall person to comfortably lay down should they choose. But like all sofas for a tall person, the height and depth needs to be right in order to achieve a comfortable environment.
Homelegance Platine 103″ Sectional Sofa
Sectional sofas are pretty standard across the board when it comes to overall height, which is 35 inches. This doesn't offer and shoulder or neck support for the tall person.
The best sectional sofa I've found for tall people is this Homelegance Platina. It measures up and is quite the attractive sofa.
Rundown Of The Measurements
39″ Tall height
22″ Deep seats
23″ Tall armrests
18.75″ From floor to top of seat
Total Length: 103″ x 87″
Adjustable Headrest For Taller People
So what makes this sectional sofa such a good buy for the taller folks are the adjustable headrests. This is where the extra height comes in to offer neck and shoulder support. These headrests can be folded down or up when needed. While I would have them up all the time, so people may prefer the look of them down. But when you need the neck support, its good to know this sofa offers just that.
This sofa is more than just a sofa as well. It can be transformed into a massive bed for unexpected guests, or nights in front of the TV. It includes a pull out bed that creates a huge sleeping area. The included ottoman can be placed at the end of the bed/sofa so that even the tallest of people can comfortably lay down on the Homelegance Platina.
Homelegance Platina 103" Sectional Sofa with Pull Out Bed and Ottoman

The Furniture Options
In general furniture for taller people is rather limited. But as you have seen from the above sofas and variations of the sofa, there are some good options to go with. But one size does not always fit all when it comes to sofas. So be sure to do your due diligence and get out the tape measure if you must. Nothing worse than spending a good sum of money to find out it doesn't fit.