I hope you love the products I've recommended below, just a heads up that as an Amazon Associate, I earn from qualifying purchases. This means I may earn commissions on products bought via links on this page.

It's often a misconception that all tall people are thin and fit. So why would they need a treadmill or any piece of equipment?. Truth of the matter is, if you're taller than 6 foot. You most likely need to look for a specific type. Which is why when you look for the best treadmills for tall people, you need to know exactly what specific requirements a tall person needs.
The main disadvantage to being a tall person and using a treadmill comes in the running format. However I still recommend a treadmill suitable for a tall person even if you're just doing the walking routine. But for running on a shorter treadmill with long legs, it's not going to end well.
Us taller folks have longer legs and larger strides when we walk and run. Which is why we make great runners and swimmers. (Score to us) But we certainly have some disadvantages when it comes to working out and general exercise.
So before we take a look at my version of the best treadmills for a tall person, here's what you need to consider if you go off on your own to choose a model for you.
Compare The Tall Persons Treadmills
| | Features | Deck Length | Price |
| --- | --- | --- | --- |
| | 12mph top speed, 15° incline, 375 Lbs capacity, 10 programs, fan, hand and chest heart rate monitoring, mp3 | 60"L x 22" Wide | Check Price Amazon |
| | 15° incline, 12mphs top speed, dual LCD monitors, 26 programs, 4 user profiles, 300 Lbs capacity | 60"L x 20"Wide | Check Price Amazon |
| | Longest running deck (62") with orthopedic belt, Premium commercial grade treadmill, 4.0HP, 400 Lbs Capacity, 12mph top speed, 15% incline | 62"L x 22"Wide | Check Price Amazon |
| | 12% incline, 12mph top speed, 2,75CHP, 22 built in programs, 325 Lbs capacity, Affordable option | 60"L x 20"Wide | Check Price Amazon |
| | Gym quality deck, 15% incline, 3.5CHP motor, 26 programs with Bluetooth connectivity, 350Lbs Capacity | 60"L x 20"Wide | Check Price Amazon |
| | 15% incline, 12mph top speed, Built for the big and tall, 350 Lbs Capacity, 10 Programs, 3CHP | 58"L x 20.5"Wide | Check Price Amazon |
| | 10% incline, 10mph max speed, iFit compatible, 300 Lbs max capacity, Base folds up | 55"L x 20"Wide | Check Price Amazon |
How To Choose A Treadmill If You're Taller
Belt Length – Always note the length of the treadmill's belt. If you are over 6 foot, you are most definitely going to want a treadmill with a longer running deck. Most of the common treadmills will have a running track of 48 to 50 inches in length. Unless you run with small strides, like seriously small. Then you are going to have huge troubles staying on the deck and end up injuring yourself. My recommendation: 60 inch running decks are the best for tall people. Imagine an extra 10-12 inches of space on the treadmill and how it can free up your running style.
Running Deck Width – Not as important as length, but some of us taller people are also more stockier. So we need a wider belt on the treadmill. Most are about 20 inches wide. Not too many go over this width. But my number recommendation is a 22 inch wide running deck.
Handrails – Pay attention to how high the hand rails on the treadmill are. For shorter folks, their arms typically will hit the sides of these rails. But as a taller person myself, I have whacked the top of the arm rails plenty of times. Usually with much force and I cant guarantee you, it doesn't feel nice.
Weight Capacity – Another not often thought about feature to look at. Being taller, we have more physical body, and therefor more weight behind us. Many treadmills come with a weight capacity of just 200 lbs. Which in most cases is not enough. The highest weight capacity can go up to about 450 lbs. So do consider this when buying a treadmill for yourself. Don't risk buying a under capacity treadmill and end up breaking the cushioning faster than needed.
Ceiling Height – Don't forget to add your height to the height measurement of the treadmill at maximum incline. You don't want your head putting a hole in the ceiling now do you.
The Best Treadmill For A Tall Person Over 6 foot
60″ Running Deck At 22″ Wide
Starting with the 60″ long running deck, it's long enough for taller people to run naturally, while also wide enough to allow for those broader shoulders. The weight capacity is an impressive 375 pounds which should be sufficient for most big and tall treadmill users.
Lastly, the Sole Fitness F80 doesn't have extra long arm rails. So being tall, you should completely miss these stumps that are hand rails. Hooray for that!.
Now A Little More About The Sole Fitness F80
The Sole Fitness F80 Folding Treadmill is a great running aid for taller people as if features a Cushion Flex Whisper Deck, which helps to reduce the impact of running on the user's joints. Having larger legs, this cushioning really does help. The treadmill offers a range of speeds, from 0.5MPH to 12 MPH, with inclines ranging from 0 to 15%. The top speed being 12mph is quite fast, so don't think 'is that all'. Even the tried and true treadmill runners would agree that 12mph is more than enough.
There are some handy monitoring features, including heart rate monitoring with a pulse grip, and with a chest strap. This is a robust and solid treadmill that feels good to use and that folds up easily when not in use. It is a very heavy treadmill though, weighing over 300lbs. While heavy, this treadmill can cope with heavier and tall people due to the 375 lbs capacity., and with larger runners using it, which is impressive for something that is sold as a consumer-grade treadmill.
The screen and readouts are useful, and the emergency cord will bring the treadmill to an instant stop when pulled, which is a handy safety feature. Especially if you aim to high like myself and before you know it you cant keep up with the running belt. The quickest way to stop the machine is to pull the cord.
There is a single speed fan and a pair of speakers built in to the unit, but beyond this the bells and whistles are limited. What makes this an appealing treadmill is that it 'just works', has a wider than normal running deck with a length of 60 inches that us taller people need and that it has a robust warranty so you can use it with confidence.
Sole Fitness F80 Treadmill

The Schwinn 870 Long Stride Treadmill
60 inch running deck
. The deck is not quite as wide as the above Sole Fitness, but
20 inches wide
should still be sufficient for most. With a 3 horse power drive system, the 870 can reach a top speed of about 12 MPH. Which is a decent speed for many runners.
Similar to the Sole F80, the Schwinn 870 has very similar hand grips. But what I like about the ones on the Schwinn are that they dip down a bit so that your hands don't side off as easily.
This is only relevant to walkers tho. Another positive to this treadmill for tall runners is there is no mid section to accidentally hit your knees on when going full steam. While this does eliminate an extra area to store drinks and smart phones etc, I find anyone with long legs would appreciate this.
Features Of The Schwinn 870
I found the Schwinn 870 Treadmill to be a robust and appealing treadmill. The blue backlit LCD display that shows information about the workout you are doing, including up to 13 different metrics is quite easy to use and navigate.
The treadmill can run from 0 to 12mph, on a 0 to 15% incline, and it supports up to 26 different programs, with four different user profiles so that it can be used by the whole family. I particularly like this feature as I find it quite annoying having to share one account with other household members. Just makes tracking your own fitness much easier.
The Schwinn 870 can support users weighing up to 300lbs, and features a soft-drop folding system for ease of use. Which is not only easy, but also reassuring that it isn't going to suddenly drop down on you at a rate of knots. There are lots of 'quality of life' features, including a USB charging port, MP3 player input port, built-in speakers, and an adjustable fan.Which are pretty standard these days on models of this price. But totally required in many circumstances.
The treadmill was easy to assemble, especially when you get the delivery person to set it up for you. Most importantly, the Schwinn 870 just runs very well. Which may seem like a odd thing to comment on, but it's one of those treadmills you don't notice. Which is a good thing. Less noisy and dramas to unfold on you before getting into your actual workout.Just turn it on, log in and away you go.
It has lots of nice touches, including pockets for your phone and water-bottle. It is quite a heavy unit, however, and you may want to put a rubber mat under it if you are planning to put it in a room with a plush, deep-pile carpet, because the treadmill may sink into the carpet.
The rollers and tracks themselves provide enough cushioning to ensure that they will be gentle on the knees. Making this a great choice for those who struggle to run outdoors or for tall people wanting to take advantage of running indoors.
Schwinn 870 Treadmill

Best Of The Budget Treadmill Options
So in order to combat this, we need to find a treadmill that has a larger than average size running deck, but won't be as long as 60 inches like the above models.
So the next best treadmill I could find for taller people that are on a tight budget is the NordicTrack T 6.5 S. I found it to well priced considering the features it boasts,  which you can check the current price on amazon here.
This particular NordicTrack has a running deck length of 55 inches and is 20 inches wide. Which is still longer than the standard size decks. But I wouldn't recommend this length to anyone over 7 foot. Stick with the 60″ decks if this is the case.
Features of The NordicTrack
Like the Sole F80, this treadmill has a shorter hand rail. So less chance of a tall person banging into it. However, it isn't as powerful as the other treadmills with a CHP 2.6 drive system. About one horse power of the pace of the more expensive models. But nonetheless, still plenty of power for the price you pay.
What I do find very attractive (would you call a treadmill attractive?) is the actual running deck feature. The NordicTrack allows you to choose between two surfaces. This is known as the 'FlexSelect Cushioning' feature. The cushioned version which I prefer as it has less impact on the knees.
Or the flat and hard running track which is meant to simulate running on a hard road. With this feature you are limited to a 10 degree incline, which is not that huge if you are wanting some serious uphill battles to increase the sweat workout. But the hard track feature makes up for this in my opinion.
The NordicTrack Features
The less tall person relevant features are quite impressive for a treadmill in this price range. Firstly, it's iFit compatible. Which I currently use to track my workouts and such. Very handy when paired up to your smart phone.
Knowing how far you have run, the calories burned and more is key to staying on track to a healthy workout routine. This allows you to choose walking tracks from all over the world and the treadmill simulates the conditions via speed and incline. Most decent treadmills now have this feature, but I was surprised to see it on such an affordable machine.
The built in heart rate monitor I find is a little bit of a waste. Why?. Because it is built into the hand grips and measure your pulse from there. So when you are running, or go to change to another of the 20 included workout programs, you have to lift you hands and you loose the data. But it's still a nice touch for the consistent walkers out there.
My Overall Opinion On This Tall Persons Treadmill
When it comes down to it, the NordicTrack is a very good treadmill for the price tag it holds. The 300 lbs weight capacity opens it up to big and tall users that don't want to spend thousands on a piece of equipment. I really love how it folds up nicely so that it's not such an eye sore in the living room.
Being a rather long running deck, I find it will be suitable for the majority of mid to tall size people. However, the limited incline and horse power isn't there for really intense workouts. I also found the NordicTrack T6.5S to be one of the loudest running treadmills listed here. Not loud enough to wake the neighbors, but loud enough that you will notice it. But nonetheless, still great for beginners and moderate users. But anyone that plans to run like there's no tomorrow, consider one of the higher powered 60″ treadmills.
NordicTrack T 6.5 S Treadmill

ProForm For Pro Tall Runners
The features are pretty similar when comparing the two, but for the extra tall person, this is the treadmill for you. The shorter hand grips with built in heart rate monitor combined with the extra leg space for really getting those knees going make the ProForm a treadmill not to be disregarded.
Why Taller People Love This Treadmill
The ProForm Performance 600i is a 60-inch treadmill that is ideal for taller runners who need a little space to stretch their legs. Having that extra 5 inches really does give you confidence to run hard. The treadmill has ProShox cushioning, which makes it a joy to run on compared to going for a jog outside on concrete. This cushioning can take a fair workout and still carry on like a trooper. Probably one of the smoothest surfaces I've had the pleasure of running on.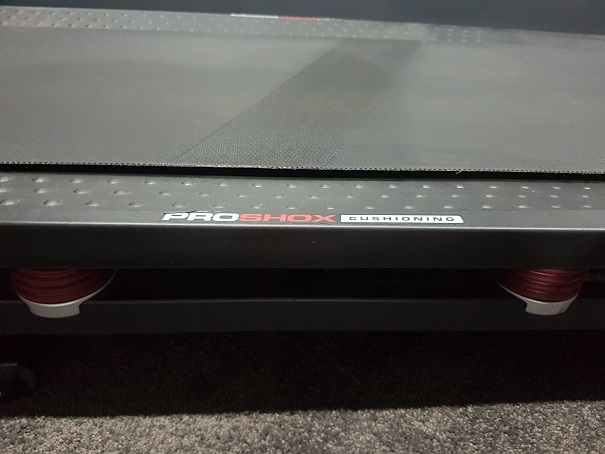 Space Saving Features
It is a space-saving treadmill that can fold up easily to store when not in use, which also boats the soft slow folding down feature for safety. The Performance 600i also has the nice quality of life improvements such as an iPod dock and a fan, to make your workouts more comfortable. It also has an EKG grip pulse reader. This unit can support runners weighing up to 325lbs.So suitable for not just the tall people, but also the larger people too.
This is an easy to assemble treadmill, and it has a strong motor that is not overly loud. However our footsteps will be noticeable when running, so you might want to put it in a room away from any bedrooms or studies – but that is hardly unusual for any treadmill. It is a large machine, taking up about the same amount of room as a typical sofa, so make sure that you have plenty of space for it. The good news is that it is easy to fold up and move when not in use. But I prefer to position it in the corner so workouts are as simple as pulling it down which is extremely easy and turning the thing on. Away I go.
ProForm Performance 600i Treadmill

Another Treadmill With Extra Long Running Decks
60″ Long x 20″ Wide Deck
The main noticeable difference is the Bluetooth feature as mentioned below. For being a new model treadmill that boasts some serious features, I found the price to be quite appropriate. Get a price check on amazon and decide for yourself.
Premium Features
It has some great extra features, including Bluetooth connectivity so that you can transmit your workouts to a number of different smart devices. You can also track your workouts with the Nautilus Connect app, as well as several other popular fitness tracking apps like 'RunSocial'. The LCD screens are backlit for ease of reading, and offer access to lots of information, including goal tracking.
The running surface is large, so you can stretch out and run at your natural stride. There are incline and resistance buttons built-in to the handrails, as well as a USB charging port and heart rate monitors. This treadmill can support users up to 350lbs, so it is ideal for larger people who are looking to get fit.
The console design can be slightly frustrating, since you have to hit enter to confirm incline or speed changes on the main console, but not on the arms where it is more likely that a user may accidentally hit those buttons. There is also no half-percent increment option on the inclines, which is a strange omission since most other treadmills do support this.
But where it does shine is with the cool down session available after the main training, which not all treadmills offer. This is especially important for people that workout for long sessions. All in all, it's a pretty decent treadmill and when you use it, you probably wont be able to tell the difference between the Nautilus T618 and the commercial treadmills used at Health Clubs.
Nautilus Treadmill 60"x20"

3G Cardio Pro Treadmill Review
I find this treadmill to be quite a sophisticated treadmill with a built-in heart rate monitor, and a heavy duty 3.0 horsepower motor. The 12mph and 15% incline certainly helps to beef up the workout on the Cardio Pro.
Big & Tall Treadmill
This treadmill is ideal for bigger athletes, supporting a maximum weight of 350lbs. So it's quite a solid and quality machine with some serious power. Also rather quite for as far as treadmills go.
The space-saving design means that this treadmill offers the same high quality running experience you would enjoy at the gym but without having to sacrifice huge amounts of space in your home.
The Pro Runner will fold up and store in the corner of your living room or spare room when not in use, and can then fold back up again when needed. The console offers a huge amount of information, and eight pre-defined programs, as well as two custom programs and a cool down feature. Which as mentioned earlier, is an essential feature that not all treadmills offer.
Built In Features
There are several built-in fitness tests, and you can use the standard pulse monitor to check your heart rate, or purchase the optional wireless chest strap. It's unfortunate that this costs extra, as grabbing the pulse monitors to test your heart rate interferes with your workout and some rival treadmills do supply a chest strap as standard. This is a small complaint though, given the overall build quality of the treadmill and the features that it has.
Plus I find the warranty to be quite special on this treadmill. So I could easily sacrifice a chest strap for the reassurance that this treadmill is going to work hard and go the distance with me over the years to come.
While I know this treadmill offers some of the best technology in regards to tracking and monitoring, the only gripe I have is that it's not a full display screen. This is a personal gripe as I do like to watch videos on YouTube while working out, which is not available with this model unfortunately.
3G Cardio Pro Treadmill

Choosing A Treadmill As A Taller Person
So giving the information provided and these six incredible treadmills ranging in prices, most tall people should be able to find a treadmill suitable for their needs. All of these models have been researched from recommendations, personal experience and online reviews. I believe they are 6 of the best and most suitable for tall runners.
However, in saying that, we all have individual needs. Some may prefer the folding option, while other simply must have a LCD screen for streaming media while working out. This will all come down to your own preferences.
While I'm sure there are many other treadmills for tall people available, I hope these 6 models are a good starting point for you and have cut down some of the research time it takes to buy such an important piece of exercise equipment.