I hope you love the products I've recommended below, just a heads up that as an Amazon Associate, I earn from qualifying purchases. This means I may earn commissions on products bought via links on this page.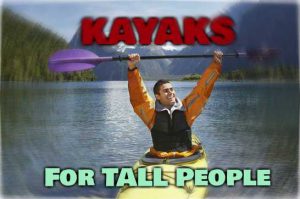 I've been researching for some time now and I've found it quite difficult to find the best kayaks for tall people. However, I have narrowed my exhausted list down to a few recommended kayaks for taller persons.
Not much of a paddler in the past, I knew it wasn't going to be easy finding the best kayak to suit me. Especially with a larger and taller torso. While I have listed a few kayaks below which have previously been used by people taller than 6 foot, if you have the opportunity to try them out in store, do so.
This will give you the best idea on a comfortable fit. As you may already know, two people of the same height may have different inseam measurements. Which plays a critical role in comfort and fit for products like a kayak and rowing machines.
What To Consider When Buying A Tall Persons Kayak
Inseam measurements are a good indication of whether the kayak will fit your length. The inseam measurement is the distance from the groin area to the top of your foot. For most tall people their inseam measurement will be between 32″ and 38″.
The inseam measurement will be a helpful indicator provided that what you're comparing data with is from a similar size body shape. For example someone that is 200 lbs with an inseam of 32″ will require a slightly shorter kayak than a 400 lb person with a inseam measurement the same. This is because the inseam measurement doesn't allow for the size of your backside.
Check on the kayaks description page for a cockpit measurement. Now measure your inseam or get someone to measure you sitting down with your legs out straight. From the underside of your feet to the back of your backside. Allow an inch or 2 for the seat as well.
Type Of Kayak – To Sit On Top Or Not
While there are certain kayaks designed for different conditions like calm water, white water, rivers etc. For a tall person a sit on top kayak may be the preferred choice. This is because the normal kayaks can be more difficult and less comfortable to position our longer legs in.
Especially if you have big feet to go with the long legs. Foot room for the vertically challenged is often a concern. While you can adjust the foot pedals on most kayaks about 14″, this still doesn't leave much room for tall people with size 14+ feet. No matter how much you adjust the pedals as the feet cannot sit straight and are therefor forced into an angled position where they interfere with each other.
Tighter Fitting Cockpits
The limited foot room and the small compact cockpit also makes life difficult on the tall person. Kayaks are designed with tight narrow cockpits as your legs are how you control the kayak. The lack of freedom to move your legs around and a tight foot area can cause your legs to experience discomfort and even go numb. Making it very difficult to get out of the boat.
Shorter folks have the upper hand when it comes to sliding into the cockpit also. Because us taller people have longer legs, getting into the cockpit can also prove a daunting task. Feet first, then the knees and finally your backside. But shorter kayaks simply don't have the room for a tall person to pull this maneuver off.
If the kayak allows it, a tall person must sit on the rear deck and basically try to slide their body into the cockpit.
These reasons alone are why many tall people prefer to have a sit on top kayak compared to a sit in traditional style kayak. Both styles are equally safe and stable to use but with a sit on tops you have the advantage of getting in and out of the boat while in the water. But this also means you will get wetter from splashes and waves as your torso is not under the hull of the boat.
Your Height & Balancing The Kayak
The last consideration to consider is the width of the kayak. Shorter people have a lower center of gravity for just about any kayak. Because taller people sit higher up, this can cause the kayak to be less balanced.
So for a tall person, a slightly wider kayak is ideal to counteract the balance issue. Between 22″ and 24″ is about par for a tall persons kayak.
While considering the width of the kayak, the height of the seat for inflatable kayaks is also a factor to consider for comfort. While many kayaks won't come standard with a tall seat, many do offer the option to upgrade to a tall back kayak seat. This will offer you greater support and reduce the amount of lower back strain and pain you may encounter.
The Best Kayak For Tall Persons
Sun Dolphin Aruba 12ft kayak
was going to be a top contender. The fact it has a large open cockpit for a sit in kayak is a big winner for taller persons. This makes getting in and out of the kayak a lot easier.
If you're after a kayak that's easy to maneuver, handles well, and is relatively lightweight to paddle up slow rivers and open lakes, the Aruba is a good choice. Do note it's not intended for white water.
When you sit in the Aruba, you will notice there are two pads made of foam which are located on either side of your thighs. This is to prevent your legs from grazing over the internal compartments of the kayak. Just in front of the cockpit is a covered console. It's not very big, but is a good place to store car keys and any small items of value. The opening of this console is about 6 inches but has quite a bit of underneath storage area.
The larger storage compartment behind the seat has an opening of about 8 inches. This area can be used as a watertight storage area or it can be removed to fit your backpack or fishing gear as it does come with fishing rod mounting holes.
When you put your legs in you will notice there is a bulkhead in the nose and foot pads. However, there is a low clearance on the lower lip of the cockpit. So if you have larger diameter legs, you may scrape the tops of your shins when trying to get in.
There is a solution to this tho. It's just a matter of removing the lower plastic blue lip and rounding if the edge with some sandpaper. Now you have a even spacious cockpit for getting those long legs into. Overall its a decent and affordable kayak option for tall and big people. It tracks straight, very stable and can even be set up as a fishing kayak if desired.
The Important Details
Sit in 12 feet kayak
29.5″ wide
395 lbs weight capacity
Weighs just 47 lbs which is not bad for a 12ft kayak.
High Density Polyethylene with UV protection
Smaller Build Tall Peoples Kayak
This award winning Expression 11.5 Kayak by Perception is the perfect solution for crossing recreation and day touring due to the stable yet maneuverable design. But packs a punch when it comes to speed, comparable to an expedition kayak and the amount of storage is a great solution for day trips or multiple day outings.
While it has the handling and speed to keep the more experienced people happy, the larger cockpit is perfect for beginners. Especially the taller paddlers. The cockpit area is 36 inches long which may be too tight for people over 6'5″, but the 20.25″ width of the cockpit does make slipping in much easier for the first timer.
The 11.5 Expression is a 11.6ft long kayak which is very manageable for the singular person. The weight is 44 pounds which is not too heavy to attach it to your car roof with ease. The Yak does have a weight capacity of 250 lbs, so the bigger tall guys will have to skip this option. But it's a great choice for the slender tall people around the 6 foot mark.
Turns On A Dime
One of the best things about the Expression 11.5 is its maneuverability. The hull provides ample rocker for turning in tight coves and tricky areas other kayaks may struggle with.
The Expression comes with a drop down skeg which is quite a surprise for many new owners. The drop down skeg allows the kayak to track true. The retractable skeg allows the boat to maintain a streamlined and keeping straight against headwinds. But do remember to clean the backside free of sand and mud or they may become stuck in the recess. This is normal for retractable skegs, so just keep an eye on it.
Jack Of All Trades
If you own other kayaks and decide to buy the Expression, you may find yourself turning to this boat more often due to its jack of all trades class and lightweight. While brilliant on calm coastal waters, lakes and ponds. The expression 11.5 can even handle white water, even on class II rapids. It's the kind of boat that is suitable for many conditions. Which makes it a good first kayak to buy. That way you're not too limited in where you can go paddling.
Great Features Of The Perception Expressions Kayak
Thigh pads which can be adjusted to your comfort
Well padded Zone DLX seat which the back can be adjusted up, down back or forwards. The seat itself can be tilted for even more comfort.
Adjustable foot rests
TruTrak drop down skeg
Large cockpit but not suitable for very tall people. 36 inch long cockpit.
Buoyancy that's built in for extra safety.
Bungee straps and large water tight storage areas.
More Sit In Kayaks For Larger People
Sit On Top Kayaks For Big & Tall People
Ocean Scrambler 11
.
The Ocean Scrambler is the kind of kayak you can paddle in all day. It comes with a padded seat and backrest which is quite supportive. Great for people that are afraid of tipping a sit in kayak as this sit on top is very easy to get back into from the water.
If you are in mid 6 foot range you will find the Ocean Scrambler a really good fit. With more space to move, even taller paddlers can jump onboard and not feel cramped.
To me it's the ideal beginners kayak for tacking the ocean and waves. Because it is so simple to get back on, there is less fear of tipping the kayak. Which means more fun can be had.
But the Ocean Scrambler is a very stable kayak nonetheless. So you may be tipping it on purpose just for fun. The design of the hull is probably one of the best when it comes to cutting through waves and bay swells while tracking extremely well But with this added stability in design, you do lose a bit of speed. But that comes with the territory of being an ocean kayak.
Get To Know The Ocean Scrambler 11 Kayak
350 lbs weight capacity
Made in the USA
6 inch dry storage compartment
Bungee straps on the deck for extra storage
Molded cup holders and paddle holder
29.5″ wide, 11.6ft long and weighs 47 lbs.
Perception Tribe Kayak Review
The foot pegs are adjustable, so the taller paddlers can adjust to suit their size. From my experience, around the 6'6″ mark is where it is most comfortable. After that it does mean slightly bent knees, but as there is no surrounding cockpit, this is not too much of an issue.
Especially as the seat is so well padded. One of the highlights is just how comfortable the seat and backrest are. They can make a full days outing much more enjoyable.
Overall it's a rather good value for money kayak. It has some great features but whats most important is that it tracks straight and handles the water quite well. Even on choppy conditions you can expect a pretty smooth ride.
The Tribe kayak does come with Harmony Scupper Stoppers. I highly recommend plugging these in if you don't want to sit in water the whole time. In total there are 8 plugs holes, of which 2 are located under the seat. Make sure you plug them up if you don't want a wet seat.
While being quite a durable kayak, the Tribe also comes with a removable skid plate. This is not permanently attached, so don't have to worry about dragging the kayak around as much as you normally would. But if you don't want to replace the skid plate, then don't drag the kayak.
The kayak does weight 52 lbs, so while lifting on the roof of a car is not a great issue, carrying the kayak for long trips may be. All in all its a solid and reliably kayak that offer the tall people a value for money solution.
Tall Persons Fishing Kayak
When it comes to a fishing kayak, the need to stand and the need for storage are a must. Being tall, you also need the leg space to skillfully maneuver the kayak. This is what the Prowler 13 offers and much more. In terms of stability and tracking a straight line, the Prowler is up to the task. Even with gusty winds and choppy water, the kayak can stay relatively still while wetting a line or go fast when you need it too. It's a solid kayak in regards to actually using it.
In terms of fishing from the kayak, it's one of the best. It has your traditional rod holder moldings. But I must say that I do wish they were located more towards the front of the kayak or that the seat has an optional swing motion to it. Leaning back is not always convenient or comfortable. It's only a small gripe, but still a wish.
The Prowler has a heavy weight capacity of up to 450 pounds. So bringing an extra 30 pounds in fishing gear is not going to worry you at all. But do ensure you plug up some of the holes, especially under the seat unless you like having a wet backside. Avoid letting too much water enter the kayak even tho it has such a high weight capacity.
The boat is strapped with large bungee cords so that you can tie down larger tackle boxes, esky or whatever it is you take fishing. There's also two further dry storage compartments. A large one in the fornt and a medium size storage area in the center.
Depending on how you fish, the standard seat that comes with the Prowler is not the best. It's good at best, but for long hauls of sitting it can become quite hard. There is an optional upgrade on the seat to make it more comfortable or you could simply bring along some padding of your own. But other than that it's a pretty decent fishing kayak suitable for the big and tall people. Yes it even comes with drink holders!.