I hope you love the products I've recommended below, just a heads up that as an Amazon Associate, I earn from qualifying purchases. This means I may earn commissions on products bought via links on this page.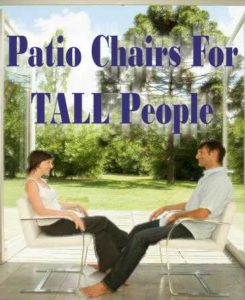 When it comes to buying patio chairs for tall people certain height requirements are essential. But unfortunately most deck chairs seem to be low to the ground. Which makes it difficult for a tall person to be remotely comfortable while enjoying a drink out on the porch.
While it can be a difficult challenge finding adequate sized chairs in-store, the option to buy online opens up greater amounts of opportunities for us people taller than 6 foot.
Below you can find an assortment of the different types of patio chairs a taller person may consider buying. Because there are many designs and types of deck chairs, its important that you understand the measurements suitable to your height. So if nothing on this page suits your needs, you can use the following measurements as a guide as to what you should be looking for.
Do note that these are based on my 6'2″ height and may be slightly different to your requirements. As we all have different size legs and upper torsos, use these measurements as a guide only.
Skip Guide & Go Straight To Tall Patio Chairs
Extra Tall Height Patio Chair Guide
Floor To Seat Height
Ideally you want a chair you can sit in without your knees bumping your chin. So a low to ground chair is not recommended. However deck chairs can be used as a reclining device and in this case the chair can sit lower if this is how you intend to use it. Anything under 18 inches is typically too low for a tall person.
Depth Of Seat
To be able to truly relax in your outdoors chair, the depth of the seat matters a great deal. Without the proper support under your backside, the chair will not feel comfortable enough to be able to relax. Ideally you want a deep seat patio chair with a depth of no less than 20 inches.
Backrest Height
Depending on the type of patio chair you want, the height of a backrest is very important. For example wicker chairs aren't known as the best when it comes to having a high back. So if back and neck support is essential for you I would look for something else with a minimum backrest height of 24 inches.
Zero Gravity Chairs
While not everyone will have room on their patio for a zero gravity chair, they still make an awesome deck chair. They give you the chance to really sprawl out, even as a tall person. I have previously listed the suitable tall zero gravity chairs which you can check out if this is something that you think your deck needs.
Deck Chairs For Tall People
When your main desire is to have a chair you sit on that is not too low to the ground, the most obvious choice is an outdoors bar stool. While you can height adjustable
bar stools over 30″ tall
, they don't really appeal to me as a deck chair suitable option.
However, this set of wicker folding bar chairs by Giantex changes all that. They certainly suit the outdoors lifestyle and have appeal to spruce up any patio. But the best part comes in the seat height which comes in around 24 inches from floor to seat. This is the perfect height for me and as they look like a chair you would see on a deck, they really don't look out of place.
But mind you, if you have these chairs around a table, you will need an outdoors table with at least a 30 inch clearance if you plan to sit at it.
While the backrest height is not overly tall it is slightly reclined so you can lay back to relax. However its not the type of patio chair you would sit in to fall asleep in. The depth of the seat is a little small but this is made up for with the addition of a foot rest. So you can still put your feet up without feeling uncomfortable.
Some of the other key features I like are that it can be folded up for storage and it is UV resistant for the times you need to bring it out on a sunny day. The 264 pound weight capacity is slightly higher than standard, but not really a big enough patio chair for the big and tall people.
Overall I find this Giantex set of patio chairs a good addition for your regular type of deck chairs. The extra high 24 inch seat height is the most appealing feature for a tall person, but the fact it can be folded away is a very convenient feature for people with limited space on their deck.
Giantex Folding Wicker Rattan Bar Chairs Tall

Deep Seating Patio Chairs
A great deep seating wicker chair is this beautiful set of 2 by Christopher Knight Home. The silver of the water repelling cushions and the dark grey of the wicker chairs are just a great combination. They look of these chairs will suit most patios.
The biggest feature of these patio chairs is the depth of the seat. They are very deep and great for the tall man with long legs. At 33.5 inches deep with a deep seat of 23.5″, most tall people will find this sufficient for the appropriate leg and backside support.
The seat is also quite wide with a total width of 30 inches. So the big and tall people can feel relaxed in this chair as it doesn't squish you up. But with a total height of just under 30 inches, don't expect too much back support. Which means the seat itself doesn't sit too high either, but this is made up for with the extra deep seat.
Overall I find this set very eye appealing and quite the heavy duty wicker chair for larger people. The fact the cushions repel water means you can safely use these chairs out on the patio without fearing unexpected rain.
Grey Wicker Club Chair

Outdoors Recliner For Tall People
Now this is the type of chair a tall person can sit back in and just doze off. This is the Hanover Venturarec recliner. Its  a great size for tall people and comfortable as they come. Whats even better is that it's not heavy like a traditional recliner, this thing weighs just 46 pounds and can be moved around the patio with ease.
The seat height is about 18 inches tall with the thick padded cushion, without the cushion it's 15.5″. But this deep seating patio chair can recline the foot rest out to cater to people with longer legs. So while the seat height isn't super tall, the ability to rest your legs up takes the burden of low seating chairs out of the frame.
The high backrest also reclines but not fully flat like other recliners. But its enough to move your backside back and into a comfortable position while laying back with your feet up.
In terms of depth, its a deep seating outdoor chair. It has a total depth of 36 inches leaving the seats depth of 24 inches just perfect for people around 6'3″ tall. The seat is also quite wide at 23 inches giving you some much appreciated leg space.
Overall the Hanover is a very good choice for people over 6 foot tall looking for a peaceful and relaxing patio chair that can recline while offering you sufficient padding to rest the body. Plus the peace of mind knowing the materials including the cushions are UV resistant and stain and moisture repelling.
*Available in a selection of colors on amazon here.
Hanover VENTURAREC

High Back Outdoors Recliner
This next option is great for the tall people wanting a deck or poolside chair which can recline. It's weather proof and comes with a very cool pop out side table. This side table is great for when you just want to sit outdoors with a cold beverage and simply relax.
On the left side of the chair is a tab which you just pull out and a hydraulic pump like arm with pop out the side table. Sturdy enough to keep drinks on and valuables like keys, phone etc when jumping in the pool. On the right hand side is the little tab which you pull out to recline the chair.
When it comes to the tall person, it's the high back and seat depth that make this a good patio chair option. The tall backrest means a tall person can not only sit upwards with neck and shoulder support, but also have extra room to sprawl out when the chair is fully reclined.
The depth of the seat is just shy of 21 inches, so why not the deepest patio chair on this list, it's certainly not the smallest. The width of the seat is also about 21 inches, so you don't feel too squished in this chair.
I quite like this option overall, even tho the seat height is not very tall. The ease of assembly and the simple to attach cushions combines with the high backrest and side table certainly have won me over. A great poolside or deck chair built to withstand the weather.
Grand Patio MOOR Adjustable Reclining Chair

Tall Adirondack Chairs
Adirondack chairs are typically not ideal for taller people due to how low they are to the ground. Makes it very hard to get down and up from, especially if you're big and tall. But some geniuses have put their brains together to come up with a concept that is suitable for tall people.
Known as Adirondack bar chairs. They take the concept of the Adirondack chair and combined it with a counter height bar chair. So basically, the perfect height for a tall person.
This particular Adirondack bar chair is by Polywood. Polywood uses a hdpe poly-wood type of material used to make these chairs in the USA. It's not real wood, but is designed to look as close to real wood as possible. Right down to the grain infusion.
While not real wooden Adirondack chairs, this Polywood is better in my opinion. Why?. Because there's no regular maintenance other than hosing them off if they become dirty. No need to sand back and apply varnish or stain to protect them from the weather. This Polywood is weather proof and requires no further painting.
They come in a variety of wood like colors as well as typical Adirondack chair colors. In terms of being suitable for a tall person, they sit about 30 inches from ground level and have a reclined backrest of at-least 22 inches. The seat width between the arms is about 20 inches as well. The total depth of the chair is 24 inches, but this includes the slanted backrest, so the seats depth will be closer to 21 inches.
POLYWOOD Adirondack Bar Height Chair

Mesh Reclining Patio Chair For Tall Persons
Mesh chairs are just the best on hot summer days and what makes this set by Giantex even better is the fact that they can recline. So kick the legs up an let the breathable mesh keep you cool while chilling out on the deck.
These Giantex chairs are also foldable, so if you're looking for temporary solutions or portable chairs for tall people, these fit the bill. Not only are they convenient to fold and store away, they are considerably light in weight so taking them with you to parties is no longer a hassle.
While light enough to carry, they are also quite heavy duty. Being rated to hold up to 350 pounds, these chairs can withstand a bit of heavy duty use. But the downside is the width of the chair is only 21.4″, so the very big and tall people may find this too narrow.
For the tall people, its the high backrest that's the winner here. With a total height of 41.3 inches and a backrest of 25 inches, reclining into one of the 7 positions is quite enjoyable.
The depth of the seat is a bit of a let down being just 18 inches. But the fact you can recline the back you may be able to justify the shallower seat.
Overall Giantex have hit a home run in terms of a heavy duty yet portable lightweight patio chair option. The quality and eye appeal is on par for what it is. If the seat were a bit wider, deeper and sit a bit taller it would be a great patio chair for even the very tall people.
Giantex Set of 2 Patio Folding Chairs

Make Your Own Tall Deep Seat Person Patio Chairs
While these are just a few of the options available to the tall people, there's always the option to DIY a patio chair so that it suits your exact height. Finding furniture for taller people can sometimes be impossible, so creating your own is the only option left. Or spending a small fortune on a custom made job.
So the video below explains just how easy it can be to make your own custom fit patio chair without breaking the bank..