I hope you love the products I've recommended below, just a heads up that as an Amazon Associate, I earn from qualifying purchases. This means I may earn commissions on products bought via links on this page.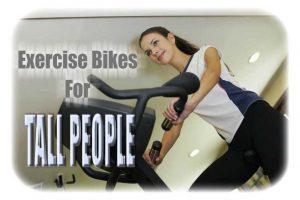 I remember growing up as a young boy watching my parents grind away on the exercise bike for many years. Once I got into my teens I decided to jump on board the exercise wagon. That is when I first realized that working out as a taller person is not quite the same.
I knew that the best exercise bikes for tall people were going to need a few key features to actually work for someone with a long torso and extra long legs. Over the years I have tried many types of exercise bikes from many different brands. I have gotten a feel for what works, and what doesn't work when it comes to allowing for longer and sometimes wider bodies.
Should You Buy An Exercise Bike Online
More and more manufacturers are jumping on board for the big and tall exercise bikes, which is quite nice to see. Finally, people realize there is a market outside the standard 200 lb 5'5″ person. Anyone that is over 6 foot is always going to have problems finding exercise equipment suitable for their height. Sadly the options are not always available in store.
So the problem lays in buying an oversized exercise bike without physically trying it out first. This can be a very hard concept to swallow when you are taller than most people. All to often do we hit out knees on the console or feel cramped because the seat doesn't go back far enough. Feeling unstable due to lack of lower center of gravity can also be an issue on the flimsy upright exercise bikes.
Fortunately there is hope, and you just found it. The exercise bikes on this page are all well suited to the very tall people of the world. But before you go off and buy an exercise bike, there are other routes you may not have considered before.
Compare Extra Tall Exercise Bikes Online
Quick overview of the below exercise bikes available.
| | Seat Height | Features | Capacity | Price |
| --- | --- | --- | --- | --- |
| | Up To 44" | 10 Programs High End | 300lbs | Check Price On Amazon |
| | Up To 41.5 Inches | LCD Display, Adjustable | 330 Lbs | Check Price On Amazon |
| | Up To 43 Inches | 4 Way Adjustable Seat & Handlebars, 35lb Heavy Duty Flywheel | 300 Lbs | Check Price On Amazon |
| | 40" From Pedal To Seat | 48.5Lb Fly Wheel | 300 Lbs | Check Price On Amazon |
| | 40 Inches | 8 Levels Of Intensity | 300lbs | Check Price On Amazon |
| | Up To 6'5" People | 21 Preset Programs, Bluetooth | 400lbs | Check Price On Amazon |
The Best Upright Stationary Exercise Bike For Tall People

There's one clear winner for me when it comes to catering to the height advantaged. That is the Sole Fitness B94 exercise bike. It has features that suit a tall person that no other bike I have come across has. Which is why it is my #1 go to exercise bike.
Now it is probably more expensive than you are initially expecting, but this is to be expected on such a high quality exercise bike. While there are still bikes out that there that retail for more than double the price of the Sole B94 without being suitable for taller users.
What Makes The B94 Good For Tall Riders?
It's all about the adjustable seat and the actual seat height on the Sole B94. At its highest measurement the seat can go up to an incredible 44 inches in height from the ground. Which is quite high, even on a road bike. But what makes the seat even better is that it is 4 way adjustable. Meaning you can slide the seat backwards from the pole. So now you decrease the chances of hitting your knees into the little accessory holder on the front of the console. This would have to be the biggest flaw in this bikes design, however its only really a problem if you angle your legs in massively when working out. Otherwise the knees go either side of the console.
Along with the adjustable seat comes adjustable arms which is quite unique on a exercise bike. Being taller you naturally sit higher up, so the arms need to be raised. Not many bikes allow this, fortunately the B94 does and it's such a welcome relief to have a bike that does this. Makes hunching over a thing of the past.
The other feature that's tall person enables are the oversized pedals. Which is quite a nice relief to see. The adjustable straps also mean the bigger feet won't be slipping around without strapping. Hooray!
It's A Gym Quality Exercise Bike
The main aim of this review is to pin point why the Sole Fitness B94 is a good exercise bike for taller people. However, its also good to know that it's certainly a high quality piece of equipment. Comparable to some bikes used in Gyms across the country. The 300 lbs weight capacity also means the big and tall users are catered too.
The features on the Sole are all there and scream quality. Comes with Bluetooth connectivity and 20 levels of tension to challenge even the fittest tall person.
Probably one of the biggest LCD screens I have seen on a exercise bike which has a fairly simple to navigate menu. There's quick touch buttons to customize your workout while Sole even included the chest heart rate strap for monitoring your heart rate. This is normally 'a extra'. So I was very pleased to see that.
Overall, it's a high quality upright exercise bike that has all the bells and whistles while being tall person compatible. Only draw back is that not everyone can afford to spend this much unfortunately.
Sole Fitness B94 Upright Exercise Bike

Best Stationary Indoors Trainer Bike For Tall People
The Pinty Fitness stationary trainer bike is a hidden gem for tall people. It's highly adjustable and comes in at a fairy decent price.How much exactly?. You can check out the
latest price on amazon here
.
The pedal, seat and handlebars are adjustable so that you can find the perfect settings for your height.
Seat height adjustable to a maximum of 41.5 inches.
Seat also sleds backwards to give people with longer legs extra legroom.
Handlebars are adjustable in height as well. They can be raised from 43″ to an incredible 50″ in height.
330 pound weight capacity.
Should You Buy The Pinty Exercise Bike?
First of all you should understand this is a inexpensive bike. It's not high end, yet I find it to be very good value for what you get. It's probably not a bike for the more experienced riders as they are probably looking for something more advanced.
Beginners to moderate users I feel would be quite happy with the Pinty. It's got good tension control, enough for moderate users to get a good work out, and the flywheel is smooth running with minimal noise. The flywheel combined with the Continuously Variable Transmission (CVT) make gear changing very simple.
The bike comes with a LCD display which is powered by batteries. It's not overly advanced, yet it does the job.The display tracks your time, calories burned, speed, mileage etc. There are some other features that make up the Pinty which include: Water bottle holder with included aluminum bottle, smart phone holder and caster wheels underneath for quickly and easily storing away the bike.
But like I said, it's the premium pick of the bunch. I find it a really good bike for what you pay in comparison to some of the rubbish available out there. But if premium is what you're after, go back up to the Sole Fitness bike.
Pinty Fitness Stationary Adjustable Bike

Indoors Cycling Spin Bike For Tall Riders
Moving the quality dial in the higher direction ends us up on the L Now indoors cycling bike. While it is more expensive than the Pinty Fitness, it's one heck of a machine. Compare prices by viewing the
L Now SV 1000 on amazon here
.
For us taller people, the adjustable options are incredible. For starters the seat can be adjusted in height to a maximum of 43 inches. Which is certainly up there with the Sole Fitness bike as well. Whats also adjustable is the direction of the seat. So it can move backwards or forwards. for the taller people, moving back is the better option.
The handlebars bars, which are finished in the softest microfiber foam, are also highly adjustable. They can go up, down in and out. Which gives the taller person greater options to find the perfect position and height. Having this option to adjust the handlebars makes it perfect for adjusting the intensity levels as well.
Overall it's quite a light exercise bike which is on wheels for storing away easily. Assembly is quick and easy while the friction resistance belt drive is extremely quite to operate. The quietness of the bike is a result of the bi-directional 35lb flywheel, aluminum alloy belt reel and the leather transmission belt.
The monitoring and tracking done with the LCD monitor make working out that much simpler. When you combine all the features, you get a relatively quite, yet sturdy and heavy duty spin bike suitable for taller people. Certainly a great exercise bike to consider.
L Now SV 1000 Quick Glance
LCD monitor tracks: Hand pulse which tracks ODO and heart rate, number of calories burned, time, speed and distance.
Adjustable tension resistance – 35lb heavy duty flywheel
Adjustable seat to 43″ and handlebars, both 4 way directional.
300 pound weight capacity.
Ground level and transportation wheels.
Includes a iPad/tablet stand attached to bike.
Oiling and repair free.
Available in black or white.
L NOW SV 1000 Indoors Cycling Bike

Best Indoor Spin Exercise Cycle For Tall People


Indoor cycle exercise bikes are another popular choice among the tall community. They are a more intense and physical workout which is perfect for fitter tall people.
The Sunny Health & Fitness commercial indoor bike is a good example of this. It's not too expensive, yet not a cheap model that uses inferior parts. I would classify it as a mid range in regards to price point.
Whats good about this indoor cycling bike for tall people are the height adjustments available. I find this is one of the best for tall people due to the impressive maximum 40″ measurement from the foot pedal to the seat. This is a lot of leg room for people with long legs.
The seat is also fully adjustable to custom fit an extra long torso. The final adjustment that is a great feature is the handlebars. They can be raised higher so that you don't have to slouch over and cause back pain. This is especially important if you have a taller mid section. The highest the handle bars go is 43 inches. So you wont be leaning downwards like on some other indoor cycles.
Few Features Worth Noting
The Sunny Health & Fitness uses a chain drive mechanism combined with a felt fabric brake pad to customize the resistance to your individual fitness level. The adjustment knob is very easy to reach and can be easily adjusted during your workout. So no need to stop and loose momentum. However, it does take a little getting used to the adjustment knob and tension levels at first. So don't expect a complete smooth transition at first. Once you get the hang of it, it becomes second nature.
The 48.5 Lbs flywheel is fairly quite when compared to other indoor cycle exercise bikes and resembles the motion of riding a real bike on the road quite well. However, it's not the quietest exercise bike on the market. But considering the price, I think it's ahead of the pack in terms of the noise it makes. The actual motion of the flywheel doesn't stop and have a jerking motion like some other brands too, which is a nice change if you are use to the lower entry range bikes.
Should You Buy This Spin Bike?
In my opinion the Sunny Health & Fitness is one of the best spin bikes for tall people in this price range. Unless you are wanting to spend multiple thousands on a spin bike, I believe most users would be quite satisfied with this bikes performance.
Besides the amount of adjustments available, the stability of this bike is quite solid. Which is good for a tall person due to the height to gravity ratio. This comes down to the quality of the frame and the heavier flywheel. So its a rather heavy duty and solid as a rock spin bike. If you are concerned about it being 'too heavy', don't worry too much. The bike comes with very handy transportation wheels so that you can easily wheel it from room to room if need be.
Sunny Health & Fitness Commercial Indoor Cycling Bike

More Affordable Tall Persons Exercise Bike
So with that said, I remember the first exercise bike I ever bought. It cost no where near 1k. It did the job for a while, but eventually broke down and I upgraded from there. That's kind of how this Marcy ME-708 upright exercise bike falls into place.
It's the perfect getting started exercise bike for taller people. It's affordable, very simple to use and has a maximum seat height of 40 inches. So while 4″ shorter than the Sole B94, it's also a lot shorter in up front costs.
A Little About The Marcy ME-708
So it's affordable and sits high of the ground, perfect for taller people. But it's important to know its also very minimal in terms of features. While there are 8 levels of intensity, I honestly don't think it's enough for more seasoned riders/athletes. A few of the tension levels barely noticeable when you change them. So in reality, it's more like low, medium and high tension settings rather than 8. While attractive in price, can lack to a certain degree in functionality.
However, if bells and whistles don't interest you and you want a decent upright exercise bike for getting started, the Marcy is a good choice. It has a very small 2.5″ screen with the very basic data like times, speed, distance, calories burned etc.
It's considerably lightweight and has wheels to make transporting easier. Surprisingly it's quite stable, even on carpet for such a light machine. However, the seat is not really comfortable, especially if you have a bony backside. Add some cushioning and you got yourself a decent entry level exercise bike.
Marcy ME-708 Entry Level Exercise Bike

How To Find A Exercise bike Suitable For Taller Persons?
Without actually trying the bike out in store, it can be quite difficult finding exactly the right bike for your height. However, there are ways to help you make a better informed decision. During our research and any external research you carry forward, try and look for any of these 3 key identifying aspects:
Manufacturers recommended height. This is rather rare to find, but not impossible.
The seats maximum height from the floor. From personal experience, anything close to or over 40″ is good for tall people. If you're unsure, get out a tape measure and measure the height on your current bike. Or visualize how high 40 inches really is.
Inseam measurement. This is the distance from your inner thigh to the ankle. Basically from the top of the seat to the pedal on the bike. Not the easiest measurement to find as manufacturers don't seam to mention the inseam all that often like they do on longer seated rowing machines.
Alternatives To Buying A Exercise Bike
A resistance trainer is a cheaper and better suited option to anyone that currently has a road bike. Why?. Because I'm assuming you are already comfortable using your own bike, you know that your height is not an issue and it's the cheapest option. These devices are attached to your regular road bike and from there you simply ride like normal. Inside your home, out on the grass, in the shed wherever. Because resistance trainers raise your back wheel so that you actually don't go anywhere. Yet you get the benefits of exercise from a bike. A popular choice is the Rad Cycle Products as it has 7 levels of magnetic resistance.
Another alternative to an upright exercise bike is a recumbent exercise bike for taller people. With these types of exercise bike you get to sit down, usually on a padded chair. As a tall person, lower back is often related to exercise. So when you can take advantage of looking after your back while still maintaining a solid workout, why not right?. Plus with a extra long recumbent, you don't have to worry about seat being too short or not having a long enough stride.
A mountain bike is a great alternative for using an exercise machine. If you love getting outdoors, then its hard to refuse a good trail ride. However, the same height issues come into play. This is why it's important to buy a mountain bike with tall person specifications.
Tall People Can Use Exercise Bikes, It's Official
Far too often do I hear about stories where a taller person has given up on exercising at home due to their height. Sure it can be annoying to try and find size appropriate equipment, but it sure is not impossible. If you really want to build your Gym at home starting with an exercise bike, you are not without options.
The exercise bikes above are all well suited to tall people and have different entry levels into the industry. If you can afford a bike like the Sole B94, don't hesitate in getting one. But if money is very tight, go for the more affordable option. With both spin bikes and recumbent exercise bikes, you have plenty of avenues to explore. Use my above guidelines to find a bike suitable to your individual needs. If possible, try them out in store before you purchase. This is the safest way to make sure the bike is suitable for your height and body size.