I hope you love the products I've recommended below, just a heads up that as an Amazon Associate, I earn from qualifying purchases. This means I may earn commissions on products bought via links on this page.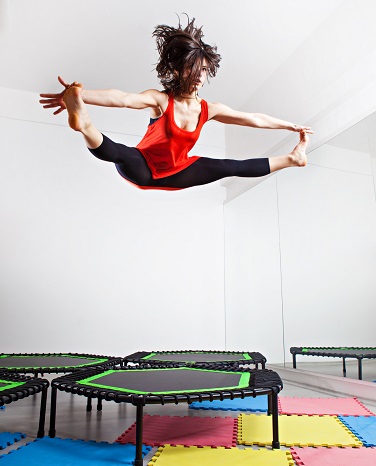 Exercise or mini trampolines for tall people usually consist of a broader surface area and height-adjustable handles. The width of the jumping canvas allows larger people the freedom to spread their legs more confidently while the tall handle grips mean the tall person can actually perform routines in it.
I've never been a huge fan of trampolines as a way of exercising, simply because of my size. My center of gravity gets all out of whack and the feeling of landing on the springs, or off the pad entirely consumes me.
But in my defense, I had only used smaller versions of these trampolines in the past. It's a long way down when you're over 6 feet, and jumping at heights onto a small circle never really appealed to me.
However, some of the trampolines below, are much better for the big and tall people. Many offer you the width to comfortably jump and the adjustable handle height opens up a new world of opportunities for potential routines. So with that said, let us dive into the world of trampolines with handles that can extend tall enough for people over 6 feet.
Tallest Trampoline With Handles -[Up to 57″] 



Trampolines are often overlooked for their ability to help keep several health issues in check. They're useful for many different reasons and are usable by both the young and old, especially with the addition of the safety handles models like this one have.
The Wolfyok trampoline isn't the best option for more prominent people since it has a lower weight capacity of 220lbs, but it's a great candidate for tall people.
It's great for people who are taller since it has easily adjustable handles that have a max height of 57 inches. What this means is a lot less hunching for taller people which will help on the lower back. Being able to reach the handles while comfortably exercising on the trampoline is what it's all about. 
As this trampoline has considerably tall handles, the taller person can perform several exercises without the fear of injuring themselves in the process.
A trampoline is only as good as what's made of, so it must consist of quality stitching and made from durable materials to be effective. It's made out of polypropylene, which is an extremely durable material that breathes exceptionally well.
No Painful Springs To Land On
If there is one thing I like about this trampoline, its that they didn't go with a spring system. It uses a secure rubber band system that not only stops rust; it also makes this quiet to jump up and down on. This is a big plus since using these types of trampolines can be very noisy.
Setting this trampoline up for the first time doesn't take long, but it does require you to have a second person. You can fold this trampoline back down, but it's more work then it's worth from my experience. I say this only because you need to take it apart to fold it down. It's still easy to store as with most mini-trampolines.
If you've ever used a trampoline with handles before, you will know just how much of a sweat you can build up. So I find it needs to have a foam protector on the handlebars as this will help keep your hands from slipping and be more comfortable overall.
Wolfyok Exercise Trampoline with Safety Pad >57"

Best Rebounder With Height Adjustable Handles 
53″ Adjustable Height Bar



A rebounder trampoline needs to be durable and ready to handle some more intense exercising if you want it to last a long time. Which is one of the reasons I like this trampoline. 
Newan made an intelligent decision when they were designing this trampoline by giving it thicker and more durable steel tubing for its frame compared to others. As a result of this, big and tall people can enjoy the freedom of the taller handlebars with a higher weight capacity. 
This trampolines handle has five different levels of adjustable height, which makes this an excellent choice for a variety of people. Tall and smaller people are both just as capable of using this trampoline, which adds a lot of value to it. The lowest height of this handle is 45 inches, which is an excellent height for the average person.
They went with a bungee cord system for its springs, which depending on who you are, will depend on how much you like this feature. I don't mind this style of system personally, but I know some people don't like them.
Setting this trampoline up only requires one person, tho it is easier with two people in some parts. A big part of this is because of the bungee system, which is why some people don't like them. It's not difficult to put together but it's time-consuming, which can put some people off.
The weight capacity on this rebounder trampoline is on the heavier side for what these types of mini-trampolines typically have. It has an impressive 330lbs, which makes it durable for some heavier people.
There are several reasons this is a great trampoline that will make exercising easier. The adjustable handlebars, the durable mesh, and the thicker steel frame all make this an easy recommendation for most people.
Newan Indoor Rebounder for Adults >53"

Exercise Trampoline With Tall Stability Bar Handle [52.1″] 



Tall handles make a big difference with these types of trampolines, and the higher, the better in most cases. This is the case with this trampoline and its incredibly tall stability bar handles that have a maximum height of 52 inches. This will suit those taller people out there who need the extra height to perform a greater range of routines.
The maximum weight capacity of this trampoline is in the middle of the pack, with it being better than the low end, but not at the top either. It still has a solid 280lbs, which is always impressive and makes it better than a lot of others on the market.
What the surface of a trampoline is made of is quite essential and is a significant deciding factor for some people. This trampoline is produced from an Oxford cloth, which is resistant to damage, especially small cuts making the surface area quite durable.
You can fold this trampoline down, so this is great for people who have a lack of space to leave the trampoline out on display. It can be challenging to get down tho, which makes it easier to leave it up and try and store somewhere else. How much of an issue it will be for you will depend greatly on how much space and time you have.
Pre-Installed Springs, Yes!
Since they went with a spring system, I was initially concerned with how setting up this trampoline would go. Thankfully Movototop went with common sense and had them all pre-installed, so you don't need to have the usual hassle associated with springs. So it's quick and easy to set up for most people.
However, this does bring up something that this trampoline does have a problem with, which is the noise. While in the beginning, it won't be too bad, but over time it may become an issue for some people. The excessive noise may bother some people, so it's worth bringing up.
MOVTOTOP Indoor Trampoline > 52.1"

Best Indoor Trampoline For Big And Tall 
55″ Tall Armrests 330 Lbs Capacity
Having an impressive weight capacity and a tremendous maximum height for a trampoline makes it stand out from the pack. Which is one of the reasons that this rebounder impresses me compared to other trampolines on the market.
This trampoline is the perfect combination of heigh and weight capacity for the big and tall people. With its maximum height being 55 inches, and the weight limit of 330lbs. These oversized features make it an excellent trampoline for people who are more substantial and taller than most people.
However, it takes more than just having a higher weight capacity for a trampoline to be suitable for heavier people. It also requires having the right amount of surface area for us broader body people. So this trampoline having a 35 inch wide jumping surface makes this a great choice
Having such a wide and stable base is made better by it being 11 inches off the ground. So there is no real risk of bottoming out when jumping on this trampoline. There is a lot of advantages to this trampoline, especially for the big and heavy crowd, in my opinion.
They went with a bungee design for this trampoline, which comes with its usual caveats, so that should be considered before purchase. While the set up does take a bit longer, it's countered by how strong and durable the cords are. By using heavy-duty cords, it's reassuring for the heavy people as it gives you peace of mind when exercising.
For those who like hexagon-shaped trampolines, then this model does have that option. Which comes with one advantage is that it has a wider surface, which is an impressive 40 inches. So it has an even better width for those who need it!
Zupapa Silent Mini Fitness Trampoline

Why The Correct Height Stability Bar Is Important
The stability bar handles on these trampolines play a critical role in user safety. They aid in stabilizing the person as they continuously bounce up and down. Is a stabilizing bar like this always required on a trampoline? The short answer is no.
However, many people prefer that the trampoline at least has the option to include these bars. Especially when the elderly or children are going to be using the product. This bar helps to keep you central and stable as you jump. Children, as we know, don't have the best ability to control their stability, so a bar like this really helps. As it does for the elderly.
However, regardless of your age, the height-adjustable handles can be used for performing special routines as you jump. Some trampolines have the bar positioned in the center of the trampoline to allow even more moves to be made.
Because your feet sink into the mat when you land, in order to get the full leverage of the handles, they should be adjusted to above your waist height. This will allow you to have your arms and hands in a comfortable position as you land and bounce back up. This is why it's important for a tall person to have a trampoline that includes height adjustable handles to their height. Otherwise the level of comfort and abilitiy is greatly reduced.