I hope you love the products I've recommended below, just a heads up that as an Amazon Associate, I earn from qualifying purchases. This means I may earn commissions on products bought via links on this page.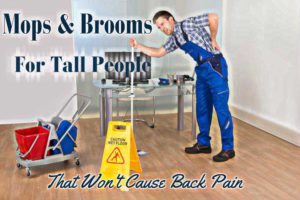 Being tall has a lot of problems that most regular height folks don't think about. Such as trying to find the best mops and brooms for tall people. One of the simplest household tasks turns into one of the more difficult chores for the tall person.
Often when you go to use a broom or a mop, the handle is too short and you're forced to be hunched over like the hunch back of Notre Dame. This causes all sorts of issues for the lower back and overall level of comfort.
Not to mention how much longer it takes to do these tasks when you have to frequently stop to straighten out your back. This makes cleaning much more difficult and can make some people just give up on it altogether.
Average Height Brooms/Mops
With the average mop and brooms handles being around 38 inches tall, they're just not very useful to tall individuals. With a lot of tall people being forced to MacGyver a system of some kind. Such as a hockey stick taped to a broom handle, which is no way to live.
Thankfully there are a few companies out there who are doing what many won't, and that's to design their brooms and mops to be used by tall people. This is what you will find on this page, a lot of quality brooms and mops that are designed with tall people in mind!
Extra Long Handle Push Broom
62″ Length, 24″ Wide
One of the most important things for helping with a tall person's lower back pain is trying to avoid hunching as much as possible. Which unfortunately it is a lot harder then most people would think. Thankfully Libman has come to the table to make just one part of our lives easier with this 62 inches total length broom!
But having a long handle just isn't enough to be a good broom for me. While it certainly helps, but if it's a bad broom overall, it helps no one. Fortunately, that's not the case with this broom thanks to its flexible fibers. These unique fibers are great for multiple surfaces. With it being able to be used on timber floors, stone, concrete, marble without the fear of scratching it.
The resin brackets on this broom are really solid and make it more durable compared to other brooms. This is thanks to them making the smart decision to secure them with a nut and bolt system. So there is less worry about breaking this broom.
Other Benefits
Never get timber splinters again!
Won't rust on you
Lightweight for a 24 inch wide broom
Reinforced sturdy feel from the resin brackets.
Soft Surface Broom For Taller Persons
Quickie has made a really stylish broom considering at the end of the day it's just a broom. Maybe you could consider myself to be a little sad, but that's an impressive feat to me. The
60 inch black powder-coated handle
is made out of steel, which gives it a lot of extra durability for those more intense sweeping needs. But you do need to be mindful of leaving in in the rain as it can rust.
One thing I like about this broom is that you can not only detach the head of it, you can then store it on the pole itself. This makes it great for when you're storing as you won't have the long 24 inch head in the way tripping you over. This is a nice simple addition that shows they really thought this broom through.
The soft fibers on the head of the broom are designed to go over any smooth surface easily. This makes it a great broom for those DIY projects that you might have and still be able to handle sweeping up at home! Overall a great broom by Quicke with some clever design elements.
Added Benefits
It can be stored and hung up by the included swivel tip.

Flagged natural Tampico fiber

works best on soft surfaces including waxed surfaces and smooth garage floors.
Heavy-duty head, set in resin.
It doesn't loosen in the threading like many other brooms.
Floor & Carpet Sweeper A For Tall Person
When it comes to brooms most people don't put a lot of thought into them. Which is one of the reasons I really like this broom as it has an array of features that a lot of people wouldn't think about. With one just being as simple as having a combination head of broom and squeegee.
This broom has an impressive adjustable handle making it good for not only tall people but tall people who live with shorter people. The handle has three different height adjustments with the lowest being 32.7 inches, then 46 inches, and then an impressive 59 inches. This adds a lot of value to this broom.
This broom does something a bit different with its bristle, which is they're made out of rubber instead of the usual fiber. This is designed to be really effective on animal hair which can be really stubborn to get out of the carpet. Even tho it was designed to handle animal hair it still works extremely well as your everyday broom.
If there is one downside to this broom is that it doesn't seem as durable as some of the others on this list. So it's recommended to be a bit more gentle on this broom and not use to much force.
Cool Features
Broom head can be easily cleaned to remove hair fibers and pet hair from the bristles
Said to be 50% more effective at removing hair compared to a regular broom
Smaller broom head (12.6″) to get into hard to sweep areas
Flip over the broom to use as a squeegee with the combination of water to really clean surfaces.
Metal handle which means no more splinters.
Extra Tall Broom & Dustpan Set 54″
I don't know about you but I can't count how many times I've bought a broom only to realize when I got home I had no way to pick the dirt off the ground. TreeLen has come to save the day with there broom and dustpan set that all companies should include with any broom purchase!
This is a combination of a broom and a sweeping broom which are more designed to pick up a small mess. This is because their heads are much smaller compared to other brooms, as you will see with this broom's head being just 11 inches wide.
There is a good chance that this may not be your main broom but it works well with some of the other brooms, since you don't have to bend over to pick up the dirt. This is a great addition for taller people since you don't have to bend over and cause more stress on your body.
TreeLen went with the multiple extension level design as well which I'm a fan of. It's total height when it's all combined is a good size with it measuring 54 inches high.
Features
Great for picking up all dirt and not leaving any behind thanks to the anti-static rubber lip.
The angled head makes getting under furniture much easier, as well as on top of cupboards up high.
Scratch-resistant
Bristles are made from durable

PET material.
---
Longest Mops For Tall People
Just like brooms, finding a mop that will suit a taller person is no easy task. This is what makes companies like Nine Forty great and it would be good if there were more brands like them. With their aluminum mop that is designed to be used by both short and tall people.
The handle of this broom is made from quality aluminum that can extend to an impressive 72 inches tall. This works extremely well when you combine it with its large mop head that is 24oz, which is made from a 4-ply synthetic yarn blend.
This mop has an option that is important to a lot of people, which is where is the handle made? Some people don't care if it's made in China and then there are people who won't touch them if they're not from the USA. They made the clever option of giving you two choices with one being made in China and the other made in the USA, which I know some people will appreciate.
Details
Looped ends on the hand-sewn mop make lint and fraying reduced.
The heavy-duty stitching gives the mop a longer lifespan.
Quick and easy release of mop head via the flip grip clamp.
Handle extends from 42″ to 72″.
Extra Long Handle Microfibre Mop
Height Adjustable Up To 72 Inches
I'm a big fan of quality and I'm a bigger fan of when a company includes free quality items with there mops, which is what this mop does. Not only do you get the standard flat head mop but you get 3 mop pads and 2 free microfiber cloths as well, giving this a lot of extra value.
Microfiber style mops are really useful as they can replace a mop and broom. Depending on what you put at the end of this mop will choose what you're able to do with it. If you use the microfiber dust mop it's really good with sweeping things up. Then you can use a wet mop pad that will give your floors a deeper clean.
This really is a versatile microfiber mop that can work on so many different surfaces. Unlike a lot of others that can only do tiles or a laminate floor, this mop has the ability to handle concrete and stone floors. This adds tremendous value to this mop in my opinion.
Quality Attributes
Integrated velcro means the mop head frame won't accidentally detach itself
Features soft plastic end caps so when you bang into furniture, it won't cause any damage
360° swivel feature
Soft comfortable foam grips to make doing the mundane task of mopping easier.
18-inch wide mop head.
Low profile allows you to mop under low to ground furniture.
DIY Option – Telescopic Broom Handle
If none of the options are quite up your alley, there's always the option of going down the DIY route. It's as simple as buying a telescopic broom handle like the Pomatree found on amazon here and matching it up with your favorite universal screw-in thread broom or mop head.
The Pomatree has a reach between 5 feet and 12 feet. So even the tallest person can find the best broom or mop for their needs with this kind of extension.