I hope you love the products I've recommended below, just a heads up that as an Amazon Associate, I earn from qualifying purchases. This means I may earn commissions on products bought via links on this page.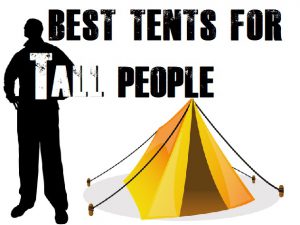 One of the major disadvantages a tall person has when it comes to camping is either not enough head clearance or the length of the tent is too short. Both are extremely frustrating, especially as camping is meant to be about getting away from the stress and discomfort of regular life. With these
camping tents for tall people below
, you can find that they are the extra-long or extra tall tents available.
Depending on the type of tent you need, there will be varying options available. With that said, below you can find varying styles of tents that are suitable for taller people.
Top 10 High Ceiling Tent Comparison
What To Consider When Buying A Tall Tent
The main types of tents are a dome tent, cabin style tent and a backpacking tent. With each tent comes separate height requirements if you're tall.
A dome style tent is typically not the best choice. They are not ideal for backpacking and they are certainly not tall enough for standing in. However, I have included a few extra long backpacking tents so tall people have extra leg room when sleeping.
A cabin style family tent must have a high ceiling so that you can walk around in. The walls on a cabin tent are genuinely vertical which is not an issue. However, make sure the floor space is sufficient for the length of your body. Most cabin tents suit larger numbers of campers, but I have also included two of the best tall 4 person tents for the couples wanting a romantic getaway. Both have 7 foot tall ceilings.
With a tall person backpacking tent, you're never going to be able to stand up in. However, some are tall enough that you can sit up inside. With a backpacking tent, the main concern is the length. Is the 80″ long tent going to be long enough so that your body can lay straight?. Not a chance.
Lastly, the angle of the walls is very important. Especially if you are cutting it fine in regards to the length of the tent. For example, the tent may be 80 inches long and you may be 6'5″ tall. In theory, 80 inches is just long enough for you to lay down. But if the walls come inwards at a 45° angle, you're going to wake up in the morning with a cold and wet tent laying on your face.
If you're taking a camping cot for a tall person, its important to consider the angle of the walls. As you will likely position the cot along the side of the tent, you don't want the walls to hitt you in the face as you sleep.
Tents With Tall Center Height 6ft To 7ft


The best family tent in regards to ceiling height so that a tall person can walk around in without hitting their head on the ceiling is the 'Big Horn' by Browning Camping. With a ceiling height of an incredible 87 inches (7.25 ft), most tall campers will think they are in the
Taj Mahal
when walking around in this tent.
Inside the tent is very spacious. It measures 10 ft by 15 ft which is a total of 150 square feet of living space. Combined with the 87-inch high ceiling and you got yourself one great family size tent for tall people.
5 Person Or 8 Person Big Horn Options


The Big Horn is certainly one of the best tents for tall people due to its high ceilings and vertical walls making movement inside the tent a breeze. But the fact it's a two room 8 person family tent may be too much for some campers.
So Browning has also introduced a 5 person single room Big Horn tent which is a much better option for the couples going camping or even a small family. However, the 5 person tent does lose a few inches in ceiling height because of the single room design.
But at 84 inches it's still quite impressive. If this sounds more like what you're after you can check out the 5 person Big Horn on amazon here.
A Little More About This Tall Camping Tent
Very stable free-standing tent. Sets up with traditional fiberglass rods, but is reinforced with steel poles to give it the extra strength to combat winds and rain. Each door has a small awning over the top to prevent water from getting in while entering and exiting the tent.
2 very large 'D' shape doors that almost as high as the ceiling. So no banging your head on the way in. However you will need to pay attention to the 6 inches at the bottom that could be tripped over if not paying attention.
Comes with mesh storage pockets on the inside to protect your valuables.
The tent can be split into two rooms for privacy or can be left open for huge open living. These are zipper operated dividers.
Bathtub style flooring to prevent water seeping in at the base seams.
Central hook in the ceiling for hanging a light.
Limited lifetime warranty and customer service is phenomenal.
Overall It's Hard To Fault
The Browning Camping tent is like finding a diamond in the rough. Especially considering the family-friendly price tag. While it's not a canvas tent quality like the Kodiak Flex Bow, it does a very good job of repelling extreme weather for a nylon tent.
The large open interior and the extra high ceilings make this one of the best family tents for tall people. Due to the quality rain fly and buckle down guy lines, this tent is quite resistant to heavy rain and even thunderstorms. The functionality, large windows and two doors complete this amazing tent.
Browning Camping Big Horn Family Tent

Like The Look Of The Browning Big Horn Tent?
The Big Horn is an amazing tent. But to truly see it in its greatness you need to see it first hand. To help you decide whether this tent is for you, I've included a great video review of this tent. Pay particular attention to just how tall this tent really is. It's a game-changer for taller campers.
7 Foot High Tent By Coleman
A cabin style tent, these walls are vertical and have a unique appeal to them. While it's a very attractive tent, unfortunately, it only has one large 'D' shaped door. However, it does come with 5 separate large windows and a smaller window on the door itself. So ventilation and air flow is certainly not a concern with this Coleman. I just prefer to have 2 doors on a family size tent.
Similar to the Browning tent, this Coleman also has 6 steel support posts to give it extra strength against the harsh weather. However, I believe the Brownings to have a better rain fly for protection against heavy rain. Whats cool about this tent is that the floor is welded. It's a bathtub floor meaning it runs up the side of the tent to minimize water seeping in. But the seams of the bathtub floor are welded so no moisture can seep in at all.
Unique Features Of The Coleman Prairie Breeze
One of the best features is the included lighting and fan system. While you do have to bring your own 4 x D batteries, you get a fully set up light and fan system perfect for summer camping. Is this glamping or camping, you decide?. The fan has two speeds and two directions you can choose from. There is even a light switch on the wall of the tent for turning on and off with ease.
A full free standing tent which means you can pretty much set it up wherever you like. But it also comes with stakes and guy lines to help anchor it down in windy conditions.
It can be divided into two by 7 x 10 ft rooms. The divider is attached to the walls via tabs on the ceiling and adjoining walls.
It's Designed As A Summer Tent For Tall Individuals
While it's a pretty flash looking tent with some pretty cool features, it's important to remember that this is pretty much a Summer tent. The way the rain fly is designed and the cabin style of tent means it's not going to be the best in terms of high winds. So if you stick to typical family camping during the Summer, this Coleman could be one of the best purchases you make this year.
Coleman Prairie Breeze 9-Person Cabin Tent, Black and Grey Finish

Instant Cabin Tent For Up To 9 Taller Persons
The base of the tent measures 14 ft x 9 ft with a total square meter of 131. Which is still quite roomy and considering you can divide the tent in 2 or leave as one open family tent, it's a good size.
Probably one of the best features of this Core 9 tent is that it is a pop up style tent. The tent poles come pre-attached to the tent. So setting up this tent is super easy. All you have to do is unfold the tent and then extend the poles. It then just pops into shape. Hence the 'Instant' in the name instant tent. Takes less than 2 minutes to set this beast up.
As A Tall Camper, You May Love These Features
The coolest feature id the huge 'T' shaped entry door. This door is huge and perfect for tall people entering and exiting the tent.
The ceiling center has a hook to hang lanterns, lights etc.
Unmatched privacy from the zippered privacy panels on the doors and windows.
One of the best tents in terms of ventilation and airflow. The flaps over the windows are pulled out to allow cool air to flow in and flush the hot air out the top of the mesh ceiling.
Higher quality grade materials used than other popular name brand tents.
Includes an electrical port between the huge 'T' door and the regular 'D' shaped door.
Being an instant tent can lead to poorly designed water protection. But the Core H20 Block (welded seams) and the rain fly do a fantastic job at keeping the rain out.
My only wish is for a vestibule or small awning so you can take wet shoes off in the rain before entering the tent wet.
CORE 9 Person Instant Cabin Tent - 14' x 9'

High Ceiling 6 Man Tent
Alp Mountaineering produce this 6 man tent known as the Camp Creek. It also has a 4 man variation as seen below. This 6 man tent is a good compromise between a big family tent and a roomy tent for the couple.
Like the below 4 person tent, this 6 man tent also has a 84 inch tall ceiling. But this tent offers a bit more walking space inside the tent thanks to its 10ft by 10ft footprint.
The 6 man tent is pretty much just a larger version of the below 4 person tent. The setup is super easy as the tent uses clips to attach to the fiberglass poles. This holds the rainfly onto the tent for maximum protection from the weather.
If you prefer a little extra breathing room inside your tent, then go for this 6 man tent. But if you're quite content with traveling lighter and a smaller tent then the 4 person tent is the alternative solution. The 4 man version is considerably cheaper too due to less materials required. So you just have to weight up the cost versus space inside tent when it comes to choosing between the 4 or 6 man Camp Creek tent by Alps Mountaineering.
Alps Mountaineering 6 Man Camp Creek Tent 84" Ceilings

Tall 4 Person Tent – Camp Creek
The shape of this tent is also quite unique, being a square hub that measures 7.6 x 8.6 ft with a total living space of 65.34 square feet. While it is classed as a 4 person tent, I would think it's better suited to 3 persons or even a couple and their dog. However, a 6 person version of this tent is also available.
Alps Mountaineering are one of my personal favorite outdoors brands. Even tho they have only been in business just over 20 years, it didn't take them long to cement their name in the industry as one of the leaders. The professionalism and high quality shines through with this Camp Creek tent.
In terms of air flow, this tent has quite a nice ventilation system. There are 4 windows, one on each wall. There is one door which is located on the longer side of the tent wall which is 102 inches long. The door itself is 59″ high and 46.5″ wide. Because of where the door is located, it doesn't need to be any higher.
The walls of this cabin style tent are not perfect in regards to being vertical. However, they are still pretty darn close. The steel poles used for support keep the tent as vertical as possible. Whereas the fiberglass poles are used to construct the frame. With this 4 person cabin tent the tent actually clips to the fiberglass poles. They don't go through a pre-made fabric clip. So assembly can take a couple minutes longer. But to me that is not even an issue worth worrying about.
Whats Awesome About This 4 Person Tall Tent
Having a 7 foot ceiling on a 4 person tent is simply amazing. Not too many tents like this have the capabilities to have such a high ceiling. The unique hub design and steel posts allow the high ceilings.
Big well ventilated windows on each wall.
Fits a queen air mattress comfortably.
Rain fly extends over the doorway so you can stay dry while taking shoes off. Rainfly seems to be rather good quality and water proof.
The Final Verdict
As I said, I love Alps Mountaineering, they make quality camping gear at affordable prices. The 7 foot ceiling, awning and marvelous price on this tent makes it a clear winner for me. While it's very good at what it does, there are a couple of gripes I will mention.
That is the tent is so well ventilated that it's not very winter camping friendly. Brilliant in summer for clearing out the hot air, but not ideal in winter. My other wish is for additional staking points. This tent has staking points on all corners, but I would like to see another in the middle of the walls to give it even more strength and tightness against windy conditions. Other than that it's a superb tall person tent.
ALPS Mountaineering Camp Creek 4-Person Tent

Alternative Tall Four Person Tent
Tall 4 person tents are ideal for the taller couple. So an alternative to the above Alps Mountaineering is this stylish 4 man extra tall Eureka cabin tent. This is the Copper Canyon tent by Eureka and it has a very tall 7 foot high ceiling. Again not too shabby for a 4 man tent.
Like the above Alps Mountaineering, the walls on this cabin tent are almost vertical. So us taller people get a lot more space under the roof while standing. Also great for camping with cots as the walls allow for greater sleeping space when raised off the ground 20 inches.
Whats Included with This 4 Man 7 Foot Tall Tent
A tall ceiling tent may provide great standing clearance for the tall person, but its pretty useless if the tent isn't very good. But what makes a tent good?. Many things contribute to this and the Eureka has pretty much nailed them all.
Here's a few of the things that make the Eureka Copper Canyon a great choice.
3 Season tent perfect for summer camping.
Very large windows with large D shaped doors to allow for cross ventilation and air circulation during the hot nights under the stars.
Steel support poles give the Eureka the ability to withstand some pretty harsh conditions.
E-port which can be zippered closed. Great for car camping so you can run a lead inside to power up your smart phones, iPad's etc.
Decent amount of space with measurements of 8ft x 8ft. A queen airbed can fit in easily with room left over for gear and walking.
Includes rainfly to keep rain out. Rainfly has extended corner flaps which cover up vulnerable external corner joints of the tent. Keeping you dryer in the event of a storm.
Storage loft is perfect for keeping things off the floor while the 2 large wall mesh pockets make having things like a torch at arms reach at any time.
Overall It's A Quality 4 Man Tent
Eureka are known to make high quality camping gear, so it comes as no surprise that they produced yet another brilliant piece of equipment in the Copper Canyon.
What's especially nice about this tent is the space you get. When camping with just another person, you don't want a really huge tent, nor do you want a small tent with no space. This Eureka solves this problem.
The amount of floor space is perfect. Enough room for the queen bed and camping cupboards on either side. So you can somewhat live inside your tent should the weather turn nasty. The extra high tent ceiling is just perfect for tall people and the near-vertical walls compliment this well. A great 4man tall tent certain to impress even the fussiest campers.
Eureka Copper Canyon Tall 4 Man Tent

Backpacking Extra Long Tents For Taller People
Backpacking tents are a whole new ball game in terms of finding one for a tall person. For a backpacker or hiker, the weight of the tent plays a critical role. If it's too heavy and bulky it's simply not a good backpacking tent.
In regards to buying one if you're a tall backpacker there are two main factors to consider:
The length of the tent must be taller than your actual height. Otherwise your feet will be dangling out the ends getting frost bite or worse, mauled by bugs.
The angle of the tent. As backpacking tents are not typically cabin style the walls are always angled with a low ceiling. This is to keep the weight down and also better protect the tent from strong winds.
Extra Long 2 Person Backpacking Tent
In 2014, the Hubba Hubba tent even won 'tent of the year' award. Since then it has had a remodel to become about 9 oz lighter, which makes it perfect for the hiker of pack packers.
Probably not the style of tent you may be expecting for a backpacking tent due to being a dome style, but don't let that concern you. Even tho it is a dome shape that can fit 2 people, it weighs just under 4 lbs. Which is quite impressive for a high wind resistant backpacking tent.
Can A 6 Foot (Ft) Person Fit In This Pop Up Like Tent
In terms of size, the Hubba Hubba is great for space. It has a ceiling height of 39 inches which is enough to comfortably sit up and not cop a face full of cold and wet nylon.
In terms of length, which is one of the most important considerations, it comes in at 84 inches long. The sleeping area width is a comfortable 50 inches, while the two vestibules on either side add an additional 30 inches each.
84 inches in length translates to a 7 ft tall person. With most backpacking tents you can shave half a foot off due to the angle of the tent. But with the Hubba Hubba, the lower quarter of the tent is vertical. This means you have a 7 foot long tent that isn't angled in the sleeping area.
There are clips on either ends about a foot high that pull the tent material back, to create a vertical wall. So unless you are sleeping on a thick air mattress, which you shouldn't be when backpacking, then this tent won't smack you in the face when laying down. Provided you are under 7 foot tall that is.
Overall this is a great 2 person tent if you are a tall couple. The design is symmetrical and so well thought out that wind has nothing on this tent, while the extra long sides allow for us giants to sleep comfortably. It's like a tall pop up tent but better. The 2 vestibules and the 2 internal storage pockets are the icings on the cake, and the fact the lower section has vertical walls, well is just brilliant. It's easy to see why this tent has lasted over 10 years, and will last for a long time yet to come.
MSR Hubba Hubba NX 2 Person Backpacking Tent

Best Solo Tents For A Tall Person
The Big Agnes Slater UL One Person Tent
While it's not a free standing tent, it's pretty close and the fact it weighs just under 4 lbs is what backpackers demand. So there are some compromises with the Slater UL. They are:
It's not an open mesh tent, instead it's a rip stop treated nylon material. This makes it an awesome tent for colder weather.
During the warmer months, it can get a little bit of condensation build-up. This is due to no mesh ceiling, no windows and a fly that extends past the tent. However, there is a mesh door in which you can zip up and leave the nylon door open for airflow.
Some Of The Positives
Being half the price of some comparable tents, the Slater UL is very well priced. See latest price on amazon here.
Lightweight but very good materials used with silicon treated rip stop nylon and floor.
The well sized vestibule has storm flaps.
Extra long for tall people with a head height of 40 inches giving you space to sit up.
Big Agnes Slater UL 1+ Person Tent

Best 1 Person Tent For The Money
exact price on amazon here
.
Introducing the Alps Mountaineering Lynx 1 person backpacking tent. It's an amazing tent with an even better price tag. What tops it off is that it's a free standing tent that requires no assembly and that it is suitable for tall campers. With a base length measurement of 91.2″ (7'6″), most tall people shall find it quite accommodating.
In contrast to the above Big Agnes Slater tent, this Lynx tent is ideal for warmer climates. Due to having mostly mesh walls for greater air circulation. With the rain fly being factory water proofed and the poly taffeta floor 2000mm coated, it makes for a great summer backpacking tent. Light too, weighs just under 4 lbs.
The Lynx has one large vestibule which comes out the middle of the tent. Not at either end like on some tents. This vestibule is 32″ wide which basically doubles the tents width. So it's a good size for storing gear outside the tent while out of harms way.
Why The Lynx Is A Good Tall Person Tent
Very affordable, Can usually be found under $100.
Extremely easy to set up as it is a free standing tent.
Very durable floor, even without a tent footprint. However, I do always recommend using a footprint as well.
Smooth and relatively quite zippers.
Vestibule adds a good amount of storage space outside of the tent.
Well insulated for hot summer days due to the door, two side walls and the back being mesh. However, it's not completely mesh. So during windy cold nights you still have a good amount of protection to keep you warmer.
Rain fly, seams and floor are all factory sealed.
A decent size storage pocket at the top end.
Quite roomy for a solo backpacking tent suitable for tall people.
ALPS Mountaineering Lynx 1-Person Tent

Lynx Tent Video Review
Tall Or Long Tent – The Choice Is Yours
When you are tall, you can buy just any ole tent. There is absolutely no harm in that. However, if comfort and being able to sleep properly is high on your list, then these tents mentioned above are well up your alley.
As previously mentioned they serve two purposes, normal camping and backpacking. So be sure to choose the right tent for your camping style. To complete the camping lifestyle, make sure you invest in a tall persons camping chair. The tent is only half the battle.
Reach Tall Heights
When investing in a high ceiling tent its a good idea to bring along a step stool. While most people pack a stool anyways, for the ones that don't this little step will make setting up the ten much easier.
Especially if you have a second person to help set up the tent. If the second person is shorter then they won't be able to reach 7 foot tall to pull the rainfly over the tent. So a stepping stool is a good idea.
The stool will also come in handy for shorter people that need to hang lanterns or lights inside the tent. People under 6 foot will struggle to reach the very tall tent ceiling to attach a hanging light. So unless you're prepared to do all the high stuff, a stool is a good investment.
Plan Your Camping Trip Well
Always consider the weather when camping. If you know you are only camping during summer in low wind locations, then a tent with a higher percentage of mesh interior is best suited. The mesh allows air to circulate, compared to a tent that's mostly nylon or polyester. The wind gets trapped inside the tent. Which during summer is not nice.
On the flip side, if you plan to camp during winter, the best bet is to buy a canvas tent. They are better insulted to keep the warm air in and the cold air outside. So if you're tall, then you may need to sacrifice some head space to benefit form the warmth a canvas tent can offer.
On colder nights it's important your sleeping bag is winter rated. Even during the Summer the nights can get quite cool. So once you have decided on the right tent for you, it's time to start thinking about choosing a extra tall sleeping bag. These sleeping bags are longer than a standard issue to cater to the taller people of the world.
Regardless of how tall you are, camping is about escaping the stress and day to day hassles we know as life. If you cant find a tall camping tent that suits your needs, you may need to compromise. The last thing I want is you to buy a tent that you hate, just because it has high ceilings. Put some thought into your purchase and read many reviews on any tents that interest you.