I hope you love the products I've recommended below, just a heads up that as an Amazon Associate, I earn from qualifying purchases. This means I may earn commissions on products bought via links on this page.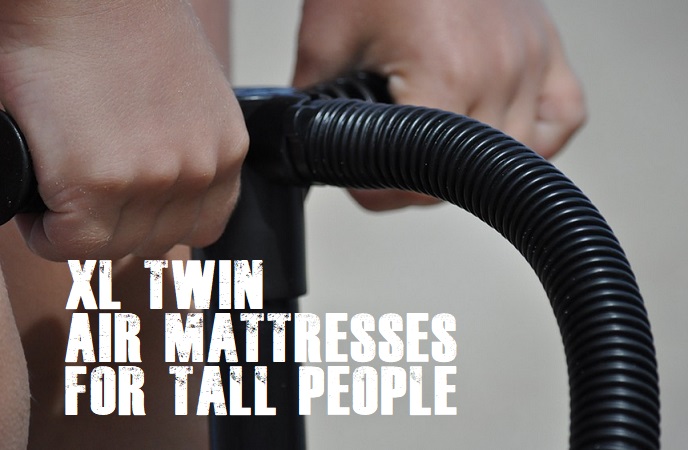 A typical twin air mattress will certainly be too short for many adults. The twin and the single are the smallest size mattresses available, besides a child's crib mattress that is. But as a tall person the options are drastically limited. Which is why a twin XL air mattress that is extra long is the way to go.
Whether you need a airbed for camping or to use around the house, a larger size queen or king may simple be too big for your needs. For example if your going camping with a bunch of friends, but sleeping in your own tall persons tent, a queen size may overkill. When in reality a twin size is all you need.
The good news is that most of the extra long air mattresses listed below are available in twin XL, queen and king. So regardless of your situation, you still be able to find a suitable airbed.
How Long Is A Twin bed Or XL Air Mattress
When it comes to an air mattress, you will find the sizes available will often not affect how long the mattress is. For example a twin, queen and king can all be the same length.
Extra long twin mattress dimensions: On average 75 inches in length for a standard twin with a width of 38 inches.
For a XL Twin mattress whether it's inflatable or your traditional mattress you will find the average length to be around 78 inches and slightly wider in some cases.
As previously mentioned, it's not easy to find air mattresses that are suitable for tall persons over 6'2″. But below you can find the results of my research into finding the best air mattresses for tall people.
*Check To See Availability Of The Below Air Mattress In King Or Queen By Clicking On Relevant Links
Extra Long Air Mattress 90″ Length
Sable make the longest twin size air mattress which comes in at 90 inches in length. This is a massive 10 inches longer than any other airbed I have found online. Sable also have a
QUEEN air mattress that is 90″ long
too.
But this mattress is not just long, it's amazing value for money as well. The features and quality you get with this Sable airbed are outstanding for the price you pay. The main aim for this twin air mattress was to reassemble a real bed as much as possible while embracing the advantages of sleeping on air.
Sable Built In Pump Air Mattress Explained
What makes this airbed such great value is that is has a built in pump. This not only saves you the hassle of buying a pump, it also makes this bed ideal for use as a guest bed, spare bed or emergency bedding. The built in pump can inflate a bed in just minutes while you sit back and relax.
There's also an inlet valve for using an external pump when you want to take this airbed camping. Not many air mattresses with built in pumps include both these options, so the Sable is quite special.
Most Supportive Airbed
This air mattress is built using vertical channels which make the surface extremely supportive. With this bed you can sit on the edges and not sink down. This is due to the internal 'I Beam' construction.
Air mattresses that uses these I Beams offer far greater support and ultimately comfort. This I Beams are internal air coils which push air upwards when you sit/lay on the top. They act as the pillars of support while your body weight is pressed on top. Instead of air being gushed away, these I Beams react to provide unmatched support.
One Of The Best Air Mattresses For Tall People
When you consider the extra long air mattress combines with the built in pump and internal I Beam construction, it's easy to see why this is one of the best air mattress for tall people. Available in Twin or Queen in extended lengths give more tall people more options.
Second Longest Twin Air Mattress
So this twin XL has dimensions of 80″ long by 40″ wide. So it's the longest air mattress suitable for tall people in the XL Twin range found on this page.
The Air Mattress is quite unique in the design and material used in the construction. The intent was to make a eye appealing bed while also make an air mattress that doesn't leak air.
I don't think you can ever claim that a airbed will not ever leak air. This is just impossible to imagine. But this air mattress has applied additional measures to ensure the bed has the best defense against air loss and leaks.
What Makes This Air Mattress So Special
It is a costly airbed, so it does make you wonder why does it cost this much when you can get a cheap air mattress for $20 from the local big box store. For starters, it's size appropriate so if you are shorter than 80 inches, you can lay on top of this double raised mattress without having to bend your legs.
But the true value comes from the design and construction. Most airbeds use a layer of PVC plastic as the outer material. Which is fine in regards to strength and durability as PVC is quite resistant to scratches and tears. But PVC also stretches a lot. Especially after the first few times of inflating an air mattress.
What this stretching can do is open up the seams which hold the material together. Over time air will be able to leak out through the seams due to the pvc stretching. Before you know it, you're waking up on the col hard floor as your airbed has deflated during the night.
The Air Mattress combats this common issue by adding a layer of laminate to their vinyl. This not only makes it super durable, but it also minimizes the amount of stretching the mattress will undergo during its lifespan. This is how the company is so confident to offer a full one year warranty, which is basically not heard of in the air mattress industry.
Is It Suitable For Camping?
While it's quite evident that the Air Mattress is a great spare bed or guest room bed, how does it fair as a camping air mattress for tall people?.
When I first saw that this mattress had a built in pump, I assumed it would become null and void for campers. But this is not true as it also has a separate inlet valve for pumping the airbed up with an external pump. Which means that if you're camping somewhere that doesn't have access to power to inflate via the built in pump, you can use your battery powered pump, or hand pump to inflate the air mattress.
In terms of coping with camping conditions, there's no reason it wouldn't be well suited. The company spend extra on ensuring the materials used would be durable and longer lasting. The vinyl laminate exterior is proof of this.
The only concern you may have when camping with this air mattress is that it is a double high twin XL. So it sits almost as a high as a regular bed. Now if you have a small tent with low ceilings, this bed may be too high. But as a tall person you should be looking at buying a tent with high ceilings anyway.
Extra Long Twin Air Mattress For Camping
In regards to length, it's a extra long twin coming in at a solid 80 inches in length. so suitable for people under 6'6″ tall. The width is 39 inches wide.
Considering this is a horizontal beam construction with just the single layer height, I was surprised to see such a high weight capacity on the Sable. 660lbs is the maximum user weight. To me that seems a bit high for this type of air mattress. So I would probably go for a vertical beam air bed with a double height if you are over 350 lbs. But that is just my personal recommendation.
Fortunately the top of this mattress is flocked and not straight PVC. The .6mm thick topper is sift and smooth to lay on. It also won't make the annoying noises every time you move on the bed like the PVC top mattresses do.
The Sable doesn't come with a pump so if you don't already have a pump, be sure to buy one. You can get a cheap rechargeable or battery powered Coleman pump for about $20 these days. All in all its a pretty decent air mattress considering the price tag. Very simple and rolls down to a quite compact size to store away in the included carry bag.
Sleeping Pad For Tall People
The Airlite by Fox Outfitters has long been one of my favorite sleeping pads. It's not quite as long as the above 80″ mattresses, but close enough at 77 inches in length.
As for width and height, the Airlite is significantly less. Which is what makes it quite lightweight for the perfect airbed for traveling. Weights just 37oz. In terms of width, it's 2 feet wide and has a depth of 3.5″.
Great Air Mattress For Tall Adventurers
While the Airlite is not quite the dimensions of a Twin XL air mattress (I did mention that it's not easy finding the extra long mattresses), it's still a good choice for the outdoors enthusiast. Here's why:
Lightweight and compact compared to a bulky airbed
Material is finished in with a diamond  ripstop. So it is resistant to rocks and twigs. Kind of resembles the material of a raft.
No pump is needed to inflate: This air mattress has a built in foot pump. So you can take this sleeping pad virtually anywhere and not worry about a power source to inflate. To fully inflate it takes about 90 pumps using the heel of your foot. So if you do one pump every 1.5 seconds you can have this air mattress up and ready in under 3 minutes.
Every mattress is factory tested for holes and leaks before being sold.
Felt like topper to reduce slipping and squeaky noises.
Thick air chambers allow the mattress to be more versatile (doesn't have to lay completely flat like a air mattress) and creates the support you need while sleeping.
Overall It's A Good Alternative
As I said, the Airlite has long been a favorite of mine. It's so portable, compact and versatile in how you use it. It can be used as a pad for sleeping on a cot or used on bare earth while hiking or camping. The design and construction make it one of the better options out there and when you throw in the built in foot pump, it's a no brainer for the backpacker.
Being 77″ long means anyone under 6'5″ can sleep straight without needing to bend their knees. Because it is a tad thinner than typical xl twin air beds, you pretty much need to sleep straight. So if you're taller than 6'5″, don't think you can just crunch up your legs. Remember it's only 24″ wide.
Self Inflating Pad For Tall People
This extra long sleeping pad measures 77 inches in length with a width of 30 inches. So slightly wider than the above Airlite but with a similar 3 inch thick padding. The best thing about this particular pad is that it's the plush version. Which is a lot more softer and comfortable to sleep on.
It has been tested to hold weights of up to 350 pounds without bottoming out. Which is very impressive for a 3 inch thick pad. However, at 350 lbs you will probably want a air mattress that is higher from the ground to make getting in and out of bed easier.
How The Self Inflating Pad Works
Being close to a twin xl size, this Lightspeed pad is ideal for the traveler and outdoors person. As it doesn't require any pump, not even a foot pump, due to being self inflating.
When you un-fold this compact pad you simply need to open the valve. Once it is opened, the foam inside the pad starts to absorb the air and expand. Once it is fully expanded, you just need to close the valve again. Presto, an almost effortless portable air and foam mattress.
With the LightSpeed pad, a pillow is built into the design. So if you are really packing light, there's no need to take up space with a bulky pillow. The pillow is a nice inclusion for the overall comfort level as well. Being 3 inches thick you may be skeptical as to just how comfortable it really is. But I can reassure you that like any quality foam, it's amazing to sleep on. As you won't hit the bottom, but will have a nice soft squishy mattress to sleep on while enjoying the outdoors.
Camping Cots Are A Suitable Alternative
Most of us enjoy the comfort an air mattress offers, but many tall people find the options available to us to be too thin. Fortunately, there are more extra long camping cots available for the taller camper.
Sure a cot is heavier and more bulky to carry, but they can be extremely comfortable, especially if you place a sleeping pad over the top.
Some cots can cater to people as tall as 7 foot. So if you don't find the perfect air mattress to suit your needs on this page, give the cots a consideration.
It's Hard Finding Bedding For Taller People
It's certainly not easy to find height adequate air mattresses or any tall persons furniture for that matter. Especially in the extra long XL twin mattress size. However I hope I have helped you get one step closer to finding the right airbed for you. Or at the very least given you an insight into the alternatives to using a traditional air mattress.
For the most part if you are under 6'5″, these above air mattresses can suit just about all your activities. There is the Air Mattress brand which is ideal for indoors use as it is double high, yet also applicable to camping conditions. For the more traditional camping air mattress, the Sable is a good fit for taller persons.
The self inflating LightSpeed and the foot pump Airlite make great options for tall people that need to travel or pack light. While these beds also make great camping beds as well due to not needing a power source.