I hope you love the products I've recommended below, just a heads up that as an Amazon Associate, I earn from qualifying purchases. This means I may earn commissions on products bought via links on this page.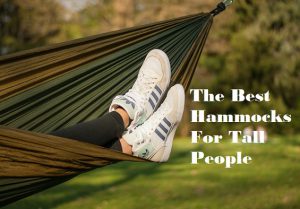 Hammock camping can be the most exhilarating and peaceful experience you can undertake while outdoors. But when you are not height deprived, finding hammocks for tall people can be quite the problem. Especially as most standard hammocks are suited to people under 6 ft tall.
So what's a tall person meant to do?. Sleep diagonally, which does give a flatter lay, but can also cause pressure on the calf muscles for overnight sleeping.
The Eno Double nest was the first official hammock I got to sleep in. I can tell you it's a great hammock. One of the more popular hammock brands in town. But it's simply not for people over 6 foot. The hammock body length of the Eno is 112 inches long, which equates to 9.3ft.
Remembering the sag of a hammock, you need an extra 4 to 5 foot on top of your actual height to comfortable sleep in a hammock. Sure something like the Eno is amazing to get in and fall back and relax, but when it comes to sleeping, you really do need a 11 foot long hammock body.
Some folks on the shorter side of 6 foot may find a 10ft hammock sufficient, but for the taller people it's more likely you're going to need a 11 foot hammock. So with that said, lets take a look at some of the best 11 ft long camping hammocks suitable for tall people.
The 11 Foot Big And Tall Camping Hammock
It's a double, so it's wide coming in at 8ft or 96 inches. It's also a XL which is a extra long 11 foot monster. Or 132 inches in length. So as you can see, the difference between a standard type of hammock and this one is quite significant. This Ridge is a massive 20 inches longer. Even compared to the Eno Double Deluxe, which is slightly wider, the Ridge hammock is still longer by over a foot. So no need to lay diagonally (unless you want too) or feel cramped in this huge hammock.
The Ridge double XL hammock is also a great choice for the big and tall people. As we know it's a huge hammock as we just went over the dimensions, but it also has a high weight capacity of 400 lbs. So if you're a big man with a few extra pounds, or a tall slender person the Ridge is really a good option. Here's why.
More About This Big Mans Hammock
Nylon Parachute hammock which uses 70D diamond ripstop nylon for strength and durability. While also maintaining the breath ability and fast drying times of nylon.
Aluminum 12k Wiregate Carabiners which are stronger and wont bend like steel versions do over time. Finally a hammock that includes decent yet lightweight carabiners.
Extremely comfortable even for a large tall person.
The triple stitch seams just show how much love was put into this hammock. Triple stitching is not a common feature for many hammocks. So you can expect this one to last you some time.
Comes with carry bag and strap.
Overall, It's Hard To Beat
When you want long and tough, I don't think there's anything better than the Ridge. Especially at the very affordable price. While low in price, the quality hasn't dropped. Which is unfortunately what we see with most items marked as lower.
But this is not the case with the Ridge. The lightweight aluminum carabiners and diamond ripstop nylon finished with 3 rows of stitching proves that. While being large enough to lay diagonally for someone over 6 foot tall is truly mind blowing. Prepare to have one heck of a good nights sleep in this hammock.
Ridge Double XL 11' Hammock

Skeeter Beeter Hammock For Tall Campers
Without the extra width, the Skeeter Beeter still maintains a high weight capacity of 400 lbs. Which is quite high for a single person hammock. So if you don't like the idea of wrapping your self over in a cocoon, but yet need the higher weight capacity, this is the hammock for you.
Where this extra long hammock beats the Ridge hammock is with it's insect protection system. Commonly known as a hammock tent. This hammock is enclosed with a no see um netting which clips to the guy line for a insect proof sleep. The netting connects to the hammock via two zippers which means you can have the zippers meet in the middle for easy access in and out of the hammock.
If you don't need the mosquito netting and you prefer to sleep in the complete open air, you simply flip the hammock over and use it as a regular nylon parachute hammock.
Get To Know The Skeeter Beeter Hammock Better
70D Parachute Nylon
Nautical grade carabiners and start up rope kit included
No seem um netting for the best insect protection while hammock camping
Weighs under 2 lbs and compacts down to the size of a sandwich Tupperware container. Far lighter than any camping tent I know of and much cooler to sleep in.
Very simple to hang
Why The Skeeter Beeter
Yes it's a odd name, but it makes complete sense. When translated it means 'Mosquito Beater'. Nothing rings more true than Skeeter Beeter if you ask me. For that reason alone it becomes one of the true standout hammocks for a taller person.
While maintaining an almost 11 foot length and protecting you from the annoying biting insects, it's very hard to pass up on this instant hammock kit.
Grand Trunk Skeeter Beeter Pro Mosquito Hammock

130 Inch Long Hammock For The Budget Conscious
To be honest, I really have no idea how these guys can make money with their hammocks so darn cheap. But kudos to them for helping out us budget minded campers. But does budget mean nasty in this case?. Lets find out.
So while being very affordable and almost 11 foot long, this hammock is certainly suitable for taller people. The hammock itself has a 500 lbs capacity, while the straps have a 1000 pound capacity. The 10 foot straps are 1 inch wide, so thick enough to not tear and also be kind to the trees when hanging from them.
The straps are also triple stitched down the center and have 10 pre-loops on each end built into them. This means you can quickly and easily hang your hammock from the pre-loops without having to fiddle around with the straps.
A Little About Money Friendly Hammock
Great value for the money. The tree straps alone are almost worth the retail price for this hammock.
210T parachute nylon – lightweight (about 2.2lbs) yet strong enough to handle 500 pounds.
Extra utility loops on either side which can be used for drinking bottles, under-quilts, bug netting etc.
Has a decent size storage pocket on one side to keep your valuables in.
Triple stitching is used .
Aluminum Wiregate carabiners.
Available in bright vibrant fun colors.
A Hammock For Tall People You Can Afford
If you're tired of being blown away by how expensive some hammocks can be, this is your go to product. After all, they all mostly use the same parachute nylon right?. So after much deliberation and contemplating (because this is a cheap hammock), it was time to let this hidden gem explore the world.
To my surprise it's quite a sturdy and solid hammock. I can totally understand it's 500 lb weight capacity which is backed up by the triple stitching and wide tree straps. Overall it's a steal if you buy the Oileus hammock. It's not often you come across a product this good, yet could be easily double or triple the price. Don't let this gem escape.
Oileus X-large Double Camping Hammock

So there we have 3 suitable hammock options for people over 6 foot tall. If none of these hammocks interest you, perhaps search for any hammock over 11 foot an see what pops out to you. There's not a huge selection tho. Once you have chosen your hammock, the next step is to find a suitable sleeping bag for a tall person to fit nice and snug with your new hammock.