I hope you love the products I've recommended below, just a heads up that as an Amazon Associate, I earn from qualifying purchases. This means I may earn commissions on products bought via links on this page.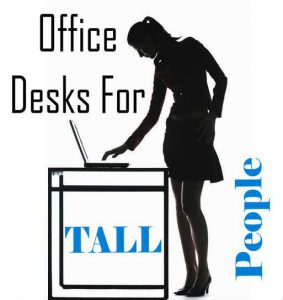 Buying computer desks for tall people can often be hit or miss if you don't know what you are looking for. Being a taller person often means you have long legs. Which means your knees sit higher up compared to a shorter person. But this is not always the case.
A tall person can have a longer upper torso in comparison to their legs. This is when buying office furniture like a desk can be quite challenging. The height of the actual surface of the desk will vary depending on your height and the capabilities of your office chair. If you have a computer chair fit for a tall person, then you will need to allow for the extra dimensions. Factoring in whether you need a under desk drawer for your keyboard will also take up a few inches of height as well.
But for the average tall person choosing a office desk, you will need to have certain requirements met. To help you make the buying decision easier, I had outlined a few of the office desks suitable for taller persons below.
The rule of thumb for me is that any desk with a underneath leg room measurement of 24 inches tall is too short. Knowing this helps you eliminate any desks that will be too short if you are over 6 foot tall. For a closer measurement, take a look at these guidelines below. Here you can compare your height with these recommendations to see what size desk you actually need.
These recommendations are based on working in an ergonomic office space so that you don't feel cramped and uncomfortable. Also included are estimate office chair seat heights or if you're one of the cool kids, the top of a balance ball office chairs.
Quick Comparison Chart
| | Features | Height | Price |
| --- | --- | --- | --- |
| | Electric height adjustable desk with up to 4 programmable stored heights. Finally the desk for tall people no matter how tall they are. | 25.6" to 51.4" | Check Price Amazon |
| | 900 Lbs capacity, 42.9" underneath leg room, comes in 3 sizes and array of colors | 29" | Check Price Amazon |
| | Affordable 'L' shape desk measures 58.1" L x 44.3" W. Foot cups for height stability | 29.13" | Check Price Amazon |
| | 2 Drawers & Filing cabinet, Desk floats above frame, Silver metal legs. | 30.25" | Check Price Amazon |
| | Foldable heavy duty style desk, Unique design, underneath storage | 30" | Check Price Amazon |
| | 47.2" x 23.6" with 2 convenient storage shelves to keep desk clutter free. | 29.5" | Check Price Amazon |
| | Dual height standing desk, free rotating corner or straight desk | Adjustable 29.9"-39.8" | Check Price Amazon |
Height Guideline For Tall People
6′ Tall: 27 inch tabletop height minimum. 18 inch seat height minimum.
6'1″ Tall: 27.5 inches tall desk with a 18 inch high chair.
6'2″ Tall: 28 inch high office desk and a seat height of 19 inches.
6'3″ Tall: 28.5″ desk with a 19 inch high seat.
6.4″ Tall: 29 inch tall office desk with a chair of at least 19.5 inches in height.
Looking For Standing Desks?
If you work behind a desk for long hours, a standing desk is a great way to relieve discomfort, pain and potential conditions caused from sitting down too long. However, not all standing desks can reach the heights needed by a person taller than 6 foot tall.
Fortunately there are a few models available that can cater to a 7 foot tall person. These desks are generally tally in the lower position as well. If this sounds like something of interest, check out the 6 best standing desks for tall people.
Finally, The Perfect Tall Desk For The Tall Person
With this exceptional design, the tall person can now customize exactly how high they want their computer desk to be. Whether its for gaming, work or using it as a standing desk, the Electric Air Lift Desk by Seville Classics is the one!.
While a simplistic approach is all it took, the durable construction and the need for height have pleased many a tall person.
How High Does It Go UP?
Now this is what I call a TALL Desk. It can be raised as high as 51.4 inches. This is so tall that people below 6 foot tall could not place their arms on top of the desk when at its maximum height. Now of course, if you were to use this as a regular desk, you wouldn't need that insane amount of height. But when being used as a standing desk, its got tall people written all over it.
When it comes to using it in the more conventional approach, sitting down, its as simple as pushing a button. The desk can be raised or lowered at a rate of 1.49 inches per second. So you can pretty much get that 32″ desk height or 35 inch desk height if need be. All within seconds.
Best of all, you can save your preferred working heights. So if you normally sit behind a 30 inch tall desk, set this as your number 1 choice. Anytime you want to lower from the standing position, you just press the #1 button to lower it to your preset height.
Amazing isn't it. Chances are you won't need all 4 custom presets saved unless you're sharing your desk with someone. But to have the ability to control the height of your desk like this is a godsend for taller folks.
The desk has even been curved at the front to allow ergonomic working conditions, while having feet levelers should the floor you're working on be uneven. The Electric desk by Saville Classics is hands down the best desk in my opinion.
It's also available in a range of colors and designs to suit your office. Assembly can be don by one person, but 2 is preferred. O you can take advantage of the 'Expert Assembly' Amazon offers.
Air Lift Electric Desk By Seville Classics

Simple Modern Tall Persons Computer Desk
With a 29 inch height from floor to top of desk and a leg room width of just under 43 inches, this desk can cater tall people while still having room for storage.
Assembling this desk is probably the easiest thing you can ever assemble. Use a hex key you just screw on the legs and the 3 support bars. These 3 support bars are what makes this desk very sturdy. There are 2 on either ends of the desk and one in the middle of the desk underneath. This will give the desk the strength to hold a heavy monitor dead in the center of the desk.
The frame, legs and support bars are metal to give it an increased level of support. On each of the internal corners are additional corner reinforcements. This helps keep the table flat and firm.
On each corner are adjustable floor pads. These are there to make sure the desk is completely flat and level while ensuring floors like hardwood or vinyl don't get scratched or damaged from the legs.
*Do note: If you buy one of these desk with a natural wood look (Teak, oak, walnut), the top of the desk has a grainy effect which resembles real timber. Which can be annoying if you plan to write with pen and paper directly on the desktop surface.
Tall Office Desk By TribeSigns

Corner Office Desk For Tall People
The height from floor to top of the computer desk is just under 30 inches. As it is a 'L' shape corner desk you get heaps of leg room and space to store a tower and accessories.
The frame is coated with a epoxy resin which is a material used for coatings on products to endure harsh wear and tear. Far superior than powder coating in my opinion. Each of the desk legs have a foot pad made from a resin to limit and damage to floor surfaces.
Overall this Green Forrest corner desk is a very affordable option for tall people. For the amount it costs, there will be minimal complaints. A really good buy for a corner desk.
GreenForest L-Shape Corner Computer Office Desk

Best Tall Computer Desk With Drawers
For a tall person, one of the best desks with drawers is this unique design by Monarch Specialties. The top of this desk sits 30 inches tall leaving you about 29 inches of leg room. The table width is a good 24 inches so your knees can get right under the desk if that is how you prefer to sit.
The 30 inch high desk is a floating top design. This means the actual top of the desk appears to be floating above the cupboards and drawers below. This not only looks amazing and modern, but it also adds another layer of storage if you desire. Things like the days documents, pens and post it notes can hide under here and not make the top of the desk look cluttered.
Of course there are the drawers as well for keeping your valuables in. On the right hand side is a large filing cabinet. I love the idea of computer desks with filing cabinets built into them. This frees up so much time going back and fourth between the desk and cabinet. When it's built into the desk it takes literally seconds to find what you need.
On the left hand side are 2 large size drawers. The color theme for this desk is white and silver with the handles on the drawers being silver. The frame and legs are a silver metal which are reinforced with cross support bars on either end.
The only downside to a computer desk like this is the assembly is a little more in depth. So it takes longer as you have to assemble the drawers and filing cabinet. But I don't mind this too much as I know that it will be stable and supportive with the drawers and filing cabinet being manually installed. That is if you can follow simple instructions. When followed correctly, this desk is quite stable and feels strong enough to perform day to day office activities.
Monarch Specialties White & Silver 60 Inch Office Desk

Heavy Duty Folding Desk Extra Tall
Origami Foldable Computer Desk

The Good
Extremely Simply To Set Up
Foldable - Great For Students
No Tools Required
Sturdy & Wobble Free
100 Lbs Capacity Per Shelf
Aerated Bottom Shelf For Minimizing Heat Build Up
The Bad
Bottom Shelf Runs All The Way Across Desk
There's two very cool things about this next computer chair, besides having a generous 30 inch height for tall people to comfortably fit their knees under. They are: It's fold-able and it's extremely heavy duty. Oh wait, there's a third thing that is mind blowing as well. That is there is literally no assembly required!.
They call this desk the Origami Foldable Computer Desk, and yes that is its actual name. Setting this table up is so easy, anyone could do it (Within reason).
Once you take it out you simply unfold it like a folding table. Next you clip the two ends of the desk down with a toolbox/jewelry box type of clip. After that you place the top of the desk on and slide to bolts to lock it into position. Presto, you have a fully functional heavy duty computer desk.
Each level on the desk can hold up to 100 pounds. There is a shelf down lower near your feet for keeping the computer tower on so it's not in direct contact with the floor. This shelf is also designed with little holes across the entire shelf. This is a good feature for keeping electronic devices cool by allowing hot air to escape and cooler air to circulate.  So in terms of having areas to put things, this desk is brilliant for just that.
When it comes time to move the desk, if ever, you can simply unfold it and it packs away flat. Hence the name 'Origami'. Even if you never have to move this desk again, it's still a pretty decent and reliable desk. The only thing that may concern some people is the bottom shelf goes all the way through. This can limit how much foot room you have. But besides that it's a pretty good unique computer desk.
Available in 4 select colors.
Origami Foldable Computer Desk, Black

Extra Tall Adjustable Computer Desk
So it's easy to see this table was designed for tall people due to the minimum 29 inch leg clearance. Even tho the desk is quite tall, it doesn't lose the ability to handle office equipment safely. Some desks can't handle the heavy weights of a desktop computer, printer etc. But this TribeSigns desk has a very thick and durable tabletop that can withstand 250 pounds of weight.
The actual working space is quite large as well, this is no small desk. So small spaces are not an option. The Teak color desk has a length of 55 inches and a depth (width) of 23.6 inches. So fitting two monitors on the desk is no problem.
Very Strong Build
The frame is a tough and durable stainless steel which is finished in a dark grey powder coat. The frame combined with the teak color tabletop has a industrial yet fascinating appeal about it. The kind of desk that would look good just about anywhere.
The 'A' style frame legs provide the storage areas for this desk. Both sides are quite spacious leaving space for a computer tower, books, office equipment etc. At the top of the legs are two rods in which you could use for further storage if needed.
Overall the TribeSigns adjustable office desk is a great choice for tall people. It has a very high desk with plenty of room for the legs. The unique design and appeal is what makes it a popular choice.
Extra Tall Computer Desk TribeSigns

Double Wide Office Desk For Taller Persons

If you have a pretty busy home office or you and your partner both work from the office, then this office desk by Little Tree is a great solution. This is a similar set up to the computer desk I use right now, which is why I like and recommend it for busy office spaces.
It's a double desk with a divider down the middle. This is great for when you don't want everything cluttered on one side. You can keep different jobs and documents on each side so they don't become a mess.
The divider down the middle is actually a storage area for a desktop tower and other various small office equipment. It works quite well if you have two monitors and keyboards running from the one tower. Even if you have two towers, there is ample space on top or underneath the actual desk.
The Measurements
The most important measurement for a tall person is the height of the actual tabletop. The height from the floor to the top of the desk is 30.6 inches. The PVC coated desk-top is 1 inch thick which leaves you with an under the table height of just over 29 inches. Which is quite roomy for people over 6 foot tall.
78 inches long gives ample working space for one or two people.
Just under 24 inches deep with no back panel or obstructions in regards to leg room.
Weight capacity of 325 pounds.
Thick metal frame for durability and the support needed for a long table like this. Between the legs are steel support poles on either end. This adds even more stability and strength to the desk.
Includes pads for the feet to prevent damage to floors. The pads are height adjustable to make the table level on un-even surfaces.
While a longer computer desk like this may not be ideal for everyone, for those with the space, it's an incredible table. A very simple yet sleek design which offers ample working and storage space. Be sure to assemble the desk correctly. While its not difficult, people have messed it up in the past and the desk has come out not level. But when you follow the instructions its quite simple.
Little Tree 78" Extra Large Double Workstation Computer Desk