I hope you love the products I've recommended below, just a heads up that as an Amazon Associate, I earn from qualifying purchases. This means I may earn commissions on products bought via links on this page.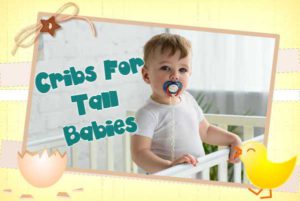 Are there such things as cribs for tall babies? The general consensus is no. Cribs are designed to cater to your babies needs until they are roughly 35 inches tall. For most children, this is acceptable as they are developed enough to move into a  toddler bed.
But what happens if your little one falls into the very tall category. For the most part, your tall baby will be fine in most cribs in the earlier stages of development. But once they hit the 'pull themselves up' stage, a standard height crib can be quite frightening for the parents.
Once babies can pull themselves up, this is a sign that its time for you to lower the cribs mattress to the lowest point. This will stop the little one from climbing out of the crib so easy.
But for taller babies, the lowest setting may still not be low enough. Its said that once the safety rail on the crib is lower than 3/4 of your babies height, its time to move into a toddler bed.
Preparing Your Crib For A Tall Baby
If you're aware that your bub is taller than most, following a plan of action now is important. A study was done by Journal Pediatrics which showed that 8000+ injuries per year were a direct result of crib use for children under 2 years old.
Having a taller baby makes them a candidate for such injuries if some pre-planning is not undertaken. But what can the parents of a tall baby do to prevent the little one from climbing out of their crib and potentially injuring themselves?.
Below we will take a look at some of the potential solutions to this problem faced by many parents around the world. This is not a one size fits all solution either. As cribs are designed for babies and toddlers up to 35 inches in height, alternative steps may needed to be taken to ensure the safety of your baby.
Avoid Mini Cribs
I understand the need for mini cribs when you live in an apartment or are short on space. But a tall baby should really avoid mini cribs. They will simply outgrow them too fast. Which will ultimately leave you with the decision of buying a bigger crib or a toddler bed.
So save your money up front, plan for the future and look into convertible cribs. A crib that can transform from a crib into a daybed or toddler bed.
The Delta Children Emery 4-1 Convertible Crib



If you're looking at buying a crib for your tall baby, something like this Delta Children Emery 4-1 crib is a wise move.  This is because it can grow with your child. As your toddler becomes too tall for the crib, generally around 35 inches tall or between 12 and 24 months old, the crib converts into a toddler bed.
At 30-35 inches tall, your baby may not even be at the stage of pulling themselves up yet if they are in the 99 percentile. So you will have to monitor your babies progress as to when its best to move them from the crib into the toddler bed position.
Once you bub is in the toddler bed, you can buy an additional guard rail that fits onto the crib. This will prevent your little one from rolling out of the bed. As the other 3 sides already have the side panels, a guard rail is only needed on one side.
Rotate The Crib 180°
Another good feature of this crib is that the backside of the crib is taller than the front side. So while your baby is still in the crib on the lowest mattress height, you can turn the crib around 180° so that the taller side of the crib faces out.
The side you normally bend in and pick up bubs is now facing the wall. Ideally you want to put the crib in a corner so that 2 of the cribs sides are in contact with the wall. Making it harder for your baby to climb up and over.
The taller side of the crib will now be the side in which your baby will try and climb over. This can give you an extra 6 or more inches depending on the height of your crib.
Mattress Height Settings:
9.5″
13.25″
17″
Takes a standard crib mattress: 27.5″ x 52″
If you're thinking much further down the lone, this Delta Emery also converts into a daybed as well as a full size bed when your child gets older. This is done by turning the crib sideways and using the headboard as the end of the full size bed.
A rail kit available on amazon will need to be purchased separately from Delta Children if you plan to go down this route. I think its a good idea as it works out to be cheaper in the long run and you won't have to worry about buying another bed for a long time to come.
Delta Children Emery 4-in-1 Convertible Baby Crib

Crib Safety Tents For Tall Babies
Not too long ago you may remember that over 300,000 crib tents were recalled due to safety hazards. This forced Tots In Mind to go out of business and discontinue their line of crib tents.
Unfortunately, these designs were dangerous sadly proved deadly. So why am I bringing this up?. Well they were a great way to keep your tall babies from climbing out of the crib, except the design was floored.
Fast forward 7 or so years and crib tents are back, new, improved and safer than ever. But before you cast judgement, you need to understand why the old crib cots were dangerous.
Are Crib Tents Safe



The design flaw in those 300k crib tents that were recalled was due to the entrapment and choking hazard they posed. The crib tents sat on top of you crib. This left a little gap between the top of the cribs rail and the bottom of the tent.
This was the cause for concern as babies could get their heads and arms stuck while trying to sneak in between the tent and the crib sides. Fortunately, this crib tent by Nahbou Baby has redesigned the crib tent and has been CPSC APPROVED.
Best Crib Tent For Tall Babies
As just stated, the design flaw was that the tent sat on top of the crib. This Nahbou Baby crib tent is completely different. The design of this tent goes from the tip of the tent, inside the crib walls and under the crib mattress in one singular piece.
The crib tent is held into position via 8 straps that connect to the 4 corner posts of your crib and fits snug underneath the crib mattress.
This eliminates the chances of any baby from getting stuck between the tent and the crib as the baby only has contact with the mesh walls of the tent, not the crib rails.
So baby can no longer get the grip to pull themselves up and over the crib anymore. So if you have a tall baby that you feel is NOT ready for a toddler bed yet, this crib tent by Nahbou Baby might be what you're looking for.
Exciting World Inside The Crib Walls
Initially I was a little put off by the idea of trapping an adventurous baby inside the crib, fearing they would feel isolated and trapped. But the see through mesh and the excitement of it all can actually prove beneficial. Especially for parents of escaping toddlers.
After reading many reviews, I came to the conclusion that most toddlers love the idea of having their own little sanctuary. Having a crib tent like this also helps keep mosquitoes and bugs out of your crib.
If you have an adventurous cat, this tent crib can also deter the cat from trying to get into the crib. Overall, I think this is a genius idea and one that many parents of escaping toddlers will adore.
Nahbou Baby Crib Tent CPSC Certified

Ways To Stop Your Baby From Climbing Out Of The Crib
When you poke your nose around the web, you'll find some genius and not so genius ways to stop you baby from climbing out of the crib. When you have a baby that's quite tall, chances are you're going to be dealing with this issue from a much earlier age.
Some youngsters get the urge to escape their cribs at just 9 months old, so its wise to start thinking about ways you can limit your baby from climbing out of the crib from an early age.
Below you can find a few ideas I have come across after poking my nose around various forums online.
Sleep Sacks


This is a method that involves a sleep sack like this HALO Sleepsack found on amazon here. We tried this method, and while it does work, its only temporary. As your baby will outgrow the sleep sack and get back to trying to climb out of the crib the second they get a chance.
This sleep sack comes in a number of colors and patterns and can help to restrict the babies legs from lifting up and over the crib gate.
This works great for when they are quite young, but once they get a little older, it might be a good idea to put the sleep sack on backwards. This will position the zipper on their backs, stopping those curios hands from unzipping the sack and escaping.
Anti Climbing Pajamas



I wish I had heard of these anti climb pajamas previously. Such a simple detail can create such a miracle.
Its basically a sewn in strap between the legs to prevent the baby from being able to lift their leg up onto the rail of the crib. I certainly wouldn't use these on bubs all the time, only at bed time.
However, as genius this idea, some parents found they didn't work for their escape artists toddlers, while others praise them. So I guess it depends on the level of development of your baby and the amount of commitment they have.
Another similar type of product which has recently hit the scene are Little Grounders pajamas. Made with the limitation of babies escaping their cribs in mind.
Anti-Climb Toddler Pajamas

DIY – Make You're Crib Taller
After buying a walker for your tall baby, you may not feel the urge to spend money buying a replacement crib to combat your babies explosion in height. SO this option is a more practical hands on solution.
If you or your partner are quite handy on the tools, whats to stop you from adding an extra 6 to 10 inches of guard rail to the top of the crib. Ensure the materials used are baby friendly, including a low voc water based paint and ensure the guard rails are in position nice and sturdy.
Sand off any sharp edges and ensure exposed screws, or glue are taken care of before painting the extra crib protection. This method obviously requires some work and certain skills to pull off. But nonetheless, worth mentioning.
Play Pen
If you have a taller play pen and your toddler is driving you crazy, you could try sleeping your little one in a play pen. Ensure the sides are tall enough to keep them inside and ensure the mattress in the pen is baby safe.
General Safety Tips For Crib Use
While there is no perfect crib for tall babies, there are some ideas presented here to get your mind ticking over. At the end of the day, it may be time to bite the bullet and set bubs up in a toddler bed.
Nonetheless, there are a few safety tips any new parent should know before putting any baby into a crib. These include:
From an early age, avoid sending bubs to their crib for time out. This can make the crib seem like 'prison', somewhere bubs wants to escape from. The last thing you want to do is associate the crib with a negative space in bubs mind. This is more of a mental safety tip for the parents to try and make bedtime as smooth as possible.
Avoid softer crib mattresses as these can lead to suffocation. Instead use an inner coil firmer crib mattress.
Ensure the mattress is the right size. The general rule is that if you can fit 2 fingers down in between the crib sides and the mattress, then you need a slightly larger mattress. This gap is prone to trapping little hands, feet and even heads.
Use fitted sheets only to avoid suffocation.
Keep toys out of the crib. Small toys in particular pose a choking hazard.
Invest in a baby monitor for babies safety and your peace of mind.