I hope you love the products I've recommended below, just a heads up that as an Amazon Associate, I earn from qualifying purchases. This means I may earn commissions on products bought via links on this page.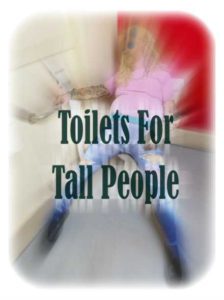 The toilet, a bare essential every household must have. But as a tall person, the difficulty in trying to find the best toilets for tall people is certainly up there.
For most people, the challenge is deciding between pressure fed or gravity fed. For anyone taller than 6 foot, the challenge is simply finding a toilet with a suitable seat height. Color, shape of seat and the way it flushes are options a tall person can only dream about having.
This is because there's simply a lack of options available for taller folks. Sure there are comfort height toilets designed to be taller with seat heights between 17 and 19 inches, sadly most are still on the 17 inch end of the scale.
A 17 inch high toilet seat may be fine for someone just over 6 foot, but once you start talking about very tall people, 6'5″ and up, even a 17 inch high seat is too low.
Unfortunately I had to settle for one of these comfort height toilets a few years ago and while I am appreciative of the extra inch in height, it's still not enough height. But the good news is that next time we upgrade out toilet, there's finally a extra tall toilet suitable for tall people.
The Tallest Toilets 20″ Height



Somebody must have heard my prayers because in recent years some very smart cookies decided to fill this hole in the market. Simply named, Convenient Height, this 20 inch high masterpiece is the tallest toilet when it comes to standalone toilets.
Wall hung toilets can give you an even taller toilet seat (See Below), but can cost you a bit more and require more renovations to achieve a 28 inch high toilet seat. But if you're hovering around the 7 foot mark, this may certainly be your best option.
Where To Buy This Mammoth Toilet
The Convenient Height is the tallest floor to toilet rim option on this page. If height is what you need, this is the one to look at. With a full 20 inches of height from the top of the rim to the floor and the addition of a toilet seat you can pull off a 21 to 22 inch high toilet. Depending on what thickness your toilet seat is.
The 20″ Convenient Height toilet is available on amazon here.
About This Extra Tall Toilet
While the suitable height checkbox is ticked, its still important to know whether this toilet is right for you. Because there are wall hung toilet option below which too are suitable for tall people. However being 5 inches taller than a standard toilet height, it does make it hard to pass up on this toilet if you want the easiest possible solution.
Dual Flushing Power
Ironically, the added height of this system not only benefits tall people, but it also makes this a power flusher as a side benefit. I'm not much of a science guy myself, but I can see how the added height works in this toilets favor in regards to gravity and physics.
The steeper elevation from the 20 inch tall system gives waste and water an increased flow rate as it runs downwards through the pipes. Gravity does its job and the constant water flowing as a faster rate due to the steeper elevation helps flush waste away better than ever. Best of all, this feature costs nothing extra.
Comes With A Seat



The seat that comes with the Convenient Height toilet gives the height a one inch boost. This seat is a self closing seat, hooray, and is considerably tight. So it won't wobble around and come loose like many other seats do.
There's also the option to ad an extra to this seat like a bidet or washlet should you prefer to go down this track. The extra height of the toilet makes using something like a bidet possible for taller people. No more having to bend down and squat into uncomfortable positions.
But if you don't like this particular seat, you can pick your own seat and add it to this system. Some people have complained about the seat not being to their liking or up to quality, so choosing your own seat is probably the best option. It's not a one seat dedicated toilet which is nice to see.
Dimensions Fit For A Tall Person
The 20 inch extra high toilet is the main prize for taller folks, but other dimensions are important too. I like the elongated design of this toilet as it is a better fit for the more narrow bathrooms. The overall length is 27 inches with the toilet rim taking up 17 3/4″.
The width of the bowl has a maximum distance of 15 inches, so not the widest toilet by any means. However, the elongated shape is the appealing aspect of the design.
The rough in is a pretty standard 12 inches while the total height measure 36 inches. Because this is a tall toilet, its particularly important to have a level surface to install it on. Its also recommended to let your plumber know in advance that a longer fill pipe will be required.
Overall, It's The Best Option For Taller People
While most people will be like, yea its just a toilet. But for anyone taller than 6 foot, you really are going to appreciate this extra 5 inches of stable and solid height. Especially if you have difficulties using a toilet due to being elderly or recovering from surgery.
The height makes it much easier and safer than using a seat riser or commode. Access is far easier and the height makes getting on and off much easier for taller people.
20" Convenient Height Toilet

Up To 28.5″ High Wall Hung Toilet



Forget the 19 inch toilets or even the above 20 inch Convenient HHeight if you're really tall. If the right level of sitting comfort is what you're after and you don't mind a small renovations, getting a Kohler Veil wall hung toilet is certainly a solid plan.
With the ability to have your Kohler Veil toilet seat sit up to 28.5 inches from ground level as mentioned in the Kohler Specs, this really is the best system for a very tall person. While these types are toilets are designed to save space and add a element of class to your bathroom, they are especially handy for anyone looking for the perfect height toilet.
The Drawbacks



But like anything tall person related, there are drawbacks. In the case of a wall hung toilet, it's an extra cost because you need to under go a renovation to install the suitable the KOHLER K-6284-NA carrier system which is also found on amazon here.

This system is built behind the scenes inside your wall. It basically holds the toilet on the wall with the correct amount of steel tube supports to hold your body weight.
Because of the high 880 pound weight capacity this wall toilet can hold, I would certainly be paying a professional to install it. It's not worth risking the toilet falling off the wall due to poor installation. I say poor as that is how it would be installed had I done it.
If you have drywall rather than tiles on the wall where you plan to put the toilet, the cost of the renovation is significantly cheaper as you can paint the walls yourself rather than paying a tiler to lay the tiles. But if money is not an issue, then go right ahead, install this amazing toilet on your tiled wall.
Features Include
The installation kit includes a large double flush plate which can be removed so you can access the water tank inside the wall. This is so you can service the toilet if need be. No need to be ripping off walls to get to the inside of the tank.
The dual flush operates at either .8 gallons per flush or 1.6.  The toilet and the actuator plate come in a number of colors including white, dune and even black for those bold bathrooms.
Like most wall hung toilets, the water flow when flushing is not brilliant. Its enough to satisfy most, but the flushing enthusiasts will be disappointed in the flushing cycles power.
However, this is not a design flaw, more a common flaw of the overall wall hung toilet industry. But when you're very tall and a 20 inch tall toilet is still too low, this is the only real other option.
Kohler Veil Wall Hung Toilet System Up To 28.5"

Is It Hard To Install A Wall Hung Toilet
In this video you can see in under ten minutes how to hang the above Kohler wall toilet. This will help you decided whether this is the right choice for you or not.
Best Comfort Height Toilet



When it comes to comfort height toilets, they're designed so that they sit roughly the same height as a kitchen chair. That is they are said to have a toilet seat between 17 and 19 inches high. However finding a comfort height toilet with a seat height of 19 inches seems near on impossible.
If neither of the options above take your fancy, you could consider this comfort height by Kohler which has a seat height of just over 17 inches as seen in the specs. It's not on par with the 20 inch seat, but its still a couple inches taller than your standard toilet.
However, if you need to make it taller, you can add one of the toilet risers listed below, which will give you an extra 3.5 inches of height. Making the Kohler sit over 20 inches tall. Which is a good height toilet seat for most tall people.
What Makes The Kohler Comfort Height The Best?
What's quite a standout for this particular toilet is its power flush capabilities. With this toilet, its one flush and the mess is gone. No more having to use a second or third flush to dispose of waste, all while staying within the governments water use guidelines.
Its a toilet that operates of pressure and this is regulated by a 30psi regulator so that water is always flushed at this pressure. While the line minimum is a 20psi recommendation, but can handle more than 30psi when needed.
Because of the toilets amazing flushing ability, clogging up the toilet could possibly be a thing of the past. If you're use to cheap toilets and having to unclog on a regular basis, this toilet is going to prove how quality always exceeds price.
How much exactly? Check the price on amazon here for the latest price.
Premium Feature
A huge benefit to having this toilet over a comparable comfort height is that the inner line of the tank is considerably good at holding the water. What this does is makes sweating on the outer tank less of a concern during humid and warmer months.
Yes, toilets sweat too. This is because of condensation building up as a result of cold water inside the tank and hot humid conditions on the exterior of the tank. But having the inner line hold water helps to prevent this condensation.
All in all, the Kohler comfort height toilet is my pick of the bunch if you're not keen on a wall hung toilet, or the more expensive 20 inch high toilet. However, the toilet seat is not included in the price, so do allow a few extra bucks to buy a nice soft closing toilet seat.
But the power flush feature and the inner line water holder seals the deal for me. Especially the amount of force this pressurized flushing system provides. It's quite impressive, so much so you don't want to accidentally flush a kids toy down the toilet as you may never see it again.
Kohler Comfort Height Toilet

Need Extra Height? Use A Solid Toilet Riser



Whether your a tall person, elderly or suffer from a condition that makes using the toilet more of a struggle than relief, adding extra height to the seat can prove very beneficial. Its amazing how much of a difference a simple invention such as a toilet riser can make.
But I'm not talking about soft foam or flimsy plastic riser you place on top of the seat either. With the Toilevator you get a solid 500 pound capacity from the durable and very strong PVC base.
With the Toilevator, you install it under your existing ADA or comfort height toilet to gain a further 3.5 inches of height. This is how you can achieve a toilet for a tall person without having to spend up large.
The Toilvator comes with the installation kit so you can add it to pretty much any toilet. It comes in two models to cater to both newer model toilets and older toilets.
While you may be thinking, how is a pvc product meant to support a toilet plus a person?. Well its down to the design and the reinforcements. But it does go to say that sure, I've heard some had had wobble issues with the Toilevator.
Especially if you're quite heavy. But there's an easy fix for this, cement. Yes cement. Simply fill up the inner core with quick drying cement for an even more sturdier and stable toilet riser. Not only will this make you feel safer, it will pretty much make the toilet so sturdy and strong it could probably hold even more weight.
Toilevator Toilet Riser Adds 3.5" Height

Best RV Toilet For Tall People



When it comes to campers and Rv's, there's no need to sacrifice height as a tall person either. Nothing worse than feeling cramped for space and having to sit far too low on a 14 to 15 inch toilet.
Fortunately, AW have made this extra tall RV toilet with a height of 20 inches. This toilet is gravity fed and the water is operated with a foot pedal rather than a hand pedal. I much prefer the foot pedal over a hand pedal, but that's just me.
What I like about this RV camper toilet is the water is flushed downwards from the top. Some models out there flush with a side action which I find is not good enough for getting the toilet paper sitting on top after doing your business.
But with the AW, the water flushed from the top submerging the toilet paper like any good toilet should do. No need to spend 10 minuted pushing on the pedal trying to get the water to hit the toilet paper.
Very Strong Design
The AW RV toilet is made from HDPE which stands for High Density Polyethylene. This is a very durable and strong resin. Because it is such a hard plastic, it can withstand higher temperatures as well. Which is ideal for when RVing around the country on those hot summer days.
AW states that this toilet can be used for over 5 years and I would certainly believe that. With the proper care and regular cleaning, HDPE can survive the harshest conditions. So certainly worth the one time investment.
While the RV toilet can fit many caravans and campers, its essential you check that the measurements meet up with your motor homes plumbing. The measurements are displayed on the description page found on amazon here.
AW RV Campervan 20" Toilet

What's The Best Toilet Height For You
So after going through a few toilet options for a taller person, you may think yes you've found the perfect height toilet for you. This may be the case, but there's a couple of points in which you should consider first.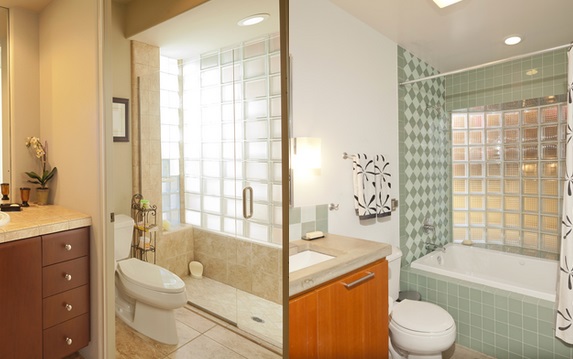 Comfort Height Vs Standard Height Toilets
So a comfort height toilet ranges from 17 to 19 inches in height as discussed earlier. The convenient height toilet as listed earlier goes one step further and has a 20 inch toilet seat height.
Most standard toilets are about 15 inches in height. So there's a considerable difference in height. This added height certainly benefits the elderly and disabled people along with taller folks. So what exactly is there to consider? Taller people need higher seats whether its a office chair or a toilet seat right?.
Take into consideration the height of other people whom may use the toilet. If its your one and only toilet and you have young kids, chances are they will struggle to get on and off the high toilet.
If you have existing problems with constipation, a taller seat will put your knees in line with your hips. The best position to help pass bowel movements is with your knees raised above your hips. So a foot stool could help with this should you get a taller toilet.
Other Features To Consider
While the seat height is one of the major features to consider as a tall person, there are areas of interest that may affect your buying decision. This is a brief guide to buying a toilet for the first time.
Wall Hung
I listed a wall hung toilet system above suitable of achieving very high toilet seat heights. Some folks are nervous using a toilet like this as they are attached to the wall. But with a high quality system, you can comfortably sit in peace. Even as a heavy person.
Ideally you want to install a wall hung toilet before construction of your bathroom beings. This will save you money in the long run on having to renovate your bathroom. While they are more expensive as a unit, they are certainly a modern and attractive (as a toilet can be) bathroom appliance.
Elongated or Round Toilet
So the debate continues, should you buy a elongated or round toilet. There's no doubt that a elongated toilet is more comfortable as it fits our backsides better. Especially as a tall person.
This is because they are longer and can accommodate more support for our longer legs compared to a rounder bowl. However, an elongated toilet occupies more of your valuable bathroom area.
If you have a smaller bathroom where space is limited, a round bowl can save you a precious 2 or 3 inches in space. This tiny space may prevent you from whacking your knees on the toilet when you go to brush your teeth. However, elongated toilets are better for narrow areas.
When it comes to cost, round toilets are generally cheaper because there is less materials used to make them. But obviously other features come into play which may bulk up the price.
Gravity Vs Pressure Fed Toilets
Gravity fed systems are most likely the toilet you have grown up with and are use to. They have been around since the dawn of time and continue to be a popular choice. Like they say, if it ain't broke, don't fix it.
However, we all know too well the clogging issues with regular gravity fed toilets. So in order to eliminate the clog, you need to upgrade to a pressurized system. A pressure fed toilet use to cost you an arm and a leg.
But with modern advancements in technology, the prices have come down considerably. A pressure toilet works by a build up of air in a compression tank. When the water flushes, the compressed air is used to suck waste away through your pipes.
Downside To Pressure Fed
Obviously this is the key advantage of a toilet system like this, but they do come with drawbacks. Namely, they are very noisy. Much more noisy that you will certainly notice the difference. So no keeping it quite when you do your business in the middle of the night with a pressure fed toilet.
Of course there's the issue of fixing a toilet. A gravity fed toilet is much easier for the regular Joe and Jill to fix. A pressurized toilet is not. Not too mention getting spare parts may become more of an issue as the gravity fed systems dominate the market.
The Tall Persons Needs
At the end of the day, the tall person needs to feel comfortable on a toilet. The options for the very tall people to find the best toilet are slim. So sadly, choices are not many.
However the options listed above are deemed worthy for us and are surprisingly pretty good quality. Provided the meet your specific requirements for both height and plumbing, you too can do your business in comfort.