I hope you love the products I've recommended below, just a heads up that as an Amazon Associate, I earn from qualifying purchases. This means I may earn commissions on products bought via links on this page.

Purchasing a shower chair either for yourself or a loved one is one of the first steps to ensuring a safer bathing experience. As someone that is over 6 foot, I know how scary it can be to take a fall. This is why it's so important to buy
extra tall shower chairs for tall people
.
In this article, you can find tall versions of shower chairs, transfer benches, and commode chairs.
As legs are usually the first muscles to give way it's extremely important us taller people don't risk it in wet areas. Ordinary or standard bath benches or shower chairs can assist in falls. According to Ncoa.org, one elderly or disabled person dies every 19 minutes from a fall or slip.
By having a shower chair with a seat that has at least a 19-inch height, you can reduce the chances of taking a fall. Simply because lower to the ground chairs are too far down to bend over. In the wet, this can lead to tragedy. So by owning assistance aids which are tall person suitable, you are able to live life more comfortably.
Shower chairs come with various features such as commodes (toilet), backrests, caster wheels, benches, aluminum, plastic, etc. If you are a tall person under 250 lbs, then the main feature to pay attention to is seat height. But if you're a big and tall person weight capacity is just as important.
So with these basic features in mind, let's take a look at the various shower chairs and benches available for taller people.
Compare Shower Chairs & Bath Seats For Tall People
The Tallest Shower Chair
The tallest shower chair that I have found is by MedEase™. This chair has 6 height increments all the way up to 22.83″. This is almost 5 inches taller than your standard bath chair.
This extra height gives the tall person the confidence to sit down safely in the wet and slippery conditions. With a chair below 20 inches in height, it can become dangerous for a tall elderly person to try and get that low.
What also makes this chair a good option is that it has the soft foam wrapped armrests and the handle in the middle of the backrest. Having both of these options allows you to gently position yourself before sitting down. It gives you greater stability as you hold onto the handles.
Ensuring maximum adhesion are the 4 rubber anti-skid feet. What makes the feet on this model different to many others is that they have drainage holes in the base. This allows any water building up inside the tubing to escape. Preventing potential falls and the build-up of mold.
If maximum height is what you need from a shower chair, there aren't many that have a higher seat than the Extra Tall MedEase™ Shower Chair. While there are other taller transfer benches and so forth, when it comes to just a singular bath seat, I've found this one to be the tallest.
MedEase™ Extra Tall Shower Chair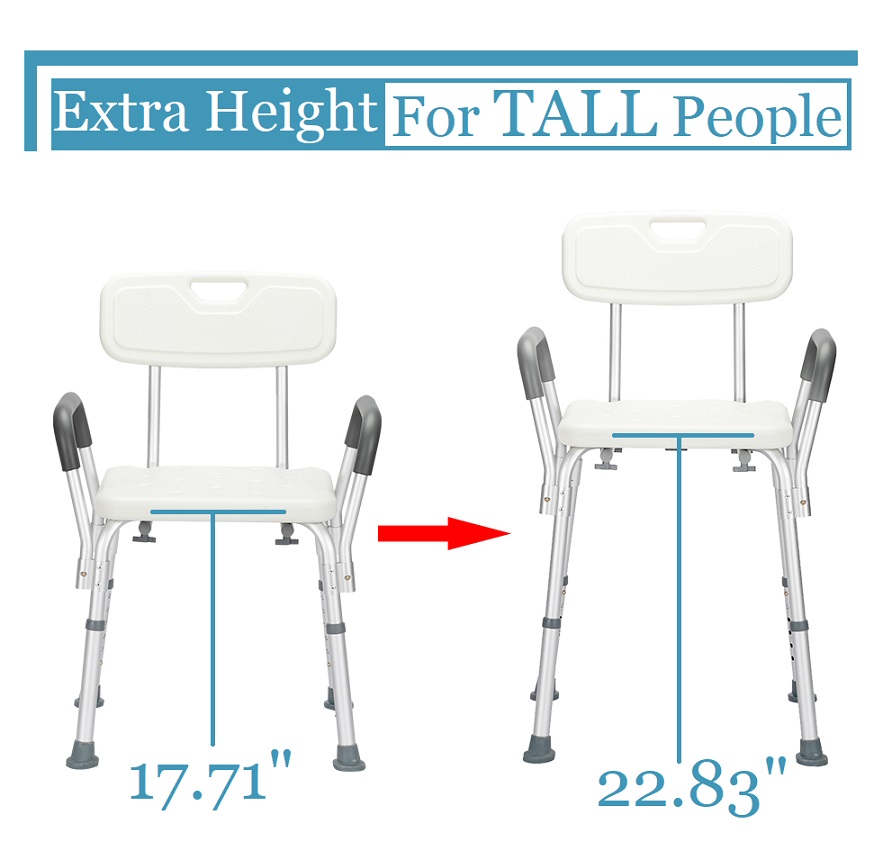 Extra Tall Bath Chair With Or Without Back Support
What I like about the MedEase™ tall shower chair is that you can buy it with or without the backrest. This is useful as not everybody wants a backrest due to limited space in their bathroom. Trying to maneuver around the backrest may be too difficult in a tight area.
However, the backrest does add that extra bit of back support which us tall people do often need. The backrest also helps to give some stability while standing in the shower before sitting on the seat.
How High Does The Seat Adjust To?
The MedEase™ has one of the tallest height adjustments when it comes to shower chairs, which makes it ideal for the tall person. It can adjust by 7 increments up to a maximum of 21.3″ in height. At the lowest setting, it can be as low as 15.6″ from floor to seat.

Seat Size
What's equally impressive about this shower chair is that the seat is quite wide, coming in at just over 20 inches. This is a blessing for larger sized folks that struggle to fit on smaller bath seats. However, this can also be a hindrance if you need to fit this chair in a bathtub as the feet come out just as much. So the bathtub needs to be wide enough to fit the shower chair into.
When you turn the chair sideways, it's much more narrow. This does allow you to position the chair into the more narrow showers as the seat is just 12.2″ deep. So in theory, you could turn the chair sideways to fit into your bathtub.
Additional Features
Ergonomic design: Textured seat and backrest for greater grip, contoured seat to provide a comfortable sitting area, hand grips on the seat to allow you to safely get on and off the chair.
Non-slip rubber grip feet to provide superior adhesion to the bathroom floor/tub floor
Weight capacity: 300 LB
Heavy-duty frame with 5 strong seat screws to ensure the seat doesn't move or wobble.
Tool-Free Assembly for quick and easy setup
Weighs just 4LB so it is easy to transport.
MedEase™ Tall Shower Chair With Or Without Backrest

Extra-High Shower Chair With Arms & Back
Medline has long been a preferred choice for many people when it comes to assistance aids.
This shower chair
is one of the best for big and tall people. It has a high weight capacity of 350lbs and a maximum
seat height of 21 inches
tall.
Most standard shower chairs will have a maximum height of about 18 inches, so this extra 3 inches really does help out the tall person. To be able to sit comfortably in the shower without putting pressure on the legs in a wet environment is a safety aspect not to be ignored.
The seat at it's lowest position is 16 inches in height. So if other family members need to use this chair they still can. The height can be raised in 1-inch increments.
It's Tall Person Safe
While the seat is a nice height for tall people and weight capacity is high for the big and tall, there are a couple other things about this shower chair that make it quite special.
The first feature are the rubber gripped arms. These arms are rather tall and protrude outwards rather than inwards or straight up and down like on some other chairs. Because the arms go slightly outwards, you get more room to wash yourself without hitting the arms.
The arms are also at a nice height where you can use them to raise yourself out of the chair. But they also act as a support feature as well. You can hold onto the arm while slowly backing down onto the seat. A great safety features for a tall person. The arms are also removable if you prefer no arms.
The Dimensions
16″-21″ Seat height
Maximum width from outside of leg to other legs is 18 inches for people wanting to use this in a bathtub.
Seat width 16 inches.
Seat depth 13.5 inches.
Overall the Medline is a superb choice for taller people that weigh less than 350 pounds. The fact you can take one arm off or both means wider backside people can also take advantage of the extra height. However, the backrest is fixed to the seats foundation to create further support.
The backrest is also curved so that it contours to the shape of your back. This backrest is also a great support mechanism when you are standing up. It's rustproof and the nonslip feet make this one of the best shower chairs for tall people.
Medline Shower Chair Bath Seat with Padded Armrests and Back

More Tall Person Shower Chairs
If the above Medline is not for you, but you still need an extra-tall shower chair, check out the below 4 chairs. Each of the chairs has a height greater than 20 inches tall.
The Best Transfer Bench For Tall People
"Finally a shower chair worth the money" was the last thing somebody mentioned about the Platinum Health swivel sliding transfer bath bench. A statement I simply have to agree with. This bench is amazing, not just for tall people. But for anyone with serious issues getting in or out of the bath/shower.
While it has a steep price tag, it's well worth the investment. How much exactly?. I found the price on amazon to be on par. There is truly nothing else like this bath bench that I have had the privilege of seeing.
In terms of height specifications, it's ideal for taller people. Optional leg extensions are even available for the really tall folks. The seat height adjustments goes from 19 inches to 23.5 inches high. The leg height can be adjusted every 0.5″. Which gives you even more precision when making it best suited to your height as most only go up or down in 1 inch increments.
The Platinum Health Bench Explained
Even with an adequately sized bath bench, you still may find it difficult getting your legs over the bath tub while dragging your body sideways across the bench. This is what makes the Platinum Health bench such a standout.
With this bench the seat with backrest can swivel. So to make getting in and out of the bath very easy you simply swivel the chair around so it is facing you. You then proceed to sit down in the seat. Put on the seatbelt and the slide the chair back over the bench.
From here you swivel the seat forwards now that you are inside the bathtub. Without having to move, you are now inside the tub. Bathing when you are disabled or when the body is starting to take its toll has never been easier. This is why this transfer bench is worth 3 to 4 times a regular bath bench. But because of the ease of use, its very worth the money.
Carousel Sliding Transfer Bench with Swivel Seat

Transfer Bath Benches Over 21″ High
As good as the above Platinum Health swivel transfer bench is, the price tag may be too high for some folks. So below you can find an assortment of bath benches which are higher that your standard benches.
Extra Tall Commode Chairs
While not exactly a shower chair, commode chairs still serve their purpose for the tall person. So these extra tall commode chairs can be very helpful for the person in need of the extra height and comfort.
The Medline heavy duty commode chair has a extra tall height of 23.5″ maximum. Which is quite sufficient for most tall people. The lowest the seat goes is just over 18 inches. So it's not ideal for shorter people. But with a 300 pound weight capacity, this Medline is a great commode for the big and tall.
This model by Medline is not you standard run of the mill chair. It's been modified with features to make using this chair as safe and as easy as possible.
Some of the features include:
Padded seat and back rest for maximum  comfort.
Padded arms fold down for east transport from bed or wheelchair.
Back rest can be taken off if you want to use it as a safety rail over the toilet.
Comes with the required equipment; pail, splashguard and bucket. Should you not want to use these you can use the commode over a regular toilet but be cautious using in the shower as it may rust.
Seat raises up so that you can wash it on a regular basis.
Best Tall Persons Commode Chair
Overall I find the Medline to be the best tall persons commode chair. With the extra tall height of 23.5″ and the 18/20″ seat depth, the chair can be positioned perfectly for people with longer legs. The high weight capacity of 300 pounds also ensures heavy people can safely use this commode chair.
Medline Heavy Duty Commode Chair 23.5" Max Height