I hope you love the products I've recommended below, just a heads up that as an Amazon Associate, I earn from qualifying purchases. This means I may earn commissions on products bought via links on this page.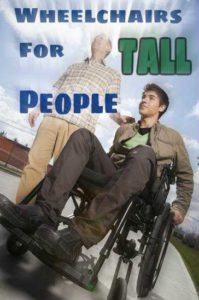 Wheelchairs are used for a variety of reasons and for a number of conditions. But when you're a tall person, there's one thing that can be a deal breaker on which model you buy. That is seat height. Wheelchairs for tall people must have enough clearance from floor to seat in order to be able to be used satisfactorily.
However, like many products there seems to be a gap in the market for taller people. Not many wheelchairs have the appropriate seat height to sit in comfortably. Of course there are foot rest extenders to help alleviate the knees bunched up in your face. But this doesn't change the fact getting into a low seat can be very difficult for a tall person. Especially when disabled or suffering a broken leg.
Much like a tall persons rollator, the seat has to be the ideal height to safely sit down and get out of. Makes life a lot easier on the carer when the seat is higher as well.
Quick Comparison Table
Tall Persons Wheelchair Measurements
The main things to look for when buying a wheelchair for tall people include seat height, back rest height and overall height. The seat heights importance has been covered above and for anyone over 6 foot tall should realistically be looking for a minimum seat height of 18 inches.
The extra tall wheelchairs listed below are above this minimum height to cater to taller people. To know what height you need, you simply measure the back of your leg from the back of your knee cap down to your ankle.
The back rest height is important for offering back and neck support. This is especially important for people with weaker top half of their body. For someone over 6 foot tall, you would be looking at a minimum f 15 inch back rest height. The overall height of the chair is less important, but may still be a viable measurement when considering the height of your carer. A carer that is taller would appreciate a wheelchair with handles at a raised height.
Best Wheelchair For Big And Tall People
Seat To Floor Height: 17.5″-19.5″
24 Inch Wide Seat With 18″ Depth
450 Pound Weight Capacity
18″ Tall Back Rest
Drive Medical Sentra
This line of wheelchairs by Drive Medical is the heavy duty bariatric type. Built big and strong to handle the big and tall people. With a huge seat that measures 24 inches wide it's big enough for obese people and the 18 inch depth of the seat gives tall people the leg room to wiggle back into the seat.
The high weight capacity wheelchair of 450 pounds is possible because the extra strong carbon steel used. To reinforce the foundation it has been built with a double cross bar. This is especially comforting as a bigger person knowing that the wheelchair won't break beneath you.
While the Sentra does have big 8″ front casters, they can be difficult moving over thick long hair carpet. Body weight tends to be towards the front of the chair making it a little more difficult moving over carpet.
The overall height and seat height are quite good for tall people which makes getting around much easier. The handle grips on the top of the chair are about average. Nothing special and will do the job satisfactorily for your carer.
Overall, the Sentra by Drive Medical is a very good choice for big and tall people. The high weight capacity and almost 20 inch seat height combined with the extra wide seat are a dream come true for the larger population. For a bariatric wheelchair, I find the price to be quite reasonable.
Drive Medical Sentra EC Heavy Duty Wheelchair

Tall High Back Wheelchair
20.5″ Floor to seat height
31″ backrest which includes 10″ tall headrest
16″ seat depth
Seat with: 3 options 16″,18″ or 20″
Weight Capacity 300lbs to 350lbs depending on seat width.
Drive Medical Sport Reclining Wheelchair
Whats great about this chair is that if you're tall and slender, you can choose between 16,18 or 20″ wide seats to cater to your body shape. All without affecting the height of the wheelchair or seat height.
It's also a high back wheelchair which offers great back and neck support for the taller people. The total backrest is 31 inches which includes a  detachable headrest and nice little pillow. Ideal for the people that need to be able to comfortably lay back in their wheelchair and feel completely supported. Plus the fact the hydraulics allow up to 180° of recline for ultimate comfort and getting the feet up.
If you need a wheelchair for as many as ten hours a day, this Drive Medical is a great option. The mechanism that raises your legs are very high quality, especially when you compare them to the options Medicare allow you. The padding on the legs is also quite substantial which is especially important for long term users.
Being one of the tallest wheelchairs in terms of seat height and back rest height, this Drive Medical is certainly a good option to consider as a tall person. The chair gives you much more freedom in terms of movement in the chair, without mentioning the back recline feature, and the stability or feeling safe in the chair is highly reassuring.
Drive Medical Sport Reclining Wheelchair

Padded Wheelchair For Tall People
Seat height: Adjustable between 18″ and 20.7″ high.
Folding backrest with flip back contoured arms which are height adjustable.
Seat width: 18″, 17″ depth
Weight Capacity: 250 Pounds
Back rest height 19 inches. Total height is 38 inches so not as tall overall compared to other wheelchairs on this page.
Karman S-305 Ergonomic Wheelchair
What makes this chair so amazing is its ergonomic features. It's truly unique and patented to Karman so no other brand on the market utilizes this feature. The feature in question is the pressure relieving seat. So basically this seat is designed to look like a sideways 'S' shape'. What this does is alleviates the pressure on the backside because it is contoured in this style rather than a flat bottom.
But Karman go one step further with this wheelchair, they have included removable padded cushions for the seat and back rest. These pads not only add an element of comfort, but also create an anti bacterial environment repelling stains, bacteria and making them easier to clean.
Besides the seat height being able to extend to just over 20 inches tall, the Karman S-305 wheelchair offers another unique feature suitable for tall people. This is the height extending armrests.
With the flick of a lever you can raise the armrest height by a few inches so the taller people can comfortable rest their arms. The armrest can also be released and moved in an upwards motion so they are out of the way. Making transferring to a bed, shower chair, bath bench that much easier.
The armrests are also contoured and designed so that they are not only comfortable to rest your arms on, but also have freedom to move your arms when pushing yourself in the chair. Overall I find the Karman S-305 wheelchair are serious contended for the best wheelchair regardless of height. The amount of ergonomic features this chair offers is incredible for the price its going at.
Karman S-305 Ergonomic Wheelchair

Affordable Extra Tall Wheelchairs
While the above wheelchairs are certainly my top 3 wheelchairs for a tall person, they may be somewhat out of your budget. Which is completely fine as I have 4 more options below suitable for people with a tighter budget.
These wheelchairs below all have seat height from the floor of between 19 and 20 inches. So click on the ones relevant to your price range and view them on amazon.
Best Electric Tall Persons Wheelchair
Electric wheelchairs certainly do make life easier, but they are also quite expensive. So trying to find electric wheelchairs for tall people can be not only difficult, but quite expensive as well. After doing some solid research, I stumbled upon this electric wheelchair by Culver Medical.
Suitable for tall people, but best of all it can be more than half the price of some of the leading electric wheelchair brands. You can check the exact price on amazon here.
Electric Folding Wheelchair By Culver Medical
20 inch high seat
Slightly lower backrest at 15 inches
17 inch seat width and depth
Armrests sit 28 inches from the ground
265 pound weight capacity.
FDA Approved Electric Wheelchair
The first thing to take notice of is the weight of this wheelchair. Being an electric chair you expect it to weight a lot more than a regular chair. Fortunately this particular one isn't too bad. Weighing only 75 pounds, its not too much more than a regular heavy duty wheelchair. It does fold down, so storing the chair away becomes much easier as well and it fits in most trunks these days.
Because it's only about 27 inches wide in total, you can zip around inside the house and fit through standard 32″ door frames without a trouble. But the real fun begins when you take this electric wheelchair outdoors.
Capable of handling grass, rocky roads and even snow all with full control of the joystick which can be bolted onto either arm suiting both left handed people and the right handed folks.
In terms of speed and mileage, you get what you pay for here. A full charge of the batteries will get out about 16 miles cruising at a top speed of 4mph. So certainly not the best in terms of mileage or top speed, but enough for the casual user who wants to get outdoors and down to the shops.
Electric Wheelchair 20" Tall Seat