I hope you love the products I've recommended below, just a heads up that as an Amazon Associate, I earn from qualifying purchases. This means I may earn commissions on products bought via links on this page.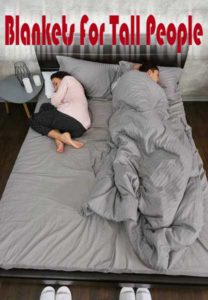 Getting a good nights sleep is crucial to the next days performance and part of getting a good nights sleep comes from being able to stay warm under a blanket. Extra long blankets for tall people are not easy to find and as a result, far too many tall people miss out on the ability to keep their feet warm during the night.
But its not just in the bedroom where tall people miss out. Throw blankets are exceptionally handy for staying warm in front of the TV while watching your favorite movie or Netflix series.
But again, if you're not using an oversized throw blanket, then well your feet and legs are going to be exposed to the cooler temperatures. Some folks opt for using 2 throw blankets, one for the lower half and another for their upper torso.
But I say, whats the point when you can buy one extra large throw blanket to do the whole job. Whether its for two people or just yourself, there are options out their for the taller people.
These options are presented below and can be categorized into 2 sections: 1. Bed Blankets. 2. Throw Blankets For Tall People. To further enhance the level of comfort, the tall person can snuggle up to a 100″ Body Pillow for the ultimate nights sleep.
Bed Blankets For The Tall Person
Longest Blanket – Comforter 118″-120″
The longest blanket I have come across is by GrayEagle Bedding Co. It comes in 2 sizes to cater to both length and width requirements. the two sizes are:
118″
x 114″ or
120″
x 98″. So a longer but more narrow version as well as a more square version.
Considering a California King bed is just 72 inches wide, either of the options would suit a tall person bed. A 7 foot tall person equates to 84 inches, so the extra 34 to 36 inches of length really does give the tall person the ability to tuck there feet under while in bed.
Note: To get the best Duvet cover match, I recommend you look at the GrayEagle Bedding Co. covers as they are designed to cater to the oversized measurements of this comforter. You can find them on amazon here.
Very Large Yet Maintains High Quality
Being such a large blanket, and extra long, one could think that the manufacturers skimped a bit on quality control, using less stuffing etc. But the Gray Eagle Bedding Co. is a quality brand in the USA and their high standards shine through on this supreme king comforter.
Its the simple things that this comforter does well, right down to being a relatively quite down alternative. With some oversized comforters they tent to have a crunchy sound to them when you move around, which is bound to annoy your partner trying to sleep.
The comforter has 10 inch squares sewn into it, this is to prevent the 120 ounces of fill from moving around. But its important that you fluff up the comforter before the first use so it does become more fluffier and softer. This will also help prevent lumps of fill building up in the 10 inch squares.
Overall, its quite a decent comforter and one that will certainly fill out a California King duvet cover where many have failed before. Its certainly got the length for the tall person, but as a added bonus, its so wide that there will no longer be fighting in the middle of the night over who stole all the blanket.
Oversized Bedspread 118″x95″
Moving onto an extra long quilt is this microfiber reversible bedspread by Grand Linen. The oversized California King measures
118 inches by 95 inches
. It's a huge, vibrant yet soft cover for your bed that will give every part of your body warmth and coverage.
Besides having the length to cover the ends and sides of your bed, what makes this quilt so good is its wicking and stain resistance from the microfiber materials.
The materials used make the colors stay vibrant and fresh for longer (Colorfast-one). But the real magic comes from the tightly woven materials. These microfiber strains are said to be thinner than human hair and what this means is that they are woven in so tightly that moisture and stains are essentially repelled by the tight design.
But the trick to keeping it looking brand new is to wipe away and spills as soon as they happen, this gives the spillage no chance to seep into the microfiber material.
In terms of softness, its considerably soft to touch. Essentially it feels similar to a cotton quilt without the heaviness of the cotton. It also doesn't stretch or slide off the bed which is a big positive.
Because it is lighter than a traditional quilt, you don't overheat when laying under it. Which is one of the reasons I stay away from quilts, but this microfiber bedspread is lighter and makes for the perfect match with a comforter like the above GrayEagle.
The bedspread also comes with matching shams/pillow cases. Its also available in a number of different colors and designs. But take note of the various sizes available in each design.
Quilted Comforter For Tall Persons
The oversized King by Linen Spa is a reversible quilted comforter. The ideal down alternative for people that have severe allergies. Whats great about this blanket is that it can be used with a duvet cover, or without.
If you use this blanket without a cover, you can swap the sides of the blanket to create a new look. Each blanket has a two tone effect. So even without a cover, you get a modern and classy look to your bed.
Should you prefer a duvet cover, there are 8 internal loops in which you can attach to a duvet cover. Not many, if any duvet covers come with 8 attachment points, so you may need to sew in a few extra ribbons to the inner layer of the cover to tie into the loops of this quilt.
To get a good match in terms of sizing, you can fit this quilted comforter into the GrayEagle Bedding Co cover found on amazon here. But again, there's no need to buy an additional cover unless you don't like the style of the Linen Spa.
In terms of size, its known as the Oversized King. The blanket is extra long and measures 116″x98″. This blanket is bigger than the California King option.
Hotel Quality?. I wouldn't go as far as to say it resembles the feel of blankets you find at 5 star hotels. But for the price you pay, it's quite soft and light. Its sort of in the middle ground, whereas you will stay warm, but won't be weighted down with extra heat where you become too hot to sleep under it.
Best Plush Blanket For Tall People
There's nothing quite like the feeling of being wrapped up in a plush soft blanket. Problem us tall people face is that our toes never get to enjoy this sensation. Many plush blankets are simply too short, coming in at about 80 inches.
But not anymore, the tall person can snuggle up to this silky soft plush blanket. the Charisma King found on amazon here.
This blanket has measurements of 112″ x 92″. So whether you want to add a layer of warmth and softness to your existing bedding, or use this blanket on the sofa, its got the goods to handle the task. Next to XL electric blankets, the soft silky feeling of a plush blanket is my favorite.
Extra Long Blanket Micro Velvet
At 6'3″, this micro velvet blanket with diamond pattern covers magically. This one
measures 108″x90″
and is another great addition to the bedding. While its quite warm alone, during the middle of winter you're still going to need the warmth of an additional comforter.
I like to think of this blanket as the all rounder as it adjusts well to most temperatures. Not too thick, yet not so thin that it provides no heat. A nice level of warmth for those cooler nights without having to deal with clumps of goose down.
Because its not too thick, it can be easily washed form home. No hidden surprises of having to get it washed professionally. The micro velvet is a similar material to microfiber. Its said that the velvet aspect of the material adds durability to the blanket and naturally velvet is quite smooth and soft anyways.
Extra Long Throw Blankets
Longest Plush Throw Blanket
Lets face it, short plush blankets re for kids, but yet many of the adult size throw blankets never seem to have enough length to them for adequately cover adults. Even if you're not taller than 6 foot, many of the throw blankets out there don't do the job.
Introducing this beast of a throw blanket by Battilo. Never again does a tall person have to miss out on the soft plush feeling of a plush blanket while sitting on their sofa.
This thing is huge, with a length equivalent to someone that is almost 8'2″, the generous 98 inches are more than enough to cover your entire body and have your feet snuggled up i the soft polyester plushness.
But its not just extra long, the Battilo is also quite wide, measuring 78 inches wide. Certainly wide enough to wrap your entire body up in this thing. However, if you're the sharing kind, there's room for two to be submerged under this throw blanket as both sides are sherpa.
But is it very warm?. You would be forgiven for thinking, yea another thin plush throw blanket that offers no warmth whatsoever. We have all owned a few of them in our lifetimes. But surprisingly, the Battilo is considerably warm, I have even heard of people saying they get too warm. Is there such a thing with a throw blanket?.
Its machine washable, tick. From what some others are saying, the blanket can tent to shed on items that it touches. So I think a good machine wash prior to using will help resolve this issue. Otherwise, you wont get a bigger and warmer blanket like this in my opinion.
King Size Plush Throw Blanket
The Merry Life throw blankets are huge, so big you can use them in a variety of ways. Whether its to cuddle on the sofa together or take down to the park to stay warm, the shear size of them gives you warmth wherever you go.
With an incredible length of 102 inches, most if not all tall people will be able to find comfort from these blankets. The Merry Life range of blankets also come in smaller sizes if 102 inches is considered too long.
They also come in a range of vibrant colors and unique designs to make your blanket stand out from the rest. You can see the full range of colors and patterns on amazon here. The material used to make these blankets is 100% polyester fleece. So be prepared for some initial shedding of fuzz.
But like the above Sherpa throw blanket, you should always wash this blanket in the washing machine before first using. This will help keep the shedding down as a result.
Overall I really like how you get many pattern options for the Merry Life blankets. It adds a lot of character to your room compared to a plain color option, not that there's anything wrong with one toned blankets. The softness and warm feeling this blanket gives is just incredible. Best of all, its large enough to use as a plush blanket for your King size bed.